There's a line in last week's episode of 'The Handmaid's Tale' where June remarked that it was an acquired taste to see others in pain. At times, the same could be said of this show, and the same goes for 'Heroic'.
How many times has June been put through the ringer, only to bounce back and attempt to right her wrongs? Not only that, how often does it happen where she breaks down, is confronted with some kind of unimaginable punishment and breaks as a result, only to come out the other side?
Wheel-spinning in prestige shows like 'The Handmaid's Tale' is a real issue, and this week's episode definitely feels that way. The action picks up pretty much right after last week's episode, with June confined to the hospital to remain in penance after how she treated Natalie. Aunt Lydia oversees it all, and other Handmaids arrive at the hospital to pray for Natalie's unborn child.
Before long, June's sanity begins to break down and she begins to turn violent on, well, everyone. Twice in the episode, June attempts to kill Natalie - seeing as how she's now brain-dead, and being kept alive merely to take the child to birth. As ever, in Gilead, you're only valuable as a woman if you've got a working womb.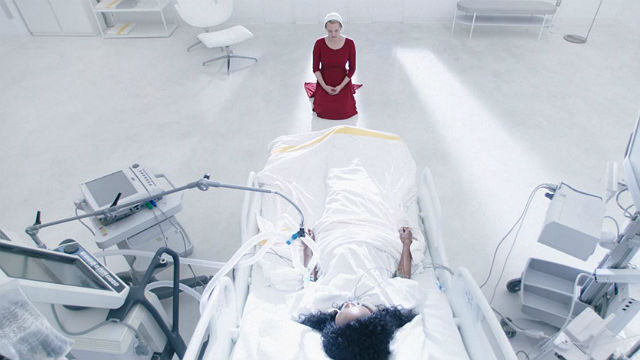 There's a few tender moments in 'Heroic', particularly when the doctor treating Natalie - played by 'Ally McBeal' alum Gil Bellows - talks briefly about June's mother and life before Gilead existed. As you'd expect, the moment causes a change in June's way of thinking, realising that she can't go on the way she is, and that she is going to do her best to get as many children out of Gilead - including her own daughter, and Natalie's son.
The episode culminates with June offering her own penance to Natalie, admitting that she herself lost her way and that the world around her had taken everything away from her. She vows to bring it all down, once and for all, but come on - when is that going to happen, exactly?
So much of the third season was built up with the idea that the revolution was finally beginning to take shape, and that there would be some kind of movement in this season. That we're now a total of nine episodes in - ten, really, if you count the episodes available in the US - and we're nowhere near any kind of movement, just tells you that 'The Handmaid's Tale' needs to get cracking.
With a fourth season confirmed just yesterday, here's hoping.
Review: 'The Handmaid's Tale, Season 3, Episode 8 - 'Unfit'
Review: 'The Handmaid's Tale', Season 3, Episode 7 - 'Under His Eye'
Review: 'The Handmaid's Tale', Season 3, Episode 6 - 'Household'
Review: 'The Handmaid's Tale', Season 3, Episode 5 - 'Unknown Caller'
TV Review: 'The Handmaid's Tale' - Season 3, Episode 4
TV Review: 'The Handmaid's Tale' - Season 3, Episode 3