Jeff Bridges is an actor that has consistently worked through many different periods of Hollywood history - and in 2022, the icon made his return to television.
Bridges' career started all the way back in the 1951, when he appeared as a baby in the now-forgotten film 'The Company She Keeps'.
Even at a mere 6 months old, baby Bridges was in front of the camera, and now in 2022, he plays The Old Man, a new Disney+ series.
Ever since breaking out in an Oscar-nominated performance in Peter Bogdanovich's 'The Last Picture Show' in 1971, the star has gone from strength to strength.
Bridges looks every inch the movie star as he chats with the gathered journalists over Zoom, and the easy-going, laid-back natural charisma that has won him millions of fans the world over is in full flight over the course of our conversation.
Iconic roles such as The Dude, Rooster Cogburn, Otis "Bad" Blake, and disgraced shock jock Jack in Terry Gilliam's 'The Fisher King' have cemented his status in Hollywood history.
Before working with auteurs like Cimino, the Brothers Coens and Weir, Bridges had a healthy career as a television actor in the 1960s, but it took over 50 years for him to return to the small screen.
In this case, it was the strong script of 'The Old Man' that served as the siren song to lure him back.
Similar to when we interviewed his co-star John Lithgow, Bridges said the script, adapted from the 2017 novel by Thomas Perry, was what he was looking for in a script.
Bridges summed up the series in two words - surprises and consequence.
Bridges plays former CIA man Dan Chase, who is looking to leave his action man days behind him when he is called back into action - which has ramifications for himself and those around him.
"Surprise and consequence are the words that comes to mind when I think of 'The Old Man' and how it relates to your will and the choices that we make."
"One of the things that you discover and as you get older, some of the early choices that you made were you expressed your will might not have always been the right path. So you try to make amends. You try to constantly do your best."
"But you never know, you never know what your choices are going to lead to."
The world of television has given us great anti-heroes in the form of Walter White, Don Draper, Marty Byrde and more recently, Barry Berkman, and this grey area is something that is of great interest to Bridges.
Bridges' character served as a CIA operative in Afghanistan in the 1980s, and the moral ambiguity in times of war was a part of the script that massively appealed to him.
"That is a question we can ask of ourselves - are we heroes or are we villians? Looking back on some of our decisions, and this certainly goes for Chase, we wonder 'did I make the right choice there? was I the hero or the villian?"
Bridges is perhaps best associated with his immortal performance as The Dude in the Coen Brothers' 1998 classic 'The Big Lebowski', and he said the script of 'The Old Man' had a similar quality to it.
"Those Coen Brothers, man, they know how to write," he remarked, and said the 'The Old Man' script was something he had to work out for himself.
"Surprise is what I always look for in a script, and that was certainly the case here."
Bridges' CV puts most actors to shame, with everything from superhero films, animated films, auteur-driven dramas, Oscar-winning performances and sci-fi flicks on his resume, but he says it's the collaborative process between himself and his directors that brings him the most joy.
Working with multiple directors over a season of television would be a tricky feat for any actor, but Bridges had nothing but praise for his directors on 'The Old Man', one of them being Jon Watts who directed the Tom Holland 'Spider-Man' trilogy.
"I've had a lot of great success with first-time directors like Steve Kloves on 'The Fabulous Baker Boys', and Scott Cooper on 'Crazy Heart', and it is the back-and-forth, collaborative process I have with directors of all reputations that really gets me going."
"One of my most enjoyable things about making movies, and now TV, is working with all the variety of different varieties of people. I often think, 'Gee, why can't the world be like that?'"
"We're all working together to make something beautiful, and you have all different kinds of philosophies and different approaches. Out of all the directors I worked with on this show, I enjoyed working with each and every one of them," he added.
The great test of any actor is how naturalistic they act around animals or children, and 'The Old Man' gives viewers the chance to see another side of Jeff Bridges - Jeff Bridges the dog lover.
Bridges said he has been a dog owner for pretty much all his life (he doted over his current pooch, Monty, a Cavapoo) and revealed some secrets of the trade.
In film and TV production, certain dogs are needed for certain actions, so in this instance, dogs were required to perform action sequences.
While there are two dogs in the show, Bridges revealed the production hired 6 dogs to carry out the demands of the script.
"Each of the dogs are used for their particular skill. There were some best at biting necks and some retrieving, and so they were all made up to look like they're one - but there were actually five or six."
Bridges shouted out Sarah Clifford on the production team, and he said "a large part of her job was about creating an illusion, and was responsible for making sure the dogs fitted in on screen."
Establishing a relationship with the dogs prior to filming is another secret of the trade, or as Bridges calls it "the magic trick."
"We spent time prior to shooting getting to know the dogs and work with them and how to pull off that part of the magic trick for you to see at home."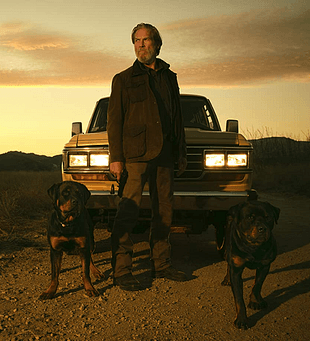 A big part of the appeal of 'The Old Man' is getting to see Jeff Bridges in full Liam Neeson in 'Taken' mode, and he lifted the lid on how he got into fitting fit form.
"We had masterful stunt coordinators - Tim Connolly, Hank Kingi and Tommy DuPont. These are master stunt guys. Making movies or TV is basically creating this one-time magic trick that's never been done before, but also creating an illusion."
"How you can make this illusion is making it seem as real as possible, and these guys are masters at that," he revealed.
"Filming an action scene was basically the same assignment where you were have an acting scene."
Bridges said "there are many approaches" into making an action scene leap off the page onto the screen.
"Some directors might have one philosophy that is like 'no rehearsal, just go and do it', but that's a dangerous proposition.
"A director could also just say, just go fight each other. For that reason, rehearsal was very appreciated, and that's how we do it."
Of course, with such intense rehearsal and fight choreography, the trick for the actor is to make it look as visceral and real as possible.
Bridges alludes to this, saying "the challenge for the actor is to make it appear that it's happening for the first time. And that's what you work at and practice at.
"You're working with those high-quality guys, and when you work with these guys who are working at such a high level, chances are you're going to come up with some good stuff."
As we pointed out in our review, 'The Old Man' takes on a certain poignancy as it deals with themes surrounding mortality and coming to grips with yourself in a time of crisis; both of these became pertinent concerns for Bridges during production of the show.
Filming was underway for a few weeks when the Covid-19 pandemic brought the world to a standstill in early 2020.
Filming of the show was suspended, but Bridges was soon fighting a battle of his own.
Later in 2020, Bridges announced that he had been diagnosed with lymphona, and in early 2021, the star spent weeks in hospital battling Covid-19.
His immune system, weakened by his lymphona, was attacked by Covid-19 and Bridges said "I was on deaths door a few times there."
Bridges talks about his brush with mortality in a refreshing way, and said his battle with Covid gave him perspective.
"It made the cancer look like a piece of cake," he noted, and said that he was fortunate to catch his cancer early on.
"They found a 9 by 12 inch mass in my stomach, but I was getting treatment with the right chemo cocktail."
"Then I got a letter from the treatment center that I had possibly been exposed to Covid, and that possibility turned out to be true. And man, that Covid, you know, it made the cancer look like nothing."
"I was in the hospital for six weeks or so and close to death's door - it took me two years to recover."
It would be easy to say that Bridges' sheer force of personality got him through a difficult moment in his life, but the actor spoke of his experiences and brush with mortality with such grace and humility that it serves as a reminder that beneath the bravado, there is a tenderness to him.
Bridges has been off our screens since 2018's 'Bad Times At The El Royale', and he was keen to get back to work.
"I know I was gonna go back to work, but I got getting better and better. And finally, two years later, I went back to work. And they're all the same people, the same faces that you saw two years ago. And it was like a bizarre dream, you know? It was like we had a long weekend and now we're back!"
"I'm glad it all had a happy ending."
'The Old Man' streams on Disney+ from September 28th.