The Byrde family continue their money laundering schemes in the Ozarks, Missouri. Marty (Jason Bateman) and Wendy (Laura Linney) are now working closely with cartel boss Omar Navarro (Felix Solis). A way out seems just in reach, but Navarro's hot-headed nephew Javier (Alfonso Herrera) is complicating matters. Meanwhile, Ruth Langmore (Julia Garner) had made a new ally in Darlene Snell (Lisa Emery), but cracks are showing as the two bitterly argue over running the heroin business. Furious with his parents for what they did to his uncle, Jonah Byrde (Skylar Gaertner) cuts ties with them and is now working with Ruth.
The first half of season 4 of 'Ozark' (the release date for part 2, also comprising of seven episodes, is TBC) maintains the intense atmosphere, exquisite writing, occasional dark humour, and terrific performances of all that has come before. Regarding the latter, Julia Garner (who has already won an Emmy for her performance in the series) outshines them all. This season belongs to Ruth Langmore and Garner deserves all the acclaim for her talent, and then some.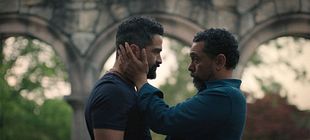 'Ozark' continues to balance various storylines, conflict and characters to add to the drama and suspense. FBI agent Maya Miller (Jessica Frances Dukes) still has a strong presence as she maintains contact with Marty and tries to get closer to Navarro; the Byrdes also have PI Mel Sattem (Adam Rothenberg) to be concerned about, as he lurks around their home and neighbourhood, determined to find out what happened to Helen Pierce (Janet McTeer).
Ruth and the Byrdes also mourn the loss of Ben (Tom Pelphrey) this season, with the act of fratricide having a particularly nuanced psychological impact on Wendy, as she becomes increasingly unhinged and wracked with guilt. Darlene is still as crazy, explosive and unpredictable (though less unpredictable than before – now you know that if someone rubs her up the wrong way, they're in for it) as ever, and her relationship with Ruth's cousin Wyatt (Charlie Tahan) is still as icky.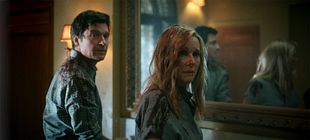 In fact, generally speaking, the only downside to season 4 is that the series has generally become less unpredictable, as we see Marty connive his way out of and survive these catastrophic situations over and over by sheer, dumb luck. Still, it's interesting to note the general demeanour of him and Wendy and how they have evolved. They're cooler at this stage in the game, more professional and together than before. There's a sense of security now they hold a lot of authority, with only Omar above them.
Less interesting is Charlotte's storyline of being Mummy's little helper, but it's been intriguing to see Skylar Gaertner come to the fore as Jonah, as naïve as that character can be. Epic cliffhangers are scattered through 'Ozark's fourth season, making the episodes near impossible not to binge through. With that mid-season finale, we just can't wait to see how it all pans out.
'Ozark' is now streaming on Netflix.