There's nothing like a good binge of a show you've seen a hundred times.
But now and again, you want to enjoy that feeling with someone else. When you can't rely on your mates to re-watch 'Buffy' with you, then the next best thing is to turn to the warm embrace of a podcast.
Luckily, literally every show has a companion pod now. And not just new shows - most of the classics have at least one dedicated watch-along pod with discussions about every episode. We picked out some of the best - So get watching and get listening.
Fake Doctors, Real Friends - 'Scrubs'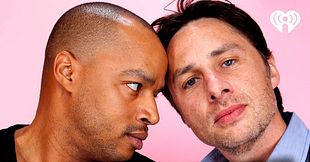 The long-running workplace comedy set in Sacred Heart Hospital was a huge hit and always a reliable watch for those of us with E4 growing up. Stars of the show Zach Braff and Donald Faison, who play JD and Turk, decided to get together once again and start up a podcast about the show.
The charming duo relive each episode of the show at a time, sharing behind-the-scenes stories and reminiscing on some of their favourite memories from filming. They also bring on some of their colleagues on the show for guest appearances. Some guests include Brendan Fraser, John C. McGinley, Sarah Chalke and Heather Graham.
It's an absolute hoot of a show and it's great to see the friendship still burns bright to this day. EEEAAAGLE!
Listen on Spotify here.
The Always Sunny Podcast - 'It's Always Sunny in Philadelphia'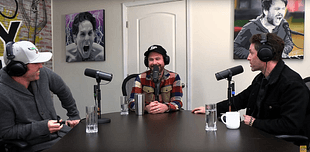 It's the longest-running live-action comedy series in history and you bet it's worth a rewatch from the first season to the latest. Now, there's no better way to do it than to have to the stars of the show guide you through it themselves.
Hosted by Glenn Howerton, Charlie Day, and Rob McElhenney, The Always Sunny Podcast is an unofficial look back on the past fourteen seasons of the hit show. The guys start from the very first episode way back in 2005 and give us a deep dive into their memories of creating the show, reveal how they first met, and discuss how they created a lasting partnership that has endured the better part of two decades.
The best thing about this podcast is that it's just like a group of mates sitting around reminiscing and joking, because that's what it is! The chemistry between the trio is unmatched and you'll be in stitches listening along.
Listen on Spotify here or watch on YouTube.
Kumail Nanjiani's The X-Files Files - 'The X-Files'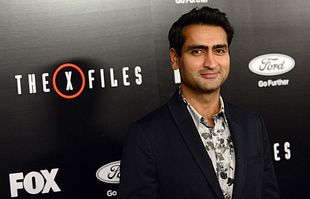 Back before he was a buff Marvel superhero, Kumail Nanjiani was a nerdy stand-up comedian with some smaller roles in shows like 'Silicon Valley'. He was also a massive 'X-Files' geek.
Nanjiani rewatched every episode of the show, up until the end of S4 and got some great guests on the show including Dan Harmon, Claudia O'Doherty, Jack Black and writer Darin Morgan. The whole thing came full circle when Nanjiani actually appeared in an episode of the show in a cameo role (Season 10, Ep 3 "Mulder and Scully Meet the Were-Monster").
It's a shame it was never completed, but there's still some great episodes covered. Who knows, it might come back at some point? (Probably not, but I want to believe).
Listen on Spotify here.
Buffering The Vampire Slayer - 'Buffy'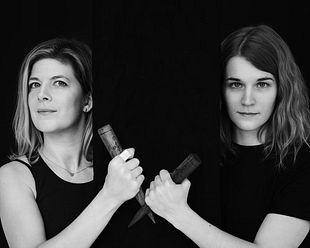 There's two types of people on the world. People who love 'Buffy' and people who have never watched 'Buffy'. No matter what side of the fence you're on, it's time to watch 'Buffy' (again).
Getting all the buzz on top podcast lists from Time, Paste and Esquire, 'Buffering the Vampire Slayer' is a bi-weekly podcast in which hosts Jenny Owen Youngs and Kristin Russo discuss 'Buffy the Vampire Slayer', one episode at a time.
The duo have interviewed loads of guests including Seth Green, Charisma Carpenter, Doug Jones and James Marsters. They also write and perform Buff-themed songs for every episode which is what we call dedication.
Listen on Spotify here.
Office Ladies - 'The U.S. Office'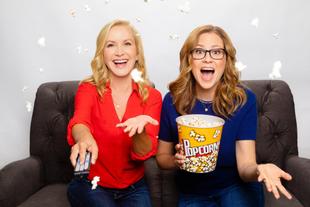 If you read that title and the piano started playing in your head then you have to check out this pod. A lot of us have an Office-shaped hole in our hearts since the show finished up nearly ten years ago, but thankfully it's endlessly re-watchable.
'Office Ladies' is hosted by Jenna Fischer and Angela Kinsey, who played Pam and Angela on the series. Together they do the ultimate 'The Office' re-watch podcast for you. Each week Jenna and Angela break down an episode of the show and give exclusive behind-the-scene stories that only two people who were there, can tell you.
It's a fascinating insight into every element of the show from friendships, anecdotes, character developments, scripting and production. There's also some incredible guests on the show including Rainn Wilson, BJ Novak, Brian Baumgartner, Mindy Kaling, John Krasinski and loads more!
Listen on Spotify here.
Talking Sopranos - 'The Sopranos'

Grab yourself a nice cut of gabagool and stick on on of the finest TV shows ever made. Oh, and while you're comfortable, why not give Talking Sopranos a listen? You won't be disappointed.
Hosted by the Michael Imperioli and Steve Schirripa, A.K.A. Christopher Moltisanti and Bobby Baccalieri from the legendary HBO show, 'Talking Sopranos' is an excellent companion pod for your watching pleasure.
Along with talking about 'The Sopranos', Michael and Steve also share candid conversations about the entertainment business, their friendship and all the folks they've met along the way. This is a must listen for all 'Sopranos' fans.
Guests include cast members like Steve Van Zandt, Jamie-Lynn Sigler, John Ventimiglia, Vincent Pastore, Edie Falco and Lorraine Bracco. Other guests include creator David Chase, celebrity fans Ricky Gervais, Pete Davidson and Alec Baldwin.
You can listen to all of their shows on YouTube.