The world of PC gaming is as popular as it's ever been, and HP have identified that PC gamers come in many different forms. Their latest offering, the OMEN by HP Laptop 16-b0012na, is the laptop that fulfils all of your gaming needs and then some.
We'll cut to the chase and give you the short version: if you're in the market for a new gaming PC, you can't go wrong with this one.
HP's new machine can handle just about any game you can throw at it.
The device comes with a Windows 11 operating system, a 12th generation Intel i7 processor, and 16GB of RAM.
The cherry on top is the built-in NVIDIA GeForce RTX 3070 graphics card with 6GB of RAM, and serves as the Roy Keane of the unit.
NVIDIA's graphics technology has always been a cut above its competitors, and their RTX 3070 card is no exception.
The laptop isn't capable of 4K resolution and runs at a maximum resolution of 2560 X 1440, just below the threshold for 4K.
This was compensated by the hooking the laptop up to the 27c monitor, which runs in the same resolution, but the difference between playing on the laptop screen and on a monitor is truly startling.
For the purposes of this article, we watched a segment of 'The Power Of The Dog' on the monitor and the dramatic cinematography looked exceptional and changes the character of the film entirely.
Same PC gamers want to play with the latest cutting-edge graphics and highest frame rates possible in pursuit of victory, while others want to play less taxing games in pursuit of enjoyment, and HP have identified these different needs for gamers.
The folks at HP very kindly sent over the latest Omen gaming laptop to our Dublin offices to give the laptop a test drive, and we were impressed with how it could handle all the different tasks we threw at their new machine.
HP have said they are attempting to cater to different categories of gamers with their new hardware, and with our tastes in gaming ranging from 'Football Manager', first-person shooters like 'Doom Eternal', RPGs like 'Disco Elysium and 'Fallout New Vegas', we took them at their word.
With this versatile spread of games in mind, the games were put through their paces over the Bank Holiday weekend, with the games passing with flying colours.
We've set out three criteria for HP's new PC: how does it perform with triple-AAA, graphically intense and demanding titles, how does it fare with middle-of-the-road fare, older titles that are seen as demanding, and how does it cope with more casual titles.
With that in mind, here's what we found:
High-End titles
The first port of call with any PC is to check how it runs 2007's 'Crysis' which is still the benchmark game for new PC hardware, and when the game is configured to optimal settings, it was playable at a good frame rate on medium settings.
It is somewhat incredible that a game that came out in 2007 was only able to be run at medium when it was optimised, but more recent games were able to be played at high settings with little to no problems.
Recent high-spec releases like 'Doom Eternal' and 'Forza Horizon 5' ran well on the machine and played great when an Xbox controller was used.
Players can, of course, play with the traditional point and click setup, and the keyboard is versatile and tactile enough for those who prefer the old-school WASD setup.
With that said, if you want to get the best out of this PC you'd be well-advised to use your Xbox controller.
The mouse and keyboard approach is fine for games that don't require precise input such as 'Football Manager' or 'Civilization' (which we'll get to later) but if you want to play the latest blockbuster hits, the controller is the only way to go.
The built-in Xbox capability on Windows means that PCs are now every bit as good as their console counterparts, and in this case, even better than what's on consoles.
'Doom Eternal' and 'Forza Horizon 5' could bring a lesser machine to their knees, but HP's new opus made light work of the games, and was able to play them at a butter-smooth framerate.
The vivid Mexican landscapes of 'Forza Horizon 5' zipped by without the machine breaking a sweat, and 'Doom Eternal' was able to look and sound like a million bucks when played on a tip-top machine such as this.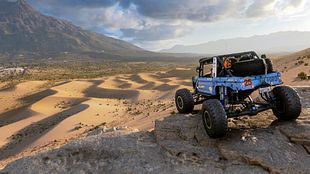 Both games favour high-speed action, and the Omen was well able to keep up with everything the games threw at it.
This was a very pleasant surprise, as we were expecting a mid-powered machine at best.
'Halo Infinite' also did well, with the game comfortably being run on high or ultra settings, and for a game with such a focus on multiplayer thrills, you can no longer blame a bad PC for not being able to match up to your competitors.
The game ran exceptionally well and could handle whatever environments were thrown at it, with the game's open-world focus looking even better than on console.
The big selling point of HP's Omen technology is their Tempest technology which keeps the laptop cool even through the most technically demanding games.
Gamers are probably all too aware of how hot their PC can get during long gaming sessions, but the Tempest technology kept the Omen ticking over nicely, and it wasn't like playing in a furnace.
With this newfound confidence, we decided to make HP's machine sing for its proverbial supper.
2020's 'Microsoft Flight Simulator' has a reputation for giving graphics cards and processors nightmares and the Omen wasn't quite able to keep up with the demands.
When the game was put on high settings, the hyper-intensive workload proved too much for the PC, but that was entirely expected.
The game has incredibly demanding specs and is probably best played on a NASA supercomputer.
We were able to access the menus and launch a flight, but the game crashed to desktop three times, and we also ran into some freezes.
For a game like 'Microsoft Flight Simulator', the graphics are a large part of the experience, so it was a shame the PC wasn't quite able to match up with its biggest test.
However, if the PC is able to run 99% of every other PC game at top settings, we won't be losing sleep over not being able to play one specific game.
In terms of other gaming PC's on the market, we'd rank this particular one in the top 10% of those available on the market - if you want a machine that can really get the most out of gaming, you'd be better placed to invest in a desktop with similar specs.
While this particular machine isn't capable of 4K resolution, it was able to enable ray tracing in more modern games, including 'Forza'.
Ray tracing is something that has become the holy grail for graphics enthusiasts, and having seen it in action in 'Gran Turismo 7' and now 'Forza Horizon 5', the gorgeous lighting is a subtle but amazing difference that edges gaming graphics that bit closer to photorealism.
On the competitive gaming front, 'Rainbow Six Siege' and the recent 'Rainbow Six Extraction' also performed strongly, and when paired with the OMEN 27C curved gaming monitor, those split-second decisions in the heat of battle went our way.
When you jump on the HP train, you'll be getting that crucial split-second advantage that will take your competitive gaming to the next level.
Mid-Tier
We then loaded up games aimed at the more casual market or gamers who enjoy their simulation or management games.
'Football Manager' was our first port of call after it was established the PC's graphics unit was up to par, the test now was determining was the CPU up to scratch.
We loaded up all the major European leagues with multiple leagues selected, and we were able to run a database of over 70,000 players with relative ease.
Processing power is crucial for the 'Football Manager' experience, and this PC was able to zip through match days or holidays in a jiffy.
Even with a demanding task load thrown at it that would cause a normal PC sound like a jet engine on take-off, HP's machine was able to handle the full-fat 'Football Manager' experience.
'The Sims 4' is another favourite of our writers to relax and unwind, and the game performed admirably.
While using a gaming PC to play 'The Sims 4' is like entering a Ferrari into a 5k run, the game ran remarkably well, with the graphics card coming into its own.
For fans of the game who like to play around with mods, HP's new rig is the machine for you.
With a hefty 1TB of storage and an SSD onboard, the limit appears to be your imagination.
Other casual favourites such as 'Stardew Valley' and 'Minecraft' also stacked up well, and while those games aren't the most CPU or graphically intensive games on the market, they're the bread and butter of any good gaming PC experience.
'Age Of Empires IV' received plaudits from critics and fans alike for making sure the game could be run on just about any PC built since 2010, and it performed exceptionally well here.
Low-End/Retro favourites
Inspired by seeing how the laptop handled 2021 games, we went further back into our gaming libraries to see how a top-notch PC of today handles older games.
We plan on writing a piece on 'Max Payne 3' soon for the upcoming 10 year anniversary and what became immediately clear was how fantastic the game looked on PC.
The game is notable for pushing the consoles of the day to their limits, and with the game cranked to high settings and displayed on the monitor, the game could easily be a 2022 release.
Floor surfaces had a pristine shine and character textures appeared rich and detailed.
The game was exceptionally well-optimised for its time, and it took a 2022 gaming PC to bring out the best in it.
Another old favourite, 'Fallout New Vegas', was also used for the purposes of testing, and while the game was never exactly a 'Red Dead Redemption 2' in terms of being demanding, we wanted to see how playing the game on a powerful machine affected the performance.
The game was developed on the Gamebyro engine which was showing its age by 2010, and while you can't fix something as fundamental as an old game engine, HP's machine smoothes over the edges and then some.
'Fallout New Vegas' was famously broken at launch in 2010, but with over a decade of hardware and software refinements, the game plays better than ever on a 2022 PC.
We also took some older games like 'Alpha Protocol', 'Freedom Fighters', 'World In Conflict' and 'XCOM: Enemy Unknown' for a test on the machine, and the older games run just as well as the state-of-the-art titles from 2021.
If you were to get this PC, you could play just about any game that is available for PC, with everything from old to new playing with an extra bit of TLC and va-va-voom under the hood.
The final verdict
All told, HP's latest offering to the PC market is well worth your time and hard-earned cash.
The remarkable versatility makes this the rare PC that appeals to hardcore gamers and casual ones alike.
Even outside of gaming, the built-in 16-inch screen makes streaming your favourite films or shows a breeze, and when coupled with the OMEN 27c monitor, your PC set-up would rival those of the very best.
Of course, a top-spec PC doesn't come cheap, and this particular model (the OMEN by HP Laptop 16-b0012na) costs the bones of €2000, and getting a good monitor like the Omen 27c that HP generously provided us will increase that price point further.
With that said, the specs on board are genuinely impressive and future proof your PC.
Off the shelf, it can play all the latest hit titles, golden oldies, and casting an eye into the future, we can anticipate it running 'Starfield' later this year with little to no problems.
If you're looking to dip your toe in the PC gaming market for the first time or want to upgrade your existing hardware, you'd be hard-pressed to find a better rig than this one.