The destroyer of college degrees, relationships, work ethic and sleep routines is back for another year, and with a new data hub, the 'Football Manager' rabbit hole goes deeper than ever.
In years past, 'Football Manager' always adds one major element to its well-oiled machine.
2009 saw the addition of press conferences, 2011 added more detailed negotiations with agents, 2018 added dynamics, and now in the 2020's, the game has fallen head over heels with data and stats.
If you've been paying attention to the world of football over the last two years, data has become the new hotness, and seeing as the 'Football Manager' games are always keen to replicate what's going on in the world of football, this year's edition has introduced a data hub.
A common praise and complaint of 'Football Manager' is that the game is fundamentally the same year in year out with only very minor tweaks, but the 2022 edition is a solid rebuke to those in the latter camp.
This game is no mere squad update like other editions of the series have been - looking at you, 2017 edition - and the data hub genuinely alters how the game is played.
Deadline day has also received a revamp, and is as close as you can get to replicating the real thing, short of forking out a few grand for UEFA coaching badges.
You can swoop in to sign a player from under your rivals' noses just like Manchester United did with Cristiano Ronaldo and Manchester City in real life, and agents will offer out players at the last minute to drum up interest.
Once a year, the in-game press also releases a list of the best young players in the game, making it easier than ever to identify the next wonderkid (why yes, I do want to sign the Slovenian Christian Benteke game, thanks for bringing him to my attention!)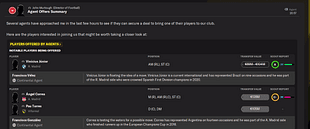 The data hub lets managers make informed, stats-based decisions about their players, and captures one of football's great debates; "this lad played awful for us on Saturday" and you can bring up the stats to prove your argument.
For Manchester United fans it lets you see just exactly how bad Harry Maguire's positioning is, and for Liverpool fans, you can use the power of stats to determine how to get the best out of Mo Salah.
The data hub becomes available after 3 games are played in the season and easily identifies problems that your team is having, and also points out areas the team do well in.
Lost 2-0 from two scrappy goals let in from a corner? Your stats person will have a report on your desk on Monday morning explaining how to stop that from happening again.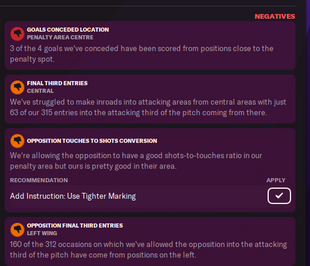 The match engine has come under fire in recent years for some strange AI choices and some quirky animations that turn the beautiful game into a Jacques Tati film, but this year Kylian Mbappe runs like Kylian Mbappe and Jorginho passes the ball like Jorginho.
One of the great beauties of 'Football Manager' is you can be as involved as much or as little as you like, so if you want to spend the day after a match obsessively going over stats or delegate all your duties to your assistant and just turn up for a match on a Saturday, the game has you covered.
This year's edition also allows players to deploy their centre-back as a wide centre-back, so your buccaneering centre-back can bomb down the pitch like Virgil Van Dijk.
John Peel once said of The Fall "they are always different; they are always the same" and that quote is apt for this year's edition of 'Football Manager'.
It isn't the seismic leap forward that 'Football Manager 12' was for the series, but enough has been improved or added since 2020 that this justifies a purchase for long-term and new fans.
Like any sandbox game, you make your own fun, and 'Football Manager' still holds the crown in that regard.
For review purposes, we did a season at Manchester United, attempted to get Barcelona out of their financial black hole, tried and failed to keep Derby County up, and did a stint at San Lorenzo in Argentina.
In each save, the game is as remarkably versatile and adaptive as ever.
If you want to manage the big guns like Liverpool or try to establish Galway United as Ireland's answer to Real Madrid, the game will bend and shape itself to the save you want to undertake.
The litmus test for any 'Football Manager' game is as follows: if you start a session at 6 pm for work purposes and finish up a session at half 12 in the morning because the game sucked you in, the game has done its job.
To that end, 'Football Manager' 2022 succeeds with flying colours - there is legitimately no other game on the market that has this effect on players.
By that token, 'Football Manager 2022' is worth buying.
Let the sleepless nights begin.