Here's hoping that you won't have to pause any TV shows for the week that's in it for the fear of God that your parents are about to walk in on you watching a sex scene.
Whether it's on your home TV screen, or in your bedroom on your laptop (thanks mom and day), here's a list of the sexiest TV shows currently available to stream in Ireland.
'Bridgerton' | Netflix
We might as well go for the jugular straight off the bat. As we patiently await season two of the period drama to arrive on Netflix this March, what better time to have a rewatch of all of the hot gossip from Lady Whistledown to jog your memory? You never know, maybe you've "forgotten" all of those saucy sex scenes and will just have to power through them all over again.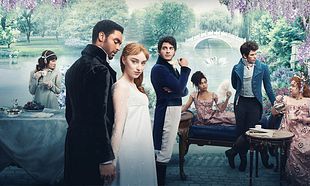 'Euphoria' | Sky TV & NOW
It's not just because of all of the nudity and sex that the HBO series is on our list - it's because 'Euphoria' looks sexy to boot. The cinematography (think lots of cameras sliding on dollys) reels viewers into each scene, giving us an intimate look at the lives of the main characters. Pair this up with a monster soundtrack and you've got yourself one sexy series that is always visually stunning.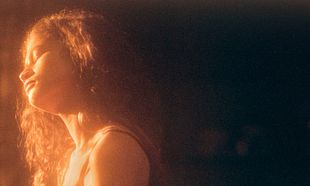 'Buffy The Vampire Slayer' | Disney+
While we would have loved to have included 'Xena: Warrior Princess' on our list, the series is not currently available to stream anywhere in Ireland. However, this gives us the chance to shine a light on another female lead that also deserves a spot on our list - Buffy Summers. The OG female vampire hunter, slaying vampires like there's no tomorrow.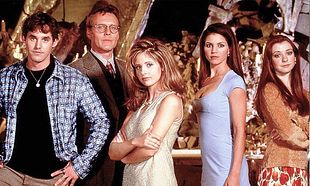 'American Gods' | Prime Video
A slow-burner series, 'American Gods' really builds on the sex factor from the opening episode. Bilquis (Yetide Badaki), the Goddess of Love, comes into her own from season two, but it's her appearance at the beginning of the series which is potentially the most shocking. Essentially having the ability to consume anyone who worships her, the character has a number of stand-out, demented sexual encounters. There are also some rather intense and romantic scenes shared between Salim (Omid Abtahi) And The Jinn (Mousa Kraish).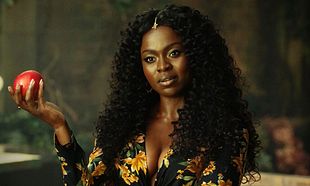 'Killing Eve' | RTÉ Player
The sexual tension shared between Villanelle (Jodie Comer) and Eve (Sandra Oh) is the cherry on top of the dramedy that makes 'Killing Eve' much more appealing than you would initially think. Will they? Won't they? It's all completely deranged and over the top, with a healthy sprinkling of Stockholm Syndrome added into the mixture, but you can't help but be drawn towards this unlikely duo and their high-stakes/cat and mouse games. The fourth and final season hits BBC very soon.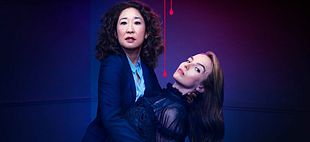 'The Tudors' | Channel 4/4OD
If 'Bridgerton' isn't floating your boat, then switch it over to Jonathan Rhys Meyers and his portrayal of horn bag royalty, King Henry VII. The period drama proved to be a bit of a hit and a miss in terms of a compelling storyline, but one thing that'll stay in your mind long after you've switched off is the steamy sex scenes.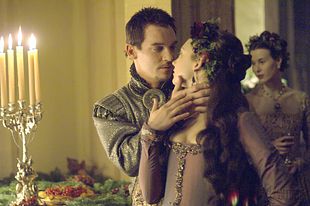 'Pose' | Disney+/Netflix
If you haven't given into 'Pose' yet, now is the time. Set in the late '80s and early '90s, this series is all kinds of sexiness. 'Pose' might feature actors serving looks and bringing it to the (ballroom) runway, but the heart and soul of the drama is self-love. Because there's nothing sexier than someone who loves themselves, accepts themselves for who they are, and teaches the passing bystanders that you don't stand for anything less than being treated like a human being.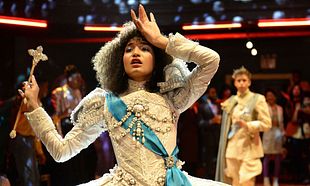 'Bonding' | Netflix
A short-lived Netflix series, but a cute and whipsmart one nonetheless, is 'Bonding', a two-season show you can easily breeze through in an afternoon. The story follows two best friends Pete and Tiffany (Brendan Scannell and Zoe Levin), who get by in New York City by dabbling in the world of BDSM activities for some extra cash.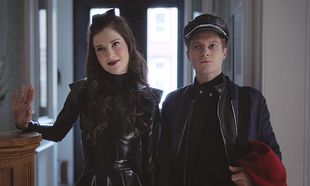 'Sex And The City' |Sky TV & NOW
Now really, we weren't going to make a list of sexy TV shows and not include one of the original series based around the topic. Placing the revival series heavily aside, Carrie Bradshaw, Samantha Jones, Charlotte York and Miranda Hobbes sure do know their way around the New York dating scene. It wasn't just the sex scenes that made the series so appealing, it was the brutal honestly (from Samantha, mostly) and the fashion statements that locked this in as a series that will be talked about for years to come.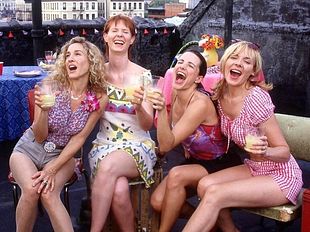 'True Blood' | Sky TV & NOW
Seeing out our list of sexy TV series is another fantasy story that used to have quite a huge fanbase, mostly down to how mega-hot every person on the show is. The acting might be a bit wooden, but hey, at least they look good delivering a monochrome performance. Vampires have to be sexy, right?