The death of Luke Perry yesterday has undoubtedly come as a shock to many, particularly the legions of '90s kids out there who worshipped him in his role as 'Beverly Hills, 90210's Dylan McKay. It seems too soon to deal with the loss of our teen idols, and at just 52, Perry's death did come too soon.
Many of you will likely not have given Luke Perry too much thought in recent years, but that was not the case back in the nineties when 'Beverley Hills 90210' was a defining show of the decade. It paved the way for a slew of teen dramas from 'The O.C' to 'One Tree Hill' and introduced a whole generation to the glamorous world of a Beverley Hills high schooler. It was far from prefects and nuns this lot were reared.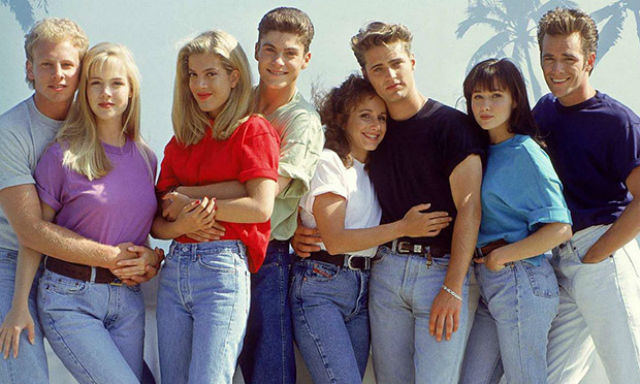 Luke Perry's character of Dylan McKay, the bad boy outsider who took a shining to Brenda Walsh (Shannen Doherty), was only supposed to be on the show for a one-two episode arc. However, 90210's creator Aaron Spelling saw that Luke Perry could deliver far more to the role. It was a wise choice - so much of the show's earlier success rested on the appeal of Dylan McKay. He was different from the rest of the shiny, polished residents of 90210, he was the brooding, tortured soul we all rooted for - our generation's very own James Dean.
His storylines on the show ranged from dealing with a wayward father to struggles with addiction, and of course the ongoing love-triangle between him, Brenda and Kelly (Jennie Garth). Shannen Doherty's departure from the show meant that it was Kelly and Dylan's relationship that played out more on screen, with the pair's on-and-off again romance resulting in a son in 2004. Sorry though Kelly, we were Team Brenda all the way.
Perry left the series in 1995 to pursue more mature roles but ultimately reprised his role in 1998 for financial reasons. He had more luck once 'Beverley Hills, 90210' finished for good in 2000, going on to star in HBO prison drama 'Oz' as well as Showtime's 'Jeremiah' and a string of other appearances in the likes of 'Criminal Minds', 'Law & Order: Special Victims Unit', 'Will & Grace' and animated series' such as 'The Simpsons' and 'Family Guy'.
It's 'Riverdale' though that introduced Luke Perry to a whole new generation. He starred as Frederick "Fred" Andrews, Archie's father, on the CW series, which airs on Netflix over here. It seems an appropriate bookend to his career that Perry served as a father figure to another generation of teen stars, but it's not his final role. That will be in Quentin Tarintino's 'Once Upon a Time in America' out later this year alongside Leonardo DiCaprio and Brad Pitt. It will be Perry's biggest movie role to date, and it's too sad to think about what further opportunities could have come off the back of it.
Luke Perry was a kindhearted and incredibly talented artist. It was an honor to be able to work with him. My thoughts and prayers go out to him and his loved ones.

— Leonardo DiCaprio (@LeoDiCaprio) March 4, 2019
His death came in the wake of the news that 'Beverley Hills, 90210's reboot would be returning in the summer, with most of the cast reprising their roles. Perry, along with Shannen Doherty, had not yet signed on to the new series, but with a career that was enjoying a resurgence, you can see why he might have been hesitant to return to a role that had defined him.
Perry took this lifetime association with Dylan in his stride though - "I'm going to be linked with him until I die, but that's actually just fine," he once said. "I created Dylan McKay. He's mine."
Dylan isn't his only legacy though. All who are paying tribute to him speak of how kind he was, and how he had time for everyone. He leaves behind a 21-year-old son Jack and an eighteen-year-old daughter Sophie, while Perry was also set to remarry for a second time to therapist Wendy Madison Bauer.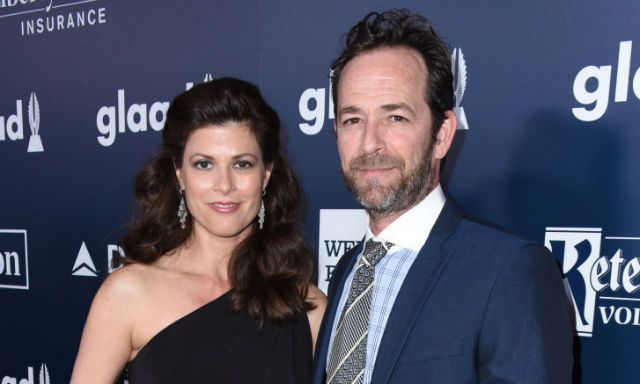 At the time of his death, Perry was surrounded by his children, his fiance, his mother Ann Bennett, his step-father Steve Bennet, his brother Tom Perry, sister Amy Coder, and ex-wife Minnie Sharp.
He may always be Dylan McKay for us but for them, he will always be Luke.