After just six months, 'Love Island' winners Dani Dyer and Jack Fincham have decided to call it quits.
Dyer released a statement via her Instagram saying they had realised their relationship was "not meant to be long term" but that they "plan to stay friends".
She also said they "will always have a place in our hearts for each other".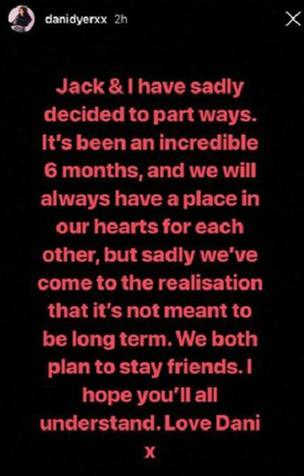 Jack has yet to comment on the split.
Jack and Dani were together for the entirety of the two-month 'Love Island' series last summer, and their relationship won over fans from the start.
Needless to say, folk aren't taking it well:
Why would Jack and Dani do this to me just before Christmas

— Valerie Loftus (@valerieloftus) December 6, 2018
Nah I can't believe dani dyer and jack have split up, what a shite ending to a shite year, am actual heartbroken feel like I've just went through ma own breakup again lmfaooo

— JODY KERR✨ (@jodykerr98) December 6, 2018
well if Jack & Dani have split then there's no hope for any of us

— aidan (@_aidanflynn) December 6, 2018
I've just lost faith in humanity after finding out Dani dyer and Jack have split up🤧 crying real life tears rn

— leah kay (@leahkayyxox) December 6, 2018
The couple quickly moved in together when the show ended and even got a puppy. They had also just finished filming a new reality series about their life together.
This means that Megan and Wes, Josh and Kaz and even Adam and Zara have outlasted Jack and Dani. Who'd have thought it.
We should all just take this on the chin. Relationships end. They were only young! Now excuse us while we go somewhere and sob uncontrollably because love is dead.