If only the Starbucks coffee cup gate was the worst thing to happen during season eight of 'Game of Thrones'.
The crew on 'House of the Dragon' had a tough time of it. Not only did they have the pressure of trying to live up to the 'GOT' name, but they were also always on high alert for any potential coffee cups on the set. Yep, the 'Game of Thrones' Starbucks incident has haunted the newest HBO production.
2019 seems like a much simpler time, doesn't it? All we had to worry about was if any more coffee cups or water bottles might appear in the final season of 'Game of Thrones'. And then we saw that finale. Woof.
Ahead of the prequel series releasing this month showrunners Ryan Condal and Miguel Sapochnik admitted in an interview that they took policing for the white cups very seriously on set so as not to open those floodgates ever again, or create another laughable viral reaction. Clearly, they are doing everything in their power to distance themselves from 'GOT' season eight.
Condal told The Hollywood Reporter there was "Starbucks-hunting" going on: "[We had] a very heavily policed set — there was lots of Starbucks-hunting going on. We always joked around about it, that we were going to make Starbucks goblets so at least they fit in the scene."
Sapochnik then joked that viewers can win a cup of coffee if they spot any cups that have been digitally removed: "[We left coffee cups] everywhere we could so that later on we could paint them out digitally. See if you can see where the Starbucks cups were that we removed digitally after the fact, and if you can find one, there is a prize. A cup of coffee."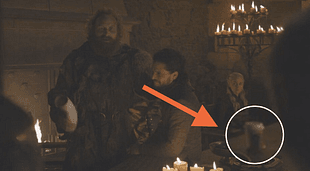 The infamous 'Game of Thrones' Starbucks cup incident occurred during the fourth episode of the final season, sitting in front of Daenerys (Emilia Clarke). Although the Starbucks in Winterfell moment has been associated with the character ever since then, it was later revealed that the cup actually belonged to Irish star Conleth Hill, who played Lord Varys.
The 'House of the Dragon' prequel series begins on Sky Atlantic and streaming service NOW on Monday, August 22.