Amy Hart has reportedly temporarily left the 'Love Island' villa following her split with Curtis. Amy is still remaining on the show but producers felt like she needed time away to properly deal with her heartbreak.
According to The Mirror, producers decided to "whisk" Amy away so she could get some therapy outside of the villa. A 'Love Island' spokesman said: "We take the emotional well-being of all the Islanders extremely seriously.
"We have dedicated welfare producers and psychological support on hand at all times who monitor and regularly speak to all of the Islanders in private and off camera, especially if someone appears to be upset.
"All the Islanders are therefore fully supported by the professionals on site and by their friends in the villa. This means Islanders are always able to reach out and talk to someone if they feel the need. We will of course continue to monitor all of our Islanders in line with our robust protocols.
"Love Island holds a mirror up to relationships and all the different dynamics that go with them."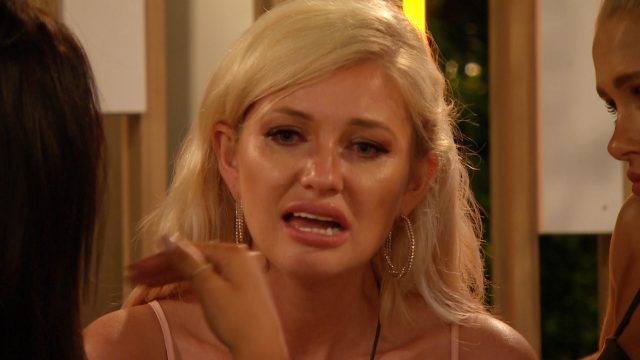 For the first half of this season of 'Love Island', Amy and Curtis were the strongest couple in the villa. However a stint in Casa Amor changed that as Curtis decided he might be better off with some new girl he had spoken to twice. All very bizarre.
This new girl, Jourdan, who is now coupled up with Danny, rejected Curtis so he ultimately recoupled with Amy, who had remained loyal to him in Casa Amor. When she arrived back however he told her what had gone down. The pair then sat down again to talk things through last night, and Amy, list in hand, went through the issues she had. However while it looked like she was prepared to give him a second chance, Curtis admitted he couldn't promise it wouldn't happen again.
And that, our dear friends, was that.
"It's on me, everything's on me." We'll never get over Curtis and Amy's heartbreaking chat. 😫 #LoveIsland pic.twitter.com/OfEJOWojwF

— Love Island 🎰 (@LoveIsland) July 5, 2019
Refusing to accept his apology, Amy asked: "How can you go from saying I want a future with you to now saying you don't want to be with me?
As she got up to leave, she added: "You're a liar. You're a compulsive liar."
This isn't the first time Islanders have left the villa for emotional support. 2018's series finalist Laura Anderson admitted she left three times. Speaking to Digital Spy at the time she said: "I just got a bit overwhelmed, I think. I was like, 'I've had enough!'"
Laura added she was happy she returned each time saying: "Oh my gosh, yeah. Everyone just has a wobbly. It's like cabin fever. It is a big place, but at one point, there was 20 of us in there."
Catch the fallout from Curtis and Amy's split tonight on 'Love Island' at 9pm on Virgin Media Two.