Yesterday at Variety's annual Power of Women dinner, stars including Kim Cattrall and Camila Cabello got together to celebrate women.
Every year, Variety organises a dinner in celebration of the female pioneers, creatives, philanthropists, and visionaries of our generation. Awards are presented to honourees by Lifetime at the event in New York.
2022 attendees included Venus Williams, Emily Ratajkowski, Dorinda Medley, Lorraine Toussaint, Darren Star, Gia Gunn, and Billy Porter among many other prestigious guests.
Speakers at the event used the opportunity to empower guests, with Kim Cattrall encouraging them that "no" is a full sentence, "The word 'no' has difficulties sometimes travelling from the brain to the tongue".
She continued, "There can be situations, shockingly, even today where a woman's rights or opinion is not readily listened to, which makes this basic word all the more important".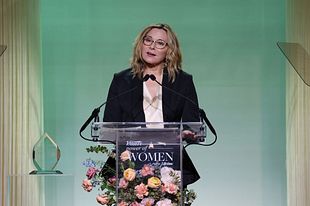 Many honourees shared their stance on the mistreatment, objectification, and abuse of women, with Kim sharing "I'm 60-friggin'-5 years old. When I started my career, phones had dials, TVs needed antennas, and most men in Hollywood thought that 'harass', her ass, was two words".
Echoing Kim's sentiments about the male gaze, Queen Latifah preached on the power that we all have as women to change the planet. But she also reflected the reality of being a woman today, whereby other people are deciding what they can do with their bodies.
She referenced the ongoing Joe v Wade abortion legality issue in America, which would set women's abortion rights back about 50 years.
"It is a very strange time for us, there are a group of people who are trying to steal our power. Our power to decide what we want for our bodies, for our families, for our future."
Ultimately, she feels that "if we weren't so powerful, then why would there be such a push to keep us in our place". She even went on to thank the men that support women's empowerment. Men that we undoubtedly need more of.
Amanda Seyfried mirrored Latifah in her speech on how women's safety is too "negotiable", also referencing the legal battle for abortion rights in America.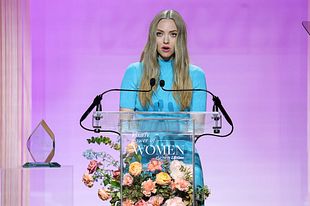 Seyfried thanked an organisation that does critical work with refugee children on their physical and mental well-being known as the International Network for Aid, Relief and Assistance.
Camila Cabello also got candid about mental health, praising therapy as a means to "fill [your] own cup". She even discussed how organisations such as Healing Justice Project have helped her learn on her own mental health journey.
For her, it was imperative to realise that "no matter how much you love what you do, you can't keep going if you don't have the resources, time, space and tools to heal".
There were other powerful speeches from honourees like Drew Berrymore who urged people with power to protect and take care of others. Which is the perfect sentiment to wrap up an emotional evening full of energy, but also wrought with the ongoing female issues in the U.S.A.
If you or someone you know is in need of mental health services, contact Mental Health Ireland or for refugee support contact the Irish Refugee Council.
Check out the full speeches from honourees at the Power of Women Dinner with Variety.