Kourtney Kardashian and Travis Barker went public with their all-smooching, all-straddling love back in February 2021. In true Kravis style, the pair got married in secret over the weekend.
It comes as no surprise that the pair chose to get married so privately and with zero notice — sure, they were unofficially wed at a little chapel in Vegas after the Oscars, complete with Elvis impersonator.
What is a little more shocking though is the fact that many of the Kardashian-Jenner clan were not present at their courthouse wedding in Santa Barbara over the weekend.
In fact, there was only one member of the family there and no, it wasn't The official Mom-ager, Kris Jenner. It was Mary Jo "MJ" Campbell, Kourtney Kardashian's grandmother and Kris Jenner's mother.
So where were the rest of the gang? According to US Weekly, Kim Kardashian was at a football match.... Okay, it was her son's game, but still, that seems like a limp excuse, right?
Kendall Jenner was on a date with her fella, Devin Booker. Kylie Jenner was at the Billboard Awards with Travis Scott. Khloé Kardashian was AWOL while promoting her clothing line, Good American. Kourtney's children weren't even there; they were with their father and Kourtney's ex Scott Disick.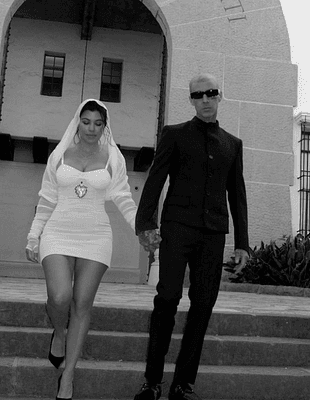 But Kourtney looked incredible. Her white, strappy, mini-dress was very simple and elegant but nontraditional and accented with a religious looking heart-shaped beading under the chest. The sleeves were ruched and look like they were connected to the very understated veil she wore. To finish off the look she wore simple crushed velvet shoes, a no-makeup makeup look, and her hair was gathered back with a few strands falling out.
According to TMZ, the word on the street is that they needed to get legally married ahead of a bigger wedding in Italy pretty soon. So, we imagine the family will be there in full. Side note: can you imagine having three weddings to the same person?
We adore how romantic it all is, including her dress. Check out Kourtney's Instagram for some more snaps.