Parasite director Bong Joon Ho famously said in his Golden Globe winning speech, "Once you overcome the one-inch tall barrier of subtitles, you will be introduced to so many more amazing films."
Many took his advice after his film's success and, with another South Korean phenomenon hitting the world by storm recently in the form of 'Squid Game', there's never been a bigger appetite for foreign-language series and films. Luckily for us, Netflix has a large repertoire of great shows from around the world to have a look at. We put together a list of some fantastic series to get you started.
Originally airing on the BBC, 'Giri/Haji' is a great jumping off point as it's half in English and half in Japanese. The story follows a Japanese man who travels to London to find his allegedly deceased brother accused of the murder of a Yakuza member.
It's got all the grit you would expect from a BBC crime drama but with added layers of cultural complexity. It's worth watching solely for Will Sharpe's incredible performance as the troubled Rodney Yamaguchi.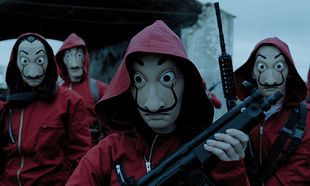 This list wouldn't be complete without the Spanish series that has taken the world by storm. In its fifth season and still as popular as ever, 'Money Heist' follows a group of criminals executing a heist of the Spanish Royal Mint under the tutelage of the enigmatic Professor.
With a rich cast of characters and a storyline that's so ridiculously fun, it's easy to see how this show has become so globally popular as a foreign language series. Before no time you'll be constantly clicking "next episode". Don't worry, we won't judge.
For lovers of Stranger Things, German show 'Dark' is similar in its plot yet tonally different in its execution. In a much grittier affair, a young boy goes missing in a small town bordered by a nuclear power plant (never a good omen) and four intertwined families search for answers.
There's some real mind-bending stuff in this series involving time travel and the mysteries seem to mount every new episode. It's well worth your time.
Another, lesser known, Spanish addition that has everything you would want in a seventies cop drama: Sex, drugs and giant moustaches. Four police officers set up a squad in response to the growing narcotics trade on the southern coast of Spain. It's over-the-top and doesn't take itself too seriously, making it an entertaining watch.
The episode times are a little daunting, clocking in at over an hour each, and could be slightly shorter. However, there's only one season so it's not too formidable to get stuck into.
The charming gentleman thief graced our screens in early 2021 and has quickly created a cult following. This French crime drama centres around Assane Diop, a con-man setting out to avenge his father who was accused of stealing a necklace from a wealthy entrepreneur. The titular Lupin is actually a fictional character from a book in which Assane draws his inspiration, scheming out minimalist, in-plain-sight tricks in order to ghost his way to a steal.
'Lupin' has been a smash hit and earlier this year was streamed to over 70 million households in its first month, outperforming the likes of 'Bridgerton' and 'The Queen's Gambit'.
Hailing from Brazil, '3%' is the show on this list that most closely resembles Squid Game in it's plot. It's set in a dystopian future where the world is divided between the slums of the Inland and the wealthy Offshore. Each year, every twenty-year-old gets the chance to join the elite of the Offshore by performing a series of challenges, however, only 3% succeed.
Ending recently after a 4-season run, '3%' has gained a huge following and has been lauded for it's character depth and beautiful cinematography.
For more news and reviews of what to watch online, check out the On Demand section of our website.