There are tonnes of movies on Netflix to be excited for in 2021, as indicated by the teaser they dropped earlier this week.
Big names like Ryan Reynolds, Dwayne Johnson, Gal Gadot, Dave Bautista and Chris Hemsworth lead the films.
Netflix will be dropping at least one movie a week, and there's something on offer for everyone.
Of all the 27 movies on Netflix that were previewed this week, we picked a handful that stand out.
Malcolm and Marie
Filmed in black and white, the trailer for 'Malcolm and Marie' dropped last week. It looks absolutely stunning. The movie stars John David Washington ('Blackkklansman', 'Tenet') and Zendaya (Emmy winner for 'Euphoria'). They play a filmmaker and his girlfriend who after a movie premiere come home and end up fighting as revelations emerge and their relationship is tested. The good thing about this one too is that audiences don't have to wait long to see it. It streams from February 5th.
Army of the Dead
Before he directed the likes of 'Man of Steel' and 'Justice League', Zack Snyder helmed the 'Dawn of the Dead' 2004 remake. Now he returns to the zombie genre, but there's a twist, as 'Army of the Dead' is also a heist movie. Following a zombie outbreak in Las Vegas, a group of mercenaries decide to take advantage by sneaking into the quarantine zone to pull off the heist. Dave Bautista, best-known as Drax in the 'Guardians of the Galaxy' movies, headlines.
Red Notice
'Red Notice' has three big names as its leads in Dwayne Johnson, Gal Gadot and Ryan Reynolds. It's being described as an action-comedy-thriller and sees an Interpol agent attempt to track the world's most wanted art thief. This marks director Rawson Marshall Thurber's third collaboration with the Rock following 'Central Intelligence' and 'Skyscraper'.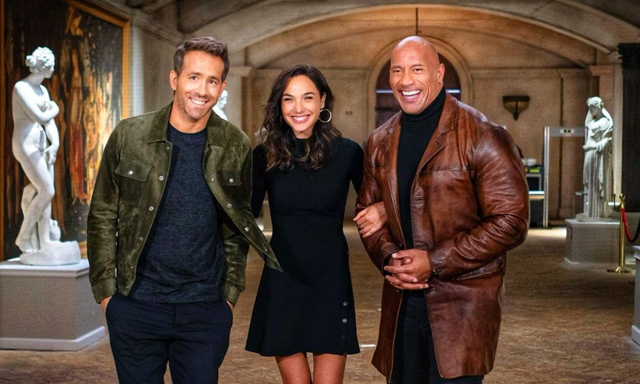 Escape from Spiderhead
'Escape from Spiderhead' is our next pick for movies on Netflix to look forward to this year. The main thing going for the film is that it's headlined by Chris Hemsworth, who reaped huge success for Netflix with the movie 'Extraction'. Joseph Kosinski, who also directed the 'Top Gun' sequel that we'll hopefully, maybe see this year, is at the helm and the writers are Rhett Reese and Paul Mernick, who also wrote the screenplays for 'Deadpool' and 'Zombieland'. Co-stars Jurnee Smollett ('Birds of Prey') and Miles Teller ('Whiplash') play two convicts who agree to participate in a drug experiment program to shorten their sentences.
Don't Look Up
In recent years, Netflix have tried to incorporate a few awards contenders in their movie line-up. Such was the case for films like 'Roma', 'The Ballad of Buster Scruggs' and 'The Irishman'. 'Don't Look Up' will be their dark horse for 2021. It's headlined by Oscar winners Leonard DiCaprio and Jennifer Lawrence, who play two low-level astronomers trying to warn mankind of an asteroid approaching Earth. Adam McKay, who has helmed such serious awards fodder as 'The Big Short and 'Vice', directs. Leo and JLaw aren't the only big names in the cast either. There's also Meryl Streep, Cate Blanchett, Chris Evans, Timothee Chalamet, Matthew Perry and Ariana Grande. 'Don't Look Up' is still filming, so don't expect this one until late 2021.