Drea (Camila Mendes) is at the peak of her high school powers as the Alpha it-girl on campus. But oh, how the mighty fall from grace. At the end of her school year, her sex tape gets leaked out into the world and onto everyone's phones, presumedly by her boyfriend Max (Austin Abrams), and she spends the summer wallowing in her unfortunate predicament. However, after meeting new student Eleanor (Maya Hawke), the pair hatch a plan to get revenge on the people who have done them wrong during this tumultuous final year at the prestigious Rosehill High School.
We've seen it time and time again in various forms over many years and in different genres ('Carrie', 'Heathers', 'The Craft', 'Mean Girls') - teenage girls are just the worst. 'Do Revenge' takes this template and spins its own subtly different yarn, with our two sharp-tongued leads exacting revenge on their unsuspecting targets, but on the other person's behalf (à la 'Strangers on a Train'). And those often forgotten about nasty boys also get a look-in too.
Rosehill, from its pastel-coloured uniforms (including berets) to its various different high school clicks, it's the type of school that reeks of privilege, and so it might seem difficult to truly warm to some of the characters throughout. However, thanks to inheriting the best acting traits from her parents, Hawke has the ability to win us over with her new kid on the block/sexually open vibes; she doesn't necessarily fit into the box that many students from this school have. In a similar vein, due to what happened to her in the opening 10 minutes, we're instantly on the side of Mendes' character Drea, because yet again, teenage girls are just the worst, right?
So, they have us on their side - let's see what kind of plans they can hatch for the other's tormentors. In fact, their ideas are pretty slick (if a little far-fetched) and make for some wild high school teen drama that delivers on the laughs.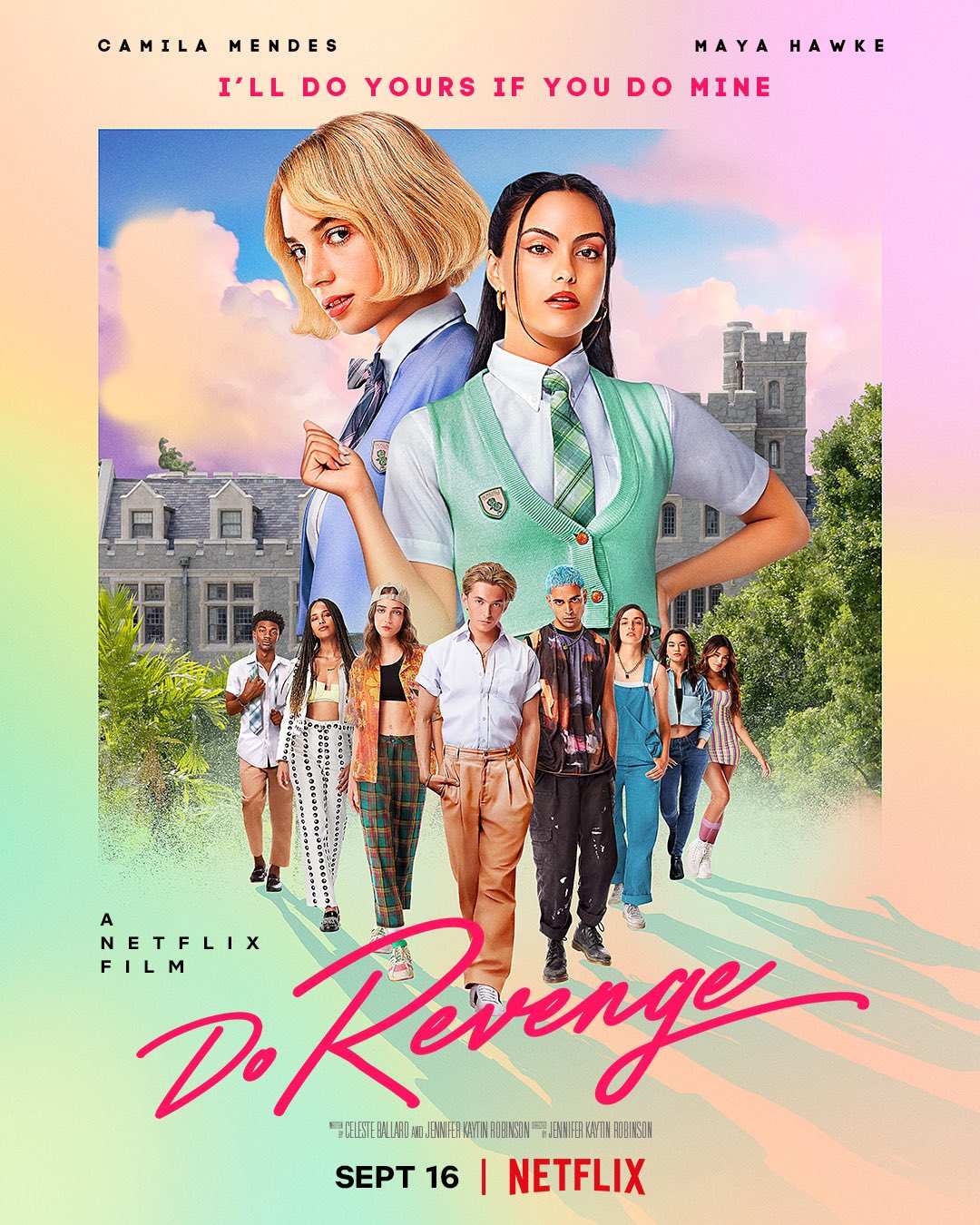 While watching the devious plots unfold, don't be surprised if you find yourself playing a literal game of "who's who" with the ensemble. It's no surprise that the expanded cast pulls together a lot of Netflix's most popular teen-steered TV shows into one production, with 'Stranger Things' (Hawke), 'Riverdale' (Mendes), '13 Reasons Why' (Alisha Boe), 'Alexa & Katie' (Paris Berelc) and 'Outer Banks' (Jonathan Daviss) all covered. The movie doesn't stop there and adds in countless other rising stars Austin Abrams ('Euphoria'), Rish Shah ('Ms. Marvel'), Maia Reficco ('Pretty Little Liars: Original Sin') and Ava Capri ('Love, Victor'). Plus, keep an eye on Talia Ryder (who stars as Gabbi), as she just oozes cool-ness and is one rising star to keep an eye on. Add in cameos from 'Game of Thrones' alum Sophie Turner and OG teen TV star Sarah Michelle Gellar of 'Buffy the Vampire Slayer' fame and it's difficult to not fall hard for the star power radiating from the screen.
Where 'Do Revenge' falls short is the runtime. Clocking in at just under two hours, if 15 minutes were shaved off along the way, it would make for a more pleasurable watch; but even with that bloated run-time, it sometimes feels that essential plot scenes are missing from the film roll (how did she get that key?). It's crazy that a film so obviously inspired by '80s and '90s teen films didn't follow these particular details - and here we thought the 90-minute comedy was making a comeback.
'Do Revenge' is the sophomore film from director Jennifer Kaytin Robinson (Netflix's 'Someone Great'), and is pegged as a "subverted Hitchcock-ian dark comedy". It gets the dark comedy aspect nailed down, with the script brimming with one-liners ("Glennergy" - Glenn Close in 'Fatal Attraction' energy) and the ensemble cast is able to deal out physical comedy at the drop of a cellphone (Sophie Turner steals the show with two cameo appearances).
The Hitchcockian aspect is lifted directly from 'Strangers on a Train', with teenage girls taking the place of two murderous men, but as the film drags past that 90-minute mark you find yourself confused as to who to cheer for. The characters that you initially sympathised with are now so all-consumed and hell-bent in their rage that at one point everyone on screen is so unlikable you feel deflated watching that clunky third act kick into gear. They do pull it back in the end for a satisfying conclusion, but for a moment it was touch-and-go whether 'Do Revenge' and its ensemble of narcissists, sociopaths and bratty teens might become a car crash that it can't recover from.
Essentially, 'Do Revenge' is just another fun teen film. It has a razor-sharp script with a commanding cast, and in a sea of recent "woke" titles, this one is cleverly steering its characters away from this brigade. A strong Netflix film, don't be surprised if this eventually joins the long line of teen comedies that have become cult classics.