If there's one thing we love, it's a dander down memory lane – especially where music is involved. There's a lot to be said for a comforting wallow in nostalgia.
In recent months, we've been bringing you weekly updates on the top-selling singles in the Irish charts from various years since 2000.
Now it's time to mix things up and cast our net a little wider.
Here, we'll look at the biggest musical events – as well as the best-selling singles and albums – that happened globally in a particular year.
Previously, we saw how Bryan Adams ruled the global charts thirty years ago in 1991 and Britney Spears left a calling card to remember in 1999.
Today, we'll look at how the land lay in 1995.
BIGGEST SONGS
1. Coolio – 'Gangsta's Paradise'
Alright, we knew 'Gangsta's Paradise' was a big song, but the best-selling song of 1995?! That's crazy. If you're of a certain age (raises hand) you'll definitely still know every word of this track off by heart. Has it aged well? Probably about as well as Coolio's dodgy hairdo.
*
2. Shaggy – 'Boombastic'
Before he hit big with the likes of 'It Wasn't Me' and 'Angel', most of us knew Shaggy for one song: 'Boombastic'. It even topped the singles chart in Ireland. Who would've thought that mixing rap and reggae would have been such a winning formula.
*
3. Take That – 'Back for Good'
Take That's best song? It's certainly up there. The boyband earned some street cred with this charming tune, which still sounds minty-fresh. Pop ballads still don't come much better than this, to be fair.
*
4. Michael Jackson – 'You Are Not Alone'
It's no surprise that Michael Jackson featured somewhere on this list – he was enjoying arguably his biggest period of fame around the mid-1990s. This song, however, always seemed a bit weak and cheesy to our ears and time has not been kind to it, either.
*
5. U2 – 'Hold Me, Thrill Me, Kiss Me, Kill Me'
Even if you're not a fan of Bono and the boys, you'd be churlish to suggest that this song is anything less than a banger. Taken from the soundtrack of 'Batman Forever' and with sweeping strings (courtesy of Scottish composer Craig Armstrong) giving it an epic cinematic feel, it may not be U2's best track but it's still a great tune.
OTHER BIG HITS
Oasis – 'Wonderwall'; Los Del Rio – 'Macarena'; Seal – 'Kiss from a Rose'; Boyzone – 'Love Me for a Reason'; Edwyn Collins – 'A Girl Like You'; The Rembrandts – 'I'll Be There for You'; Radiohead – 'Just'; Supergrass - 'Alright'; No Doubt – 'Just a Girl'; The Outhere Brothers – 'Boom Boom Boom'; Pulp – 'Disco 2000'; Blur – 'Country House'; Mariah Carey – 'Fantasy'; Bjork – 'It's Oh So Quiet'; The Cranberries – 'Zombie'; Michael & Janet Jackson – 'Scream'
NOTABLE ALBUMS RELEASED THIS YEAR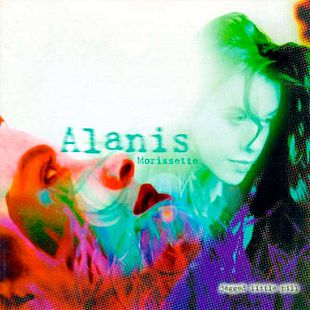 This was quite a big year for indie, rock and (of course) Britpop; both Blur, Supergrass and Pulp released huge albums, Alanis Morissette released her international breakthrough 'Jagged Little Pill', Dave Grohl released his debut album as Foo Fighters and Radiohead's second album 'The Bends' was a massive success.
Alanis Morissette – 'Jagged Little Pill'
Foo Fighters – 'Foo Fighters'
Blur – 'The Great Escape'
Radiohead – 'The Bends'
Take That – 'Nobody Else'
Supergrass – 'I Should Coco'
Teenage Fanclub – 'Grand Prix'
Bjork – 'Post'
Michael Jackson – 'HIStory: Past, Present and Future'
The Chemical Brothers – 'Exit Planet Dust'
The Corrs – 'Forgiven, Not Forgotten'
No Doubt – 'Tragic Kingdom'
Pulp – 'Different Class'
MAKE-UPS AND BREAK-UPS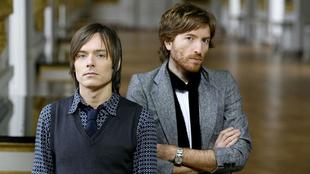 Bands that formed this year included Air (pictured), Black Eyed Peas, Eels, Idlewild, Keane, NSYNC, Mogwai, Slipknot, Sleater-Kinney and Semisonic. Bands that re-formed included The E Street Band, The Misfits and Journey.
Bands that split included The Grateful Dead (who disbanded following Jerry Garcia's death the same year), Pink Floyd (who later reformed in 2005 and 2012) and Dire Straits.
OTHER NOTABLE EVENTS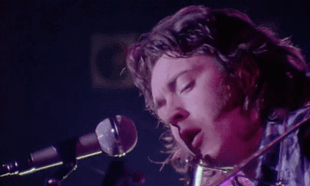 Sadly, 1995 brought several notable deaths in the music business – including rapper Eazy E, who died at the age of 31 from an AIDS-related illness; Irish guitar legend Rory Gallagher, who died at the age of 47 following complications from a liver transplant and the aforementioned Jerry Garcia of The Grateful Dead, who died at the age of 53 from a diabetes-related illness.