Todd Phillips, director of 2019's 'Joker' has this week confirmed that the film will be getting a sequel.
Phillips posted a photo on Instagram of the front of the script. The sequel looks to be titled 'Joker: Folie á Deux'. Phillips also included another photo in his post, one of Joaquin Phoenix smoking a cigar while reading the script.
The original 'Joker' re-imagined the infamous Batman villain in a grittier and more realistic light. The central character, Arthur Fleck, played by Phoenix, is a struggling comedian who, through extreme violence, rails against the system which has kept him at the bottom of society.
The movie was a far cry from the usual superhero clichés and took the character in a wildly new direction. As a result, 'Joker' received widespread critical acclaim and secured 12 Oscar nominations, winning two - Best Actor for Phoenix and Best Original Score for Hildur Guðnadóttir.
However, the film was not without its criticism too, with many pointing to the lack of depth to the film's script and the dangerous messages it threw out. Martin Scorsese even commented on what he thought of the film, "I saw clips of it… I know it. So it's like, why do I need to? I get it. It's fine."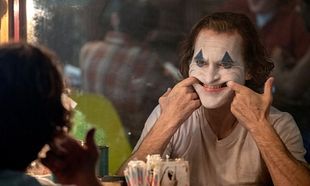 While Phillips' 'Joker' is set in Gotham City, it exists in a separate universe to the goings-on in Matt Reeves' version of the crime-ridden metropolis. There were, of course, rumours that Phoenix would be appearing in 'The Batman', however, they were quickly shot down. Reeves even cast Barry Keoghan as a different version of the Clown Prince of Crime.
There is currently no more information on the sequel at the moment. However, the title could be a clue. Folie á deux is defined as an identical or similar mental disorder affecting two or more individuals, usually the members of a close family. This could hint to the introduction of Harley Quinn, the Joker's accomplice and romantic interest.
For more updates on 'Joker: Folie á Deux', make sure to check out our website here.