Spoiler alert: If you haven't seen 'The Batman' yet, chalk off three hours in your diary to see it. Then, come back to this article.
Fans got a very small glimpse at Barry Keoghan's "unseen Arkham inmate" towards the end of 'The Batman'. His character becomes neighbours with The Riddler in Arkham and they have a lovely giggle together.
Even though it was a short cameo, we got a good idea of what Keoghan could bring to The Joker. It's fair to say that most people liked what they saw.
However, it was widely reported that there was actually another scene featuring The Joker that had been cut from the original movie. It was expected that we may get a glimpse of it on a director's cut or special release DVD.
But, last night director Matt Reeves tweeted out of the blue. He shared a screenshot with the phrase "Who gets the last laugh... ?" and a link to rataalada.com - The website in the movie which fans have been able to access.
Upon solving the puzzle on rataalada.com, fans got access to the new five-minute clip as a reward. The video was then promptly uploaded onto YouTube.
In the clip, we see Robert Pattinson's Batman pay a visit to Arkham Asylum to get into the mind of a criminal in order to take down The Riddler.
Keoghan's face is concealed by frosted glass for most of the scene. But we get a gruesome close-up of the deformities on his face and body. The back of his head, hands and face reveal what appears to be major scarring or chemical burns.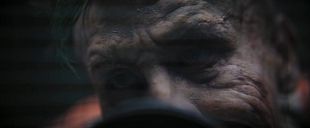 The scene is incredibly creepy and Keoghan's Joker bears some similarities to Heath Ledger's in 'The Dark Knight' trilogy but on a slightly more maniacal level. It's definitely a character we hope to see more of.
The Joker is Batman's main nemesis throughout film and comic history but Reeves said not to expect him to feature prominently in a sequel. We like the idea of this Joker being a Hannibal Lecter-type villain, always behind bars for advice for young Bruce.
Take a look at the five minute long scene below:
'The Batman' is currently out in Irish cinemas.