Not content with being the greatest striker of his generation, Champions League winner and Bayern Munich goal machine Robert Lewandowski has turned his hand to video games.
'Football Coach: The Game' is being developed in partnership with the Polish striker.
"I am a part of this generation that spent most of the time outside, playing with the ball, but also got into video games."
"One day, when I was playing with my friends, I had this idea: what if I made my own game and showed what my work looks like from backstage?" the living legend said.
The game mashes together different elements from different games, with in-depth tactics borrowed from the likes of 'Football Manager', the traditional style of on-pitch play like 'FIFA', RPG elements, and the player-versus-player framework of most mobile games.
Mixing elements of RPG games with football is certainly an unorthodox combination, but it's a fresh spin on existing games such as 'Football Manager'.
In the screenshot below, players can pick between the different managers at the start of the game, with all possessing some different stats or bonuses.
The Steve Bruce look-a-like on the far left, for instance, reduces infrastructure costs by 10% and can give one player a 30% fitness boost for a game, a nod to the likes of Bruce and Sam Allardyce, who of course Lewandowski nearly played for at Blackburn Rovers.
The fan favourite, who lets off a flare when the player selects him, has a 50% bonus for ultras and boosts attendance by 20%.
More can be read on the website.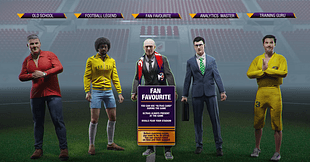 Another novel feature is the ability to enter "striker mode" and take control of a player to try to turn the tide of a game.
This mode is ideal for managers who have been known to scream at their laptops about their star striker hitting the side netting from 6 yards out.
The game is ambitious, but the developers say they aren't trying to compete with the established football franchises.
"It must be stated that Football Coach does not intend to compete with the cult classic 'Football Manager', a statement from the developers read.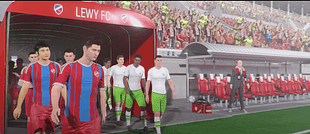 "Robert Lewandowski's game will be a part of the developing market of online football management games that focus heavily on the multiplayer experience. The player, along with a traditional league structure, can challenge an opponent from across the globe to a ranking game at any time of day."
Hotly tipped for this year's Balon D'Or award, Lewandowksi said "football connects the whole world - that's why I want 'Football Coach: the Game to be based on a worldwide competition, player versus player, not player versus computer."
RL9Sport games is a company founded by Lewandowski, and the game is being developed in association with Polish developer PlayWay, the team responsible for international hits such as 'House Flipper' and 'Car Mechanic Simulator.
The game is due for release on PC's "soon" and is available for pre-order on Steam with no word of a console release.