A whole glorious bank holiday weekend lies ahead of us. All praise the bank holiday Gods.
Whether you just fancy a weekend chilling out in front of the box or are feeling a bit more adventurous, you'll definitely find something to suit below.
Here's your last-minute guide to the best of what's going on in the worlds of music, movies, TV and events this bank holiday weekend.
MUSIC
Friday - LANKUM | Vicar Street
If you've ever seen Lankum live, you'll be aware of what an absolute force of nature they are. The Dublin folk quartet pay homage to traditional music, but give it a vibrant makeover for the 21st century. With vocals and harmonies that'll give you goosebumps and songs from their recently-released new album 'The Livelong Day', this ought to be a special gig.
Saturday- Sinéad O'Connor | Cork Opera House
As we saw with her recent TV appearances, Sinead O'Connor is back. And as she proved on those appearances, she's still got a hell of a voice. The iconic Irish singer's voice will soar to the vaults of the Cork Opera House on Sunday and although she has no new album to promote, she's got enough hits in her back catalogue for a potentially superb setlist. She also plays the relatively intimate confines of Vicar Street on Sunday and Monday.
Sunday - VILLAGERS | Wexford Spiegeltent Festival
Having rightfully become established as one of our most treasured songwriters, Conor O'Brien is now on his victory lap – mostly thanks to last year's stunning album 'The Art of Pretending to Swim'. The Dubliner spent this summer gigging, including a superb turn at the Iveagh Gardens; his autumn tour, which draws to a close in Wexford on Sunday (he also plays Limerick on Saturday), has been equally memorable. Don't miss it.
CINEMA
There are so many movies showing at the moment that you absolutely have to make your way to your local cinema and check some out.
'Joker', the movie that everyone's talking about, is still showing while other Oscar contenders in cinemas include 'Ad Astra' and 'Judy'. The big new movie release for this week is 'Terminator: Dark Fate' but our recommendation would be 'The Last Black Man in San Francisco', which is one of the best movies of the year so far.
For comedy, there's loads showing between the feel-good Irish com about a geriatric mammy called 'A Bump Along the Way' and 'Zombieland: Double Tap', a sequel ten years in the making. New in cinemas is compelling drama 'Official Secrets' and cop drama 'Black and Blue'. If you're looking for something quirky and different, there's Irish black comedy 'Dark Lies the Island'.
For families, 'The Addams Family' hits cinemas this weekend and is full of laughs for young and old. Also showing is 'Shaun the Sheep: Farmageddon', another movie suitable for all ages, as well as 'Maleficent: Mistress of Evil' and 'Abominable', which comes from the studio behind 'How to Train Your Dragon'.
Let's not forget this weekend is all about the run-up to Halloween so big horror fans won't want to miss the IFI Horrorthon. There are also some classic horrors like 'A Nightmare on Elm Street' and 'The Shining' getting limited re-releases so check out our cinema listings for what's showing near you.
Bruce Springsteen fans won't want to miss 'Western Stars', a live performance airing to cinemas all around the country on the evening of the bank holiday Monday.
TV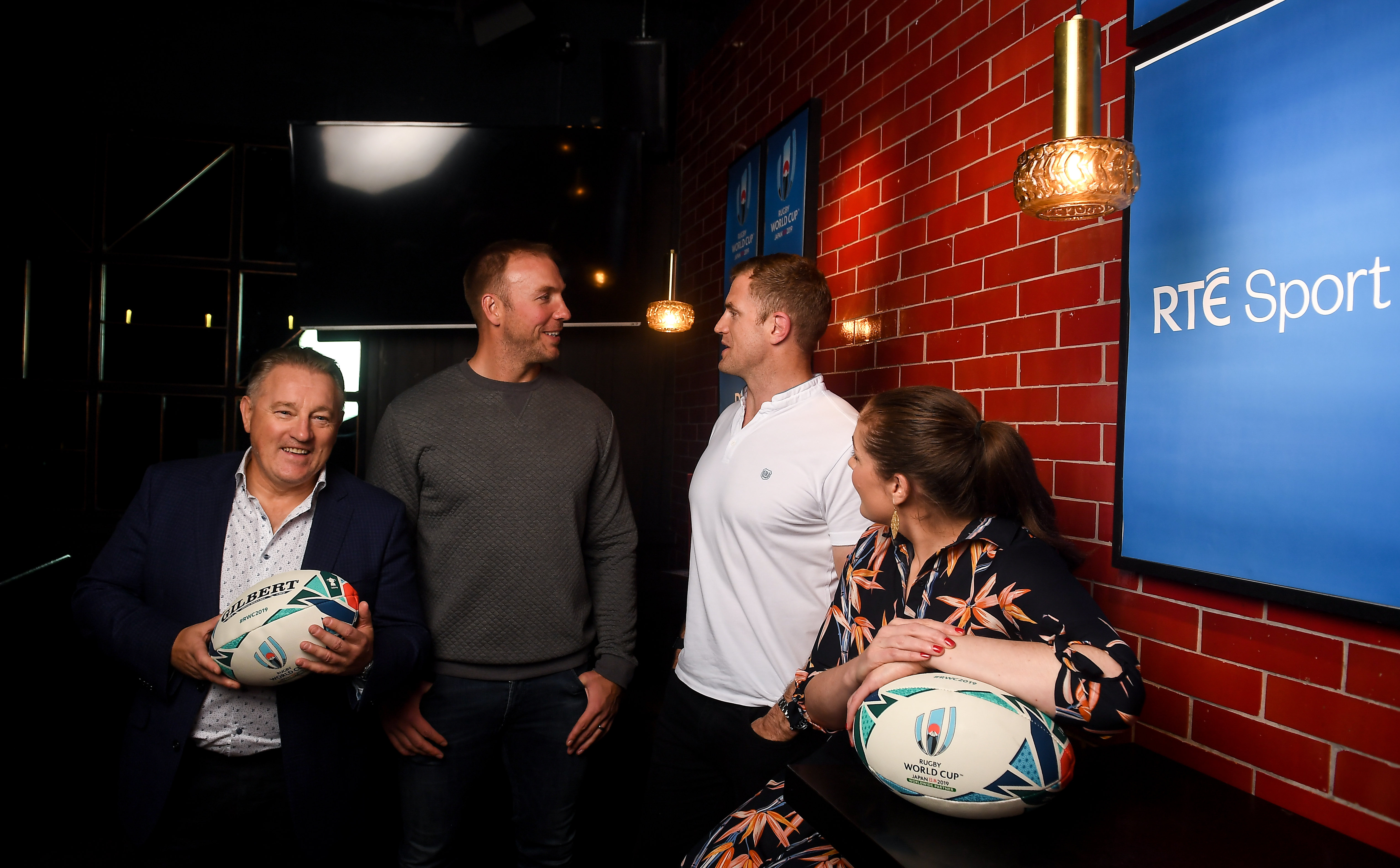 FRIDAY
A standard night of Friday TV on the box. 'The Graham Norton Show' will be reuniting 'Game of Thrones' stars Emilia Clarke and Jason Momoa (check out the full lineup here). Bernard Brogan joins Ryan on 'The Late Late Show' to chat about his decision to retire (see the rest of the lineup here). 'Have I Got News For You' continues on BBC One, as does 'Gogglebox on Channel 4. While there's a new series of 'The Last Leg' kicking off at 10pm on Channel 4.
Movie wise, 'The Fault in Our Stars' will be on at 10.30pm on RTÉ2, tissues at the ready for that one. Liam Neeson's 'Taken' is also on at 9pm on E4.
SATURDAY
'Strictly Come Dancing' continues on BBC One at 6.35pm, same goes for 'The X Factor: Celebrity' ay 8.20pm on Virgin Media One. If you're not in the mood for a talent show, over on BBC2 there's a documentary on fashion designer Vivienne Westwood at 9pm.
It's also a big day in sports with the first of the World Cup semi-finals taking place between England and New Zealand at 9am on RTÉ2. In GAA,  it's Ballyboden St Endas v St Judes and Kilmacud Crokes v Thomas Davis (Throw-ins 5.15pm and 7.00pm), also on RTÉ2.
Movies to choose from include 'Hotel Transylvania 2' at 6.35pm on RTÉ One, 'The Railway Man' on RTÉ2 at 10pm and 'For Sama' on Channel 4 at 9pm.
SUNDAY
David Attenborough's latest BBC One series 'Seven Worlds, One Planet' kicks off at 7.15pm which sees him narrate a look at life on each of the seven continents. 'Ireland's Fittest Family' kicks off its latest series on RTÉ One at 6.30pm while Francis Brennan continues with his latest adventures later on at 9.35pm. 'Strictly' results will be at 8.15pm on BBC One, while 'Celebrity Hunted' continues at 10pm on Channel 4.
In sport, the second of the Rugby World Cup finals takes place between Wales and South Africa, kick-off at 9am on RTÉ2. Ireland's Strongest Man 2019 is on RTÉ2 at 5.30pm. While Micheál Ó Domhnaill presents live and deferred coverage from county football and hurling championship finals on TG4 from 2.30pm.
Movies to watch include 'Harry Potter and the Philosopher's Stone' at 2.45pm on RTÉ2, 'Sister Act' at 5.30pm on Channel 4 and 'Johnny English' at 8.15pm on E4.
MONDAY
'Love Island Australia' kicks off on Virgin Media Two on Monday night if you fancy a new reality TV show to get hooked on for next few weeks. 'Darklands' continues on Virgin Media One at 9pm, as does the latest installment of 'Dublin Murders' on BBC One at 10pm.
In movies, 'Back to the Future III' is your matinee on RTÉ One at 3.40pm while later on 'Mothers Day' is on at 9.30pm. 'Tinker Tailor Soldier Spy' is on TG4 at 9.30pm while 'Hot Fuzz' is at 10pm on Sky One.
Nothing too exciting arriving on Netflix this weekend, but you can check out what's arrived recently here.
EVENTS
Bram Stoker Festival, Dublin: Friday 25th - Monday 28th:
- 25th Screening of 'The Craft', Meeting House Square 
- 26th Screening of 'An American Werewolf in London', Meeting House Square 
- 27th Screening of 'The Lost Boys', Meeting House Square
- 27th Dracula on the BBC, Light House Cinema
- Check out InstaTerror if you're on Instagram over the weekend.
IFI Horrorthon, Irish Film Institiute: Thursday 24th - Monday 28th
Galway Aboo Halloween Festival:  Saturday 26th - Monday 28th
Macnas Halloween Parade 2019, Galway:  Sunday 27th
Aslan, Cork Jazz Festival, Cork Opera House:  Friday 25th