The 2019 Electric Picnic festival only took place last weekend, but today has seen people queuing for tickets to the 2020 festival - despite the fact that nobody even knows who's playing yet.
The annual music and arts festival in Stradbally is now a calendar event in the year for music fans, and tickets could very well sell out before this time next week, if not sooner.
Tickets for Electric Picnic 2020 are on sale now! 🌳🎪✨https://t.co/018DckHp2e pic.twitter.com/mQvIHputQN

— Electric Picnic (@EPfestival) September 7, 2019
As with almost every year, queues - both in real-life and online - have caused chaos for prospective attendees, with people lining up outside of Ticketmaster stalls from early this morning and having multiple devices in the online queue.
Meanwhile, Viagogo is offering tickets marked up to €441 for a General Admission ticket, with the price likely to go higher before the weekend is over.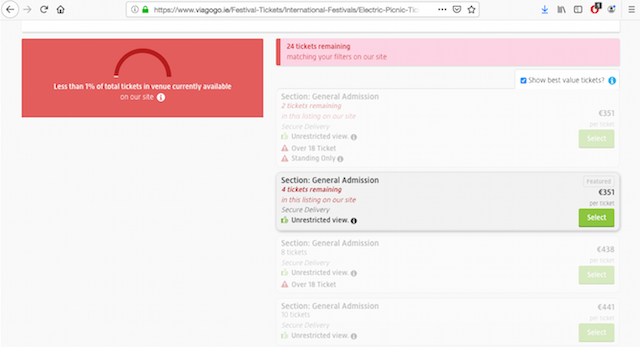 Organisers at the Electric Picnic festival recently signed an agreement for 10 more years of festivals at the Stradbally venue, with the expectation that capacity will be increased from 60,000 in the coming years.
For now, some of these people were lucky enough to snag tickets to next year's festival.
See you fools at EP 2020 😎

— Brendan Stapleton (@bstapleton01) September 7, 2019
EP 2020 ticket = SNATCHED

— Maeve Sheeran (@MaeveSheeran) September 7, 2019
#ElectricPicnic 2020 sorted 👍🏻

— An Englishman In Dublin 🇮🇪 (@Tom_JackAttack) September 7, 2019