Well they promised that 'The Morning Show' would integrate the pandemic, and even if episodes one and two failed to make a big bang, it has to be said that they've really effectively integrated the insanity that was last year. This week's episode opens in Wuhan where chaos has erupted and Daniel (Desean Terry) just about manages to get out of the city with his team.
When Daniel shares his report on a live segment on The Morning Show, he speaks of "social distancing", inspiring Bradley (Reese Witherspoon) to joke that she and her family have been social distancing for a while now. Moments like these fill the viewer with a sense of dread as they know what's ahead, as well as infuriated it's not being taken seriously and getting laughed off. It reflects how the initial slow reaction to the seriousness of the virus was mirrored in how the media were responding to the crisis.
Elsewhere in this week's 'The Morning Show' episode, there's an electric conversation as Alex (Jennifer Aniston) and Bradley discuss their future together over lunch. They also reflect on past actions that could incriminate them. There's some great acting from Aniston and Witherspoon here as the latter ensures she's listening but keeping her guard up and remaining distrustful. It's also clear that Alex is desperate and terrified that skeletons in her closet will be discovered – a fear that continues to be evident when she's being interviewed by Laura (Julianna Margulies).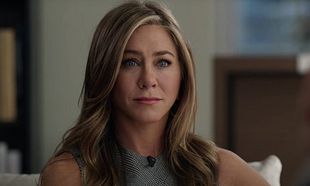 Speaking of, we need to take a moment to appreciate just how fabulous Julianna Margulies is here. She effortlessly manages to be a glamourous, sharp, and intimidating force of nature. Laura has a conversation with Bradley, encouraging her to reflect on how she's gotten to this place in her career – you can see why she's a great interviewer the way she can get people to open up.
Later Laura prises Bradley for doing a great job and says the network aren't using her right – which are basically all the things Bradley loves to hear. During the chat in the chilly air, there's romantic music playing in the background and a loaded pause. It's not too surprising then when Bradley later kisses Laura, even if it is just to detract her from asking about being vetted for the job. But damn, that kiss was sexy.
It took 3 episodes but it seems like this season of 'The Morning Show' is finally finding its stride and utilising its juicier elements well. A final note would be that perhaps a ticking clock would have been a more appropriate backdrop sound than Alex's heartbeat in that concluding scene, as one is positive it's just a matter of time before the full truth about her comes out.
'The Morning Show' is streaming on Apple TV Plus.