Episode 2 of season 2 of 'The Morning Show' constituted a lot of talking and tip-toeing around sensitive subject matter. The dialogue and drama still doesn't have quite the spiciness and build-up of tension as season one of the series had. But one feels this is all leading to bigger events in episodes to come.
Bradley (Reese Witherspoon), having finally learned that Alex (Jennifer Aniston) is returning to co-anchor with her, continues to demonstrate a childishness and complete lack of professionalism, as we highlighted in the previous episode of 'The Morning Show'. She's more admirable, at least, when standing up for herself to the UBA reps and to Alex (their fiery confrontation in the hall after dinner, in which Bradley chastises Alex for quitting and abandoning her, proving one of the episode's few highlights). But you can't be too surprised, really, that Sybil (Holland Taylor) is pushing Cory (Billy Crudup) to fire her. Most people would.
Alex's motives also seem dodgy as she sneaks back into the UBA building for no reason, it seems, other than perhaps as a power move as she checks out her fancy new office with Doug (an underused Will Arnett here). Still Alex has her moments, such as that aforementioned conflict with Bradley in which she encourages her co-host to be more ruthless and fight for equality, elsewhere sticking up for Bradley to her former co-host Eric (Hasan Minhaj). At that ridiculously intense dinner, Alex gets told off by Daniel (Desean Terry) for "f**king him over" (as a reminder, the two were planning on forcing Bradley out and taking over The Morning Show themselves before that big live revelation about Fred Micklen [Tom Irwin]). Daniel tells Alex he doesn't forgive her, so that's an ally officially gone. He may also be onto something about the importance of this coronavirus thing…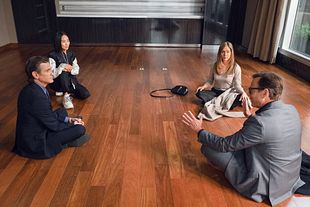 Side characters who enter the field include Chip (Mark Duplass), who Bradley turns to for advice about Alex. He warns his former colleague is distrustful, always puts herself first, and that he has words for her. Of course, as we know, Chip is totally whipped, and to no one's surprise he tucks his tail between his legs, and caves with an affirmative "Ok" when Alex arrives at his door and asks if he'll produce for her again.
Far more of a surprise (though mind you, it was previously reported that the character would be back for 'The Morning Show' season 2) is the return of Mitch Kessler who, it has to be said, few actors could pull off and still make as sympathetic as Steve Carell. In a surreal parallel to Alex, he too is living in isolation with his dog – albeit in the far more glamourous location of an Italian villa (there are some very nice scenic, escapist shots here, it should be noted). He zooms his two sons as they celebrate a birthday. Generally, his constitution is one of misery, which we know from season one, is deserved.
Mitch has his moments, epically smashing a bottle of red offered by Fred when he shows up as his door. And in the episode's best scene, he is confronted by a furious young American woman, who publicly condemns him (all while, it emerges, her friend is recording for social media…) An Italian woman named Paola (Valeria Golino) stands up for Mitch, completely shutting the American down, and even performing a song about Mussolini. She introduces herself to Mitch and with such a new strong, intriguing personality of a character, one looks forward to seeing more of her.
'The Morning Show' is streaming on Apple TV Plus.