You had long scenes of Klingon dialogue, court intrigue, an aesthetic that looked markedly different from the TV series that had preceded it, and only brought the captain of the titular ship in on the third episode. In short, 'Discovery' was stretching itself out into new territory and it didn't always work out. It was alienating, and considering how 'Star Trek' has always followed familiar patterns and methodologies, it wasn't met with open arms.
The final episode of the series, having wrapped its confusing Mirror Universe narrative as best it could, saw the USS Enterprise swoop in all its glory to hook viewers on for a second season. The mere presence of something that familiar and that iconic means you've got to give it a second chance. Mercifully, the first three episodes of the new season doesn't squander any of the goodwill and presents itself as a course correction rather than a hard reset.
The Klingon soliloquies are gone, the tone is reliably optimistic, and Pike - wonderfully played by 'Hell On Wheels' star Anson Mount - is what we've come to expect from captains in the franchise. He's warm, he's approachable, he's got a jaw that'd cut glass and he's calm. When you compare it with Jason Isaacs' character, it feels like a statement of intent for the season. There's even a pointed scene where he talks about the decor and layout of the captain's ready room, preferring something more comfortable to what's it been. That might seem like it's an overt dig at the last season and Jason Isaacs' character, but there really is something to be said for acknowledging a mistake and moving on from it.
The opening episode, 'Brother', introduces the dynamic between Sonnequa Martin-Green's Michael Burnham and her foster brother, Spock, in an interesting way. Through flashbacks, we see that Spock was always an emotionally distant figure and that whatever the rift between them is about, it's endured for years and come to define their relationship. Whereas the first season saw Burnham as decidedly combative and self-assured, there's a much softer approach that blends with the joyful tone of the series.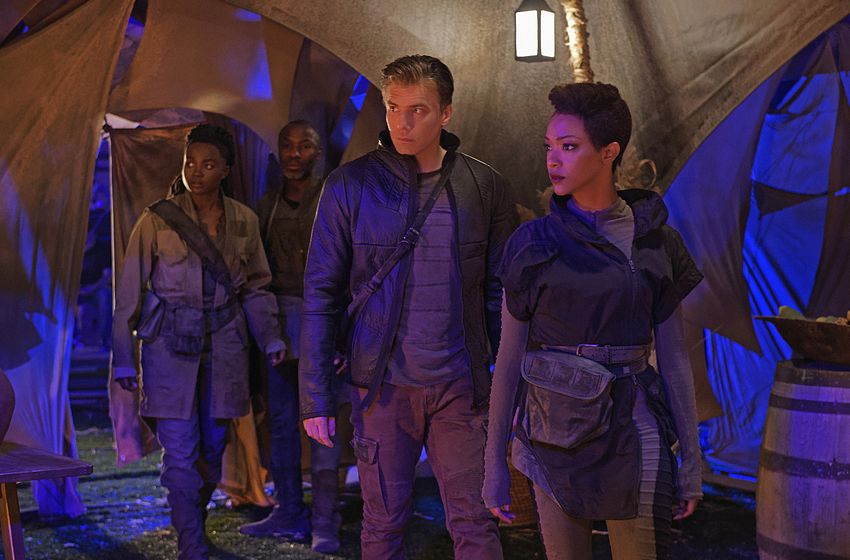 Anson Mount really does deliver as Captain Pike, anchoring this shift with a warmth and charisma just uplifts it from the dire, drastic scenarios they constantly found themselves in the first season. The second episode, reliably directed by Jonathan Frakes, feels as close to an episode of the original series than anything in years. It's not subtle, as crossing religion and science is a theme that's come up again and again in the franchise, but it's the first time 'Discovery' has tried to come at it without it being viewed as something negative. That empathy and respectfulness, particularly Pike invokes the Prime Directive to explain his actions, now feels noticeably absent from the first season and regains the show's idealism.
From the three episodes we've seen, the story arc for the second season follows the search for a series of anomalies - this is all in the trailer, by the way - that is connected to Spock. It's a reliable idea, as each episode is self-contained like the best 'Star Trek' episode and fits into a wider narrative that filters through the season. Springing off these three episodes, 'Star Trek: Discovery' offers a mea culpa to those put off by the first season and honours the rich character development and hopefulness that's defined the franchise that earns itself a second chance.