'Landscapers' serves as a four-part retelling of a real crime which took place in the UK in 1998; the murder and subsequent burial of two elderly people in their back garden.
Christopher and Susan Edwards (played by David Thewlis and Olivia Colman) have a deep, dark secret that they've held onto for 15 years. Emigrating to various locations, including Ireland, the married couple eventually make their new home in France, and this is where we first meet them at the beginning of 'Landscapers'.
Rapidly running out of money, due to Chris' inability to learn the French language and hold down a job, the husband reaches out to his step-mother Tabatha (Felicity Montagu) for help. She then in turn notifies the police of their location, due to their suspicious disappearance all those years ago. After some back and forth emails between Chris and the police, the pair decide to turn themselves in, as long as their seats on the Eurostar from Lyon to London are covered.
With the first episode out of the way, the three remaining episodes serve as the unravelling of this strange couple's retelling of their side of the murder story. Following the tip-off from Chris' stepmother, the two bodies of Susan's parents were unearthed in their back garden in Mansfield, Nottinghamshire. Due to their disappearance 15 years ago, both are now the prime suspects in a murder case.
While 'Landscapers' will initially be seen as a dramatisation of a true-crime double-murder, what lies underneath is a weird and wonderful love story between two outcasts who discovered each other and became inseparable; so much so, that they're prepared to take the fall for the other.
As we've seen in her most recent works ('The Favourite' and 'Fleabag' in particular come to mind), Olivia Colman is the Queen of playing a character with unhinged and tragic attributes. As Susan Edwards, she embodies a woman who will do anything to keep her husband happy, even if it means lying to him. She gives off an air of wanting to always please, to abide by the rules, but here she is on the run for a crime she might have committed while simultaneously lying to her husband about how deeply in debt they actually are (and pretending to write him letters as Gerard Depardieu).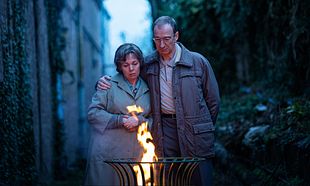 Susan proves to be the most complex character of this narrative. As the police begin to dig deeper into the events that led to her parents' murder, she too unravels, revealing new details in the case. Her psyche is a frail one after years of looking over her shoulder, so much so that she often drifts off into her "happy place" when times get tough. A lover of old-school film, particularly Westerns, we join her as she romanticises her life and blurs the line between fantasy and reality. Colman's portrayal of Susan should certainly see her get some nods during award season.
David Thewlis' addition to the series completes this perfectly dark and complex couple. With Susan wanting to find her constant escape, Christopher must remain the brains of the narrative. As we've seen in 'Fargo' and 'I'm Thinking Of Ending Things', Thewlis and his trademark raspy voice often paint him as an untrustworthy character, which adds to the mystery behind these two potential murderers.
With strong emotional beats towards the end of the series, 'Landscapers' is first and foremost a dark comedy. The police force (lead by Kate O'Flynn, Daniel Rigby, and Samuel Anderson) are portrayed as nothing short of foul-mouthed baboons; while the idiotic decisions made by the leading couple are also laughable and dumbfounding.
A brilliantly cast and well-crafted production, 'Landscapers' is an incredible story about the lengths that two people will go to just to protect themselves. As we're reminded with every episode, the real-life Susan and Christopher Edwards were both committed to 25 years in prison. Yet, they both still plead their innocence to this day.
The four-part miniseries 'Landscapers' is available to stream on Sky Atlantic or NOW.