It's a shame that in this day and age, a time where we can get a drone to deliver our shopping right to our door, that people online can't help but be nasty to someone because of the colour of their skin.
'House of the Dragon' actor Steve Toussaint has seen the obvious racism aimed at him online, and he's choosing to take the higher ground.
Speaking with Men's Health in a recent interview following the season premiere of the 'Game of Thrones' prequel series on Sunday night, the British star says that these keyboard warriors spouting hate online are happy to see dragons flying, but can't wrap their heads around "a rich black guy".
The 57-year-old, who has starred in 'Small Axe', 'It's A Sin' and 'Line of Duty' in the past, plays Lord Corlys Velaryon or The Sea Snake in this prequel series which closely follows the rise and fall of House Targaryen; The Sea Snake is betrothed to Princess Rhaenys Targaryen (Eve Best), the Queen "who never was".
Steve Toussaint said of the racism he's seen online: "They are happy with a dragon flying, they're happy with white hair and violet-coloured eyes, but a rich black guy? That's beyond the pale."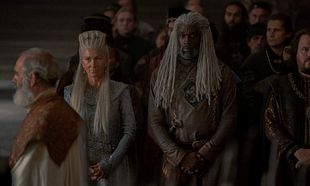 However, the actor did say that for every hurtful comment he's seen online, he's also spotted far more encouraging ones: "What has been wonderful is for every toxic person that has somehow found their way into my timeline, there have been so many others who have been so supportive and been like, 'Oh my God, I can't wait, this is going to be great!'
"Even when we were doing certain scenes, there would be supporting artists who would come up and go, 'It's great to have this representation.'"
Toussaint is the first actor of colour to play a central role in the 'Game of Thrones' franchise, with the original HBO series only featuring characters such as Nathalie Emmanuel's Missandei and Jacob Anderson's Grey Worm in supporting roles.
Showrunner Ryan Condal said of representation in Westeros: "Long, long ago when he was conceiving of this world, [author and series co-creator George R.R. Martin] himself had considered the idea of making Velaryons a race of black people with silver hair that essentially came from the other side of the ocean and conquered Westeros.
"That's a fascinating idea and that always really stuck with me because it's such a stark image. I just thought, 'Well, why couldn't we do a version of that now?'"
This isn't the first time that "fans" of a franchise have spouted hate online - far from it. Moses Ingram, who played ruthless antagonist Reva Sevander in Disney+'s 'Obi-Wan Kenobi' series, spoke about being warned from Lucasfilm about potential hate from trolls. She said earlier this year: "If you've got talking droids and aliens, but no people of colour, it doesn't make any sense."
'House of the Dragon' episode one took flight earlier this week, becoming the most-viewed season premiere on HBO ever. The 10-episode season also stars Matt Smith, Paddy Considine and Milly Alcock. Read our spoiler-free review of the first six episodes here.