The Emmys came and went without many any talking points this year, apart from one joke that was interpreted as stealing someone else's thunder.
'Abbott Elementary' won the Emmy Award in the category of Outstanding Writing for a Comedy Series, winning over the likes of 'Hacks', 'Only Murders in the Building' and 'Ted Lasso'. Being only the second woman of colour to win the award, it was quite a historic moment for series creator Quinta Brunson, but her speech was quite overshadowed by Jimmy Kimmel, who was lying on the floor as part of a skit he attempted to pull off with Will Arnett.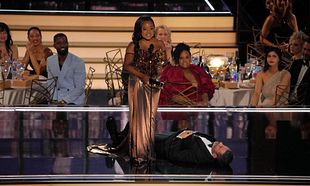 The pair, however, are quite friendly it turns out, and stood together for a beautiful picture after the ceremony, as you can see below.
The new Emmy winner joined the host as part of his late-night chat show this week, and managed to interrupt him towards the end of his monologue. You see, Brunson didn't get to thank many people during the 45 seconds time slot allowed for Emmy winners to say their bit (which also happened to Jennifer Coolidge), in part because of Kimmel getting in the way. And so, she asked if she could continue her speech at the top of the show, and Kimmel gladly stood out of the shot so she could do so.
Here's the clip, which begins around 11 minutes and 45 seconds in (but there's a pretty hilarious D23 skit with various Disney, Marvel and Star Wars actors beforehand that you should watch too).
Quinta Brunson then sat down with Jimmy Kimmel for a proper chat about the moment in question, with the host apologising if he caused her any upset. The pair joked about Kimmel being at the Emmys "like 20 times" and never winning, while Brunson attended once and won. Her 'Abbott Elementary' co-star Sheryl Lee Ralph also won Outstanding Supporting Actress on the night too.
Watch 'Abbott Elementary' on Disney+.