Before 'The Crown' and her Oscar win on 'The Favourite', Olivia Colman was probably best-known for 'Broadchurch.' However, she has made numerous TV and film appearances over the years with dozens of credits to her name.
Here are some of her past roles that you may have forgotten about.
'The Office'
One of Colman's first roles was opposite Ricky Gervais in an episode of 'The Office'. She was the one who interviewed Gervais' David Brent for an article for 'Inside' paper. It provided a classic, cringeworthy scene that was typical of the comedy series.
'Peep Show'
Most people should know this one, but we included it just in case. Colman played Mark's (David Mitchell) long-time crush and eventual ex-wife, Sophie. To this day, we have know idea how Sophie was able to stand all of Mark's nonsense. If we ever meet Olivia Colman, that's the first thing we're asking her.
'That Mitchell and Webb Look'
Colman worked alongside David Mitchell and Robert Webb a number of times. Aside from 'Peep Show', she also starred in sketch shows 'Bruiser' and 'That Mitchell and Webb Look' as well as the latter's predecessor, 'The Mitchell and Webb Situation.' Colman thus proved from an early stage that she had a knack for comedy.
'Doctor Who'
In 2010, Colman appeared in the first episode of season five of 'Doctor Who'. The actress played the character of 'Mother' with things getting a little scarier than we're used to seeing from the Golden Globe winner.
'Skins'
Colman also popped up in the second generation of 'Skins' as Naomi's (Lily Loveless) hippy mom Gina. In this gas scene from the show, she and a friend discuss whether bananas are a patriarchal fruit.
'Hot Fuzz'
You might have forgotten but Olivia Colman also starred in 'Hot Fuzz' opposite Simon Pegg and Nick Frost. She played the flirtatious and rather bold police officer Doris. Colman reunited with Frost in the film 'Cuban Fury' and starred opposite him in the series 'Mr. Sloane' as well.
'Thomas & Friends'
Your kids are more likely to know this Olivia Colman credit than you are. The actress has provided the voice for Marion on the show from 2014 to the present day.
'The Iron Lady'
Colman got to play daughter Carol to the fabulous Meryl Streep's Margaret Thatcher in Streep's Oscar-winning performance in 'The Iron Lady'.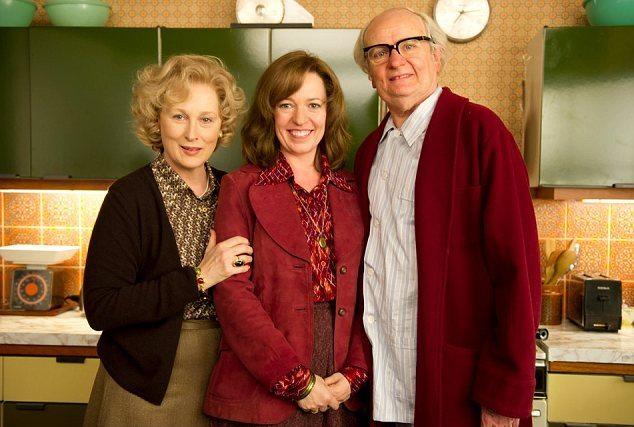 'The Lobster'
Before she became the lead of 'The Favourite', Colman previously worked with Yorgos Lanthimos (and co-starred with Rachel Weisz) in the film 'The Lobster'. Though her role was small, she undoubtedly made an impression on the writer-director.
'The Night Manager'
Hopefully you haven't forgotten Colman's brilliant turn as Angela Burr in 'The Night Manager'. The series made a lot of viewers sit up and pay attention to the British actress.
'Tyrannosaur'
Another serious role of Colman's came with the 2011 feature 'Tyrannosaur' written and directed by Paddy Considine. Her performance as Hannah opposite Peter Mullan's Joseph was heart-breaking.
'Fleabag'
'Fleabag' is one of Colman's more recent credits as she plays the title character's (Phoebe Waller-Bridge) godmother slash father's new wife. The part sees her deliver yet another class comedic performance and we were all delighted to see her return for the second season.
Advertisements
You might also know Colman for her work in TV commercials. She appeared as Bev, alongside Mark Burdis as Kev, in a series of ads for AA car insurance. She provided voices for the Andrex "be kind to your behind" adverts and voiced a gorilla in Glade fragrance adverts. She also did ads for The National Lottery and Actimel.