We get that on a show that is filmed for 24 hours a day, we can't see everything that goes down, so 'Love Island: Unseen Bits' on a Saturday evening is a great way to see more of your favourite Islanders.
While this week's show had the lads doing their best Harry Potter impressions and Joanna giving Ovie swimming lessons, the real magic moments were between Curtis and Maura. A lot of viewers weren't necessarily buying Maura's feelings for Curtis when she first announced them last week but 'Unseen Bits' showed there was a solid friendship between the pair and sparks galore.
Newbie Francesca may have come in and swooped Curtis away in the recoupling last week, but we think Maura has this in the bag.
Firstly, there was Curtis, Maura and Lucie telling a random but funny bedtime story to help them sleep, and later on, we saw much more of Curtis and Maura's chat after the recoupling. After the initial conversation we got to see, they found themselves chatting about movies, going on to do impressions of Jim Carrey in 'The Grinch' and chatted about their mutual love of Ace Ventura.
It was all very sweet and you could see that they genuinely liked each other.
Watching unseen bits #loveisland can't stop laughing wish they shown this all week 😂😂 Maura and Curtis are so funny 😂 I

— NicolRogers (@NicolRogers10) July 14, 2019
maura and curtis re-enacting the grinch in unseen bits LMAOOO #loveisland i'm going to be sad when this season ends 😭😭

— Aby🌱 (@sincerelyaby) July 14, 2019
MAURA AND CURTIS MAD BANTER ON THIS UNSEEN BITS BUT THEY NEVER SHOW IT ON THE MAIN SHOW. #LoveIsland

— Tim Floyd (@TiimFloyd) July 13, 2019
After watching unseen bits if Maura and Curtis don't get together I'm taking my bat, my ball and the whole bloody field home. #LoveIsland

— CC (@Ribbonrocks) July 13, 2019
Ok so on unseen bits we can actually see that Curtis and Maura have a spark. They definitely get on well and have sexual chemistry. We can see Lucie was actually funny, and Jordan does great Harry Potter impressions. However. Michael and Joanna? Still a no from me. #LoveIsland

— CC (@Ribbonrocks) July 13, 2019
After watching #LoveIsland unseen bits I have to confess that I actually really like Maura and Curtis together wOOPS

— Luke Morgan support squad (@Hxllyoakz) July 13, 2019
Maura was also part of two of the most hilarious moments of this week's 'Unseen Bits' as our Longford lady unfortunately had a bit of a fall on her way to the dates with the newbies. Thankfully Curtis was on hand to help her up and it looked like nothing other than her pride was hurt.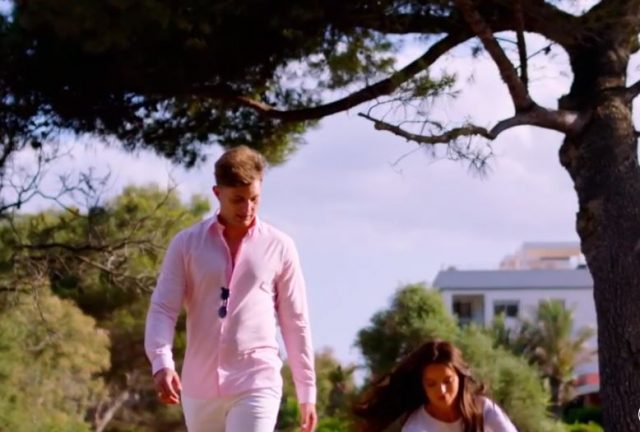 The second most hilarious moment actually involved Maura and Chris, who are coupled up together. It was during the dinner scene where all the couples paired off for their meals. For some reason we will never know, Chris got up to do an impression of a bird (which is definitely from a famous animated movie but can't think which) much to the amusement of Maura. The other islanders looked totally bemused, which made it even better.
So look, if Curtis doesn't choose Maura, at least she knows she can have the craic with Chris.
Having watched unseen bits ending O think Maura and Chris would be cute #LoveIsland

— জাহরা (@thatsarwargirl) July 13, 2019
Before we see who Maura will end up with, we've also got the more pressing matter of Michael and Joanna to deal with, who were told on last night's episode that only one of them could stay.
Catch the drama tonight on 'Love Island' on Virgin Media Two at 9pm. While you can see the full episode of this week's 'Love Island: Unseen Bits' here.