The new series of 'Dancing with the Stars' kicked off on RTÉ last night and it has to be said, all that glitz and glammer is just what the doctor ordered on the always grim first weekend of January.
This third season sees broadcaster and 'Bridget and Eamon' star Jennifer Zamparelli taking over from Amanda Byram who hosted since it began in 2017. Whatever worries there might have been about Jennifer taking on the mammoth task of hosting a live TV show were squashed last night with Zamparelli proving she was more than up for the task.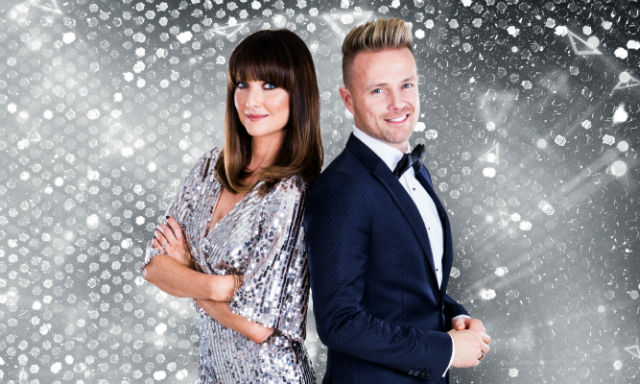 "Me knees are knocking, my hands are sweaty, my head is thumping and I feel sick but apart from that I'm doing great," she told co-host Nicky Byrne, but she certainly didn't look like that way, and viewers thought so too:
#DWTSIrl well done Jennifer. Great enterance

— Carol (@DollysTrups) January 6, 2019
Jennifer Zaparelli is a great addition! Really natural and not at all nervous! @DWTSIRL #DWTSIrl @JenniferMaguire

— Maeve Aldridge (@Mavisdavis74) January 6, 2019
Just turned #DWTSIrl on at least Jennifer has a personality unlike Amanda but who the hell are the so called stars and why is it on for 2 hours

— danceswithhedgehogs (@justdonewitthis) January 6, 2019
Within the first 30 seconds I already love @JenniferMaguire Good start 👌 #DWTSIrl

— jennifer (@jenn_jenn_w) January 6, 2019
Love it so far . Great buzz for a Sunday night . Jennifer doing a super job . #DWTSIRL

— Ger Lally (@GerLallyAssoc) January 6, 2019
In something of a TV first Jennifer seems to have found her calling on #DWTSIrl - she's putting Nicky to shame so far! (Who is more wooden than my kitchen table)

— Niall Horan (@niallhoran) January 6, 2019
#DWTSIrl Jennifer Maguire was brilliant tonight. Great addition to the show

— Aileen Brennan (@AGBBren) January 6, 2019
😊 @JenniferMaguire great first show, well done to all #dwts #DWTSIrl pic.twitter.com/NCFxEfAV5O

— BusyBeaders: Queen of Sparkles (@busybeaders2013) January 6, 2019
#DWTSIrl already is benefiting from @JenniferMaguire's personality - much better than the awkward scripted links of the first two series. Great addition to the show.

— Philip Nolan (@philipnolan1) January 6, 2019
So wk 1 done, thanks to the hardest working team in TV @ShinawilTV on #DWTSIrl, thanks to all in @RTEOne for the faith in us, and to all our dancers and Celebs super start, and what can I say about @JenniferMaguire wow U looked a natural born Presenter with @NickyByrne Respect

— Larry Bass (@Larbas) January 6, 2019
Just caught up watching #dwtsireland OM Feckin' G! Absolutely Amazing. I'm hooked. Incredible energy. Unbelievable talent. And a massive well done @JenniferMaguire on your first night. You were so bloody brilliantly. Can't wait for next week 💃

— Kathryn Thomas (@gokathrynthomas) January 6, 2019
'Dancing with the Stars' is back on RTÉ One next Sunday where it's the turn of the ladies to take to the dance floor with their partners.