Virgin Media TV have announced their full line-up for their 2021/2022 season, and there are plenty of great entertainment, drama and sporting shows to look forward to.
There are a number of exciting new TV shows to look forward later this year, including the brand new entertainment competition, 'The Big Deal', which features former 'X-Factor' and 'Eurovision' stars Jedward as joint judges on the star-studded judging panel.
Virgin Media will also premiere new series such as the crime thriller 'Redemption', which was filmed in Dublin; 'Holding', based on Graham Norton's best-selling book, which is currently filming in West Cork; a new dating format called 'Generation Dating'; 'OnlyFans: Ireland's X-Rated', which will examine the Irish stars of the closing media sharing website; as well as the return of 'The Guards: Inside The K', 'Living with Lucy' and 'Gogglebox Ireland'. There will also be new series of 'Drag Race UK', 'Love Island USA', and 'The Real Housewives' to look forward to.
Sporting fans will be able to look forward to 'UEFA Champions League', 'UEFA Europa League' and the 'Guinness Six Nations' Men's, Women's and Under 20s tournaments, and top horse racing action from Cheltenham and Aintree Festivals. Virgin Media also promises discussions with some of the country's top sporting personalities, including a two-part interview with Irish football legend Paul McGrath in the future.
'The Big Deal' is expected to be one of the biggest shows of the year on Irish TV, with Vogue Williams on hand to present the brand new talent show which will see contestants battle it out to win the cash prize of €50,000.
Among the judging panel will be Deirdre O'Kane, Boy George, JLS's Aston Merrygold, Irish pop star Lyra and of course the one and only Jedward. We caught up with the high-energy twins while they were in the middle of recording the series at The 3 Arena in Dublin earlier this summer. Here's how we got on, with the pair explaining how they felt to be judges on a talent show and how well they've been getting on with their new colleagues.
So, what can we expect from 'The Big Deal'?
There are loads of twists and turns, loads of tension. You don't know what to expect. We were on the verge of tears at some of the contestants. These contestants are there, showcasing their passion, and they want it. Each act is like a major movement. People are going to watch it and go "Wooooahhhhh!"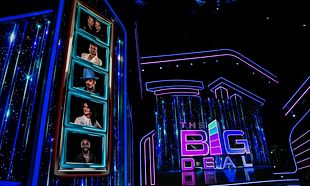 What's it been like for both of you to be a judge on the panel for 'The Big Deal'?
It's never been done before where you've had twins on a panel judging and giving a critique as one. We've been on stage for over 10 years so we know what it's like to be up there in their shoes on stage like this for the first time. We also go for a more unique angle when judging. We're sitting on the "Simon Cowell seat" on the judging panel so sometimes it feels like we're being possessed - but then we don't give into it, we'll be ourselves.
How well do you get on with the other judges?
Deirdre O'Kane is like our "judge buddy". We go to her and ask her if what we said makes sense! Boy George is really witty and welcoming, and he looks really well for being 60. For the fashion stakes on the panel - we have Lyra who is literally channelling Lady Gaga - she has outfits from space.
Are the days of the 'X-Factor'-type sensationalist shows behind us, do you think?
The thing about this show is that it's the future. Everyone's excited because it's a game show and a talent show. It's not so much about us "judging" them, it's about us encouraging them to believe in their own talent so they can go through the different steps and earn more money as they progress through the show. We're just there to help the contestants. We want someone to win the show who can become something, take the money and run with their passion.
How about the acts - what can we expect?
All of the acts are at a certain level of talent - there's no-one that isn't at the top of their game. In the semi-final there are two acts who we've absolutely fallen in love with, it's so hard. Sometimes their auditions are so good that they set a standard for themselves - and then they might not beat that in the next round. The show is going all-out!
The last word on the show - it's going to be fun, interesting, you're going to be hanging on the edges of your seats! Oh, and Tara Reid is doing well too.
'The Big Deal' launches on Virgin Media One on Saturday, September 4at 8 pm.