A new RTÉ quiz show is in the works, and they are looking for families from across the country to take part.
It's finally time to put all those Zoom quizzes and hours of playing Trivial Pursuit with the whole family to the test. 'Home Advantage' is a brand new quiz show where families will compete against each other in order to claim the grand prize of €5,000.
The deal is that one player will be in the studio, while the rest of the family plays alongside them at home - hence the show title. Over a series of three frantic brain-teasing rounds, only one team can qualify for the final round and a shot at claiming the jackpot. 
'Dancing with the Stars' and 'Bridget & Eamon' star Jennifer Zamparelli will take up hosting duties for this exciting new format. Filming is expected to get underway soon - but Jennifer will need some families to play along with first.
So, if you fancy your family's chances at beating the competition, here's how to get involved. Head over to the website for production company Loosehorse (here) to submit an application form - it's that simple. Teams must be made up of two adults and two children, with the younger team members between the ages of nine and 16.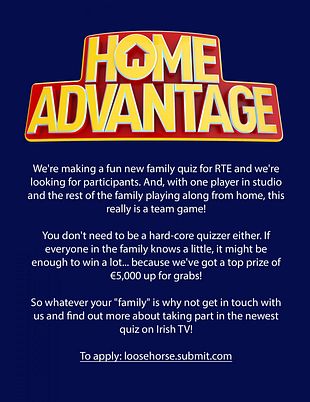 Jennifer Zamparelli recently recorded a video link in order to promote her new show, which she's thrilled to present.
Applications for RTÉ's 'Home Advantage' remain open for the time being, so be sure to act fast in order to register your family's interest. Best of luck!