Rest assured, there is still another 'Derry Girls' series on the way, but the show's creator and writer Lisa McGee has also been busying herself with a new TV project she has written with husband Tobias Beer.
Called 'The Deceived' it's a dark, psychological thriller set in Donegal. Speaking at today at Virgin Media Television - who has commissioned the new series - Lisa McGee told entertainment.ie: "It's about a young Cambridge student who falls in love with her Irish lecturer and follows him to Donegal. While there, a mysterious death takes place and everything she thought she knew about him starts to fall apart."
Her husband Tobias, who is a theatre actor, added: "We wanted to do a modern, long-form version of those classic gothic thrillers like 'Rebecca' and 'Gaslight'. And hopefully update them a little bit - particularly in terms of the female heroine - making her a bit more active than she is rather than the traditional victim."
While very different in tone to 'Derry Girls', there will still be room for some trademark Irish humour. "I think once we get to Donegal there are some great Irish characters, even though it's a very serious, dark story", Lisa said. "There's one in particular that I think everyone will recognise, she's a mum and a certain type of Irish mum. I love her because you can have a bit of fun with her."
The project has actually been something they have worked on for some time, "We had the idea about three years initially", Tobias said. "It's been through various iterations so it's very exciting to be finally able to do it."
Lisa, who also created RTÉ drama 'Raw' and the Channel 4 sitcom 'London Irish' is busy writing season 3 of 'Derry Girls' at the moment, and while she couldn't give much away, she told us, "I'm not allowed to say anything. Except to say they are not going to suddenly wise up! They're going to be getting into lots of scrapes, the usual. They're just still egits basically!"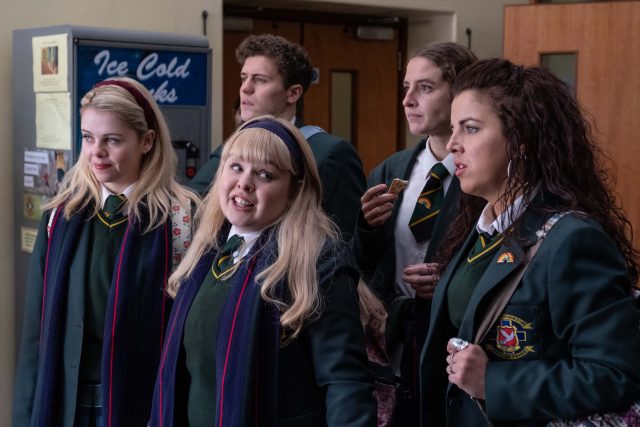 No word yet on an air date for 'The Deceived' on Virgin Media Television but we will keep you posted.