Last week, 'Love Island' fans were left shocked when Dani Dyer took to Instagram to announce she had split from Jack Fincham. Their breakup came just six months after the pair were announced the winners of the reality series.
However Danny Dyer (Dani's dad - yes, it gets confusing) has said that the couple just fell out and that all is well once more. The actor is set to appear on this week's episode of 'The Jonathan Ross Show' and in the pre-recorded interview, he said: "I just want to put something to bed. She hasn't split up with Jack, that's all b******s, that is."
Dani announced she had split from Jack in a now-deleted Instagram post on Thursday, which read: "Jack and I have sadly decided to part ways. It's been an incredible six months and we will always have a place in our hearts for each other, but sadly we've come to the realisation that it's not meant to be long term. We both plan to stay friends. I hope you'll all understand. Love Dani."
Talking to Ross, the 'EastEnders' actor dismissed the breakup saying: "Jon, they've had a row. They've had a row, she's got a bit emotional and I think she has whacked that [message] up and immediately regretted it.
"You know what women are like… I'm just saying she got a little bit irate, screaming and shouting, the ultimate way to punish him maybe. I don't know what was going on but I can tell you now, they're sweet."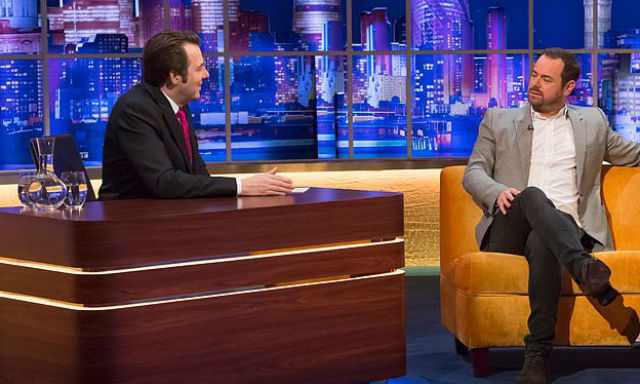 Jonathan then asked: "So we can establish then, Jack and Dani are definitely back together?"
"They're sweet as," Danny said. "They've had a little argument as we all do, we all have tear ups. Don't declare nothing to the world, I've told her this. That was my bit of fatherly advice. It is okay, it is all sweet."
Danny also responded to rumours that he has been trying to persuade his daughter to dump Jack: "He's a good kid. Apparently I've been begging her to leave him, all these stories coming out. It's crackers. I don't understand where it comes from. He's good as gold, everyone is sweet. Merry Christmas everyone!"
He also said that while he understood the public's fascination with the couple, he is keen for them to take a step back: "You've got to respect the fact they were on a TV show, they met on a TV show and the public voted for them… But actually they are real human beings now and they've had to parade themselves in front of cameras but now they need to start sitting back a little bit and concentrate on what is important which is their relationship
"It's hard enough as it is in a relationship, let alone with cameras [around you]…"
So there you have it. Daddy Dyer says it's back on, and if Danny Dyer says it is then it had better be.