Arguably the best episode of the series the date, 'Dancing with the Stars' viewers were last night treated to the addition of the RTÉ Concert Orchestra to proceedings and they went down a treat.
The show opened with the orchestra's spectacular rendition of David Bowie's 'Let's Dance' as all the celebrities and their partners took to the dance floor.
First up was broadcaster Mairéad Ronan and her partner John Nolan who danced a lively samba to Barry Manilow's 'Copacabana'. Mairead scored a total of 21 from the judges.
All-Ireland winner Denis Bastick and his partner Valeria Milova took to the floor with a beautiful foxtrot to Adele's hit ballad 'Someone Like You'. Denis scored a total of 23 from the judges.
It was an energetic Pasodoble for actor Clelia Murphy and her partner Vitali Kozmin this week as they danced to 'Funiculi, Funiculá' by Ricordi. Clelia scored a total of 25 from the judges.
Rugby legend Peter Stringer and his partner Ksenia Zsikhotska danced an American Smooth to Frank Sinatra's 'New York, New York. Peter scored 20 from the judges.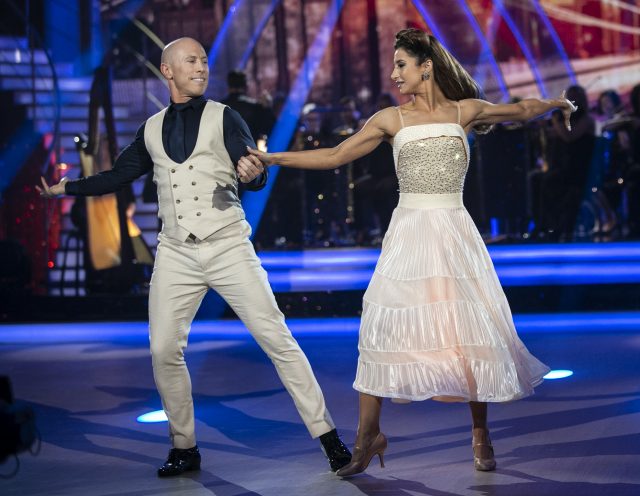 Actor Johnny Ward and partner Emily Barker took to the floor with a tango to 'Viva La Vida' by Coldplay, and scored 29 from the judges.
It was country singer Cliona Hagan who impressed the judges the most, scoring full marks with 30 points for her waltz with pro-dancer Robert Rowinski to 'A time for us' by Nino Rota.
Finally, Fred Cooke dusted himself off after being in the dance-off last week and performed a jive with his partner Giulia Dotta to 'I'm still standing' by Elton John. Fred scored a total of 24 from the judges.
It was Clelia and Peter who unfortunately ended up in the bottom two this week, with Peter Stringer ultimately saying his goodbyes.
The dancing was undoubtedly great last night but it was the RTÉ Concert Orchestra - conducted by Gavin Murphy and joined by singers Gary Harpur and Gemma Sugrue - that impressed the most.
Just caught up with #DWTSIrl & #OrchestraWeek was stunning! Take a bow @rte_co, that was gorgeous. The live music & singing brought an extra layer of emotion & drama to the dances. And the talent of the orchestra together with the talent of the pro dancers, loved it.
🎼🎻🎤💃🕺

— Niamh Fitzpatrick (@NFitzPsychology) February 24, 2019
Around this time every Sunday I wanna 🤮#nerves #dwtsirl But tonight it's extra special because we've got the @rteco performing all the music LIVE

— Mairead Ronan (@cocomairead) February 24, 2019
Wow @DWTSIRL tonight was super & the live music from the @rte_co added so much to it, the dancing from all the Stars & Pros was great& the Pro dance was just brill. I think the @rte_co should perform the final wouldn't it be super! @RTEOne @rte @RTE_Ents @Dwtsireireland #DWTSIRL

— DB Promotions (@DB_Promos) February 24, 2019
Orchestra were absolutely fantastic on @DWTSIRL tonight, no coincidence that several partnerships had their best scores and fabulous to listen to. #DWTSIrl

— Emily M (@emilyocon) February 24, 2019
Can every night be #OrchestraNight ? Please?! #DWTSIrl https://t.co/F79wqSOy2r

— Val O'Donovan (@_ValEire) February 24, 2019
RTE Concert Orchestra sounding class !!! @rte_co #DWTSIrl

— Jake Carter (@jakecartermusic) February 24, 2019
Great to have @rte_co on the show tonight.... absolutely amazing performances and stunning arrangements! #DWTSIrl

— Peter Canning (@PeterCanningLD) February 24, 2019
The real stars of the show were the Orchestra. #DWTSIrl

— Pádraig McCann (@Padraig_McCann) February 24, 2019
The addition of @rte_co to @DWTSIRL is fab with @gemmasugrue kids loving it too congrats to all & @ShinawilTV just when u thought it couldn't get better... #dwtsirl

— Denise Dunne (@motherofmoses) February 24, 2019
So great to hear live music on @DWTSIRL and no better source of it than the @rte_co. Sounding wonderful! #DWTSIrl

— Stephen O'Brien (@bg_evl) February 24, 2019
Wow, #OrchestraNight on #DWTSIrl has been amazing, well done to the @rte_co who have really ramped up the whole show, delighted that @RTEOne have made the show on par to what we are used to seeing from our neighbours 👏🏻👏🏻

— Emma Dillon-Leetch (@Edillonleetch) February 24, 2019
What an incredible reaction - thanks a million all! #OrchestraNight #DWTSIrl pic.twitter.com/azKU735TmU

— RTÉConcertOrchestra (@rte_co) February 24, 2019