Amid the current drama of British politics, Channel 4 have announced an upcoming documentary covering the life of resigning Prime Minister Boris Johnson.
The series, under the working title 'Boris', will be made up of four episodes, lasting an hour each. It will piece together rare archive footage alongside interviews with friends and foes with intimate knowledge of Johnson to help reveal his true character.
'Boris' will delve into political rivalries started in the halls of Eton, where he beat former PM David Cameron to school captain. It will also cover his Oxford days and his rise from Mayor of London to Prime Minister.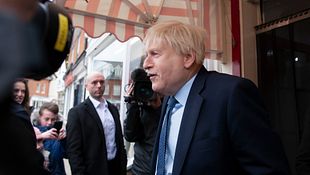 Ian Katz, Chief Content Officer for Channel 4, said, "However the story of Boris Johnson's political career ends, he has done more to change Britain and the nature of our politics than any other recent political figure.
"This landmark series will try answer the question of what shaped the boy who wanted to be king of the world and how he grew to believe that he could escape the laws of political gravity."
The series is produced by 72 Films. Producer Tim Hancock said, "We aim to make a series that both his supporters and enemies will find fresh and interesting."
The 58-year-old's life has been rife with scandal, including his membership to the notorious Bullingdon Club, getting fired from The Times for making up a quote on an article and his multiple alleged affairs. It's fair to say the upcoming documentary will not be short of content.
Kenneth Branagh will also star as the British politician in the upcoming 5-part series 'This England'. The show will premiere on Sky this Autumn.