Brought to you by:
Sense of humour may be subjective but these days there's a comedy for everyone. Whether it's a bit of satire you are into or straight-up slapstick, you would struggle not to find a show to your taste at the moment.
Now there's a channel where you can find some of the best new and classic US comedies out there, with Sky Comedy recently launching itself as the new home of US comedy.
It features all-new series' of returning US shows such as Larry David's 'Curb Your Enthusiasm', 'Ballers' starring Dwayne Johnson and soon to be released 'Insecure' created by and starring Issa Rae.
Sky Comedy will also be jam-packed with hit shows like '30 Rock', 'Parks and Recreation' and 'Girls'. While you can also keep up with US late night chat shows such as 'The Tonight Show Starring Jimmy Fallon', 'Last Week Tonight with John Oliver' and the comedy institution that is 'Saturday Night Live'.
There's some great new comedies on the way too, below are five you should check out.
Mrs Fletcher
This new HBO show starring the fab Kathryn Hahn could be described as a sort of dual coming-of-age comedy. Written and executive produced by Tom Perrotta and based on his bestselling novel, it follows divorcée Eve Fletcher (Hahn) adjusting to her empty nest now that son Brendan (Jackson White), who the story also follows, has gone off to college. Eve decides to use this quality time with herself to explore porn and reinvents her life to find the happiness and sexual fulfilment that previously eluded her. While son Brendan struggles not to be the most popular kid in school any more and experiences his own sexual turmoil. Kathryn is her usual hilarious and charming self in what is a sharp and thought-provoking comedy.
'Mrs Fletcher' starts 12 February.
The Righteous Gemstones
Starring Danny McBride and John Goodman, this comedy series tells the story of a world-famous televangelist family who are not exactly the most exemplary of people. These TV ministers have a long tradition of deviance, greed and "charitable work". McBride stars as Bible-bashing small-screen preacher Jesse Gemstone,the eldest of the three grown Gemstone siblings, who looks to lead in his father's (Goodman's) footsteps but finds his past sins jeopardizing the family ministry. 'The Righteous Gemstones' starts 5 February.
Check out the trailer below to see what you can expect:
Sunnyside
'Sunnyside' is co-written by and stars Kal Penn, who was once upon a time part of the Harold & Kumar film series. A comedian and actor, Penn also worked for the Obama administration as an Associate Director in the White House Office of Public Engagement. Interesting background aside, this new show from NBC looks great. The comedy centres on Garrett Modi (Penn), a New York City councilman in Sunnyside, Queens. When he is forced out of his position after a series of misdemeanours, Modi finds salvation by helping a motley crew of immigrants attempting to become U.S. citizens.
'Sunnyside' starts this March.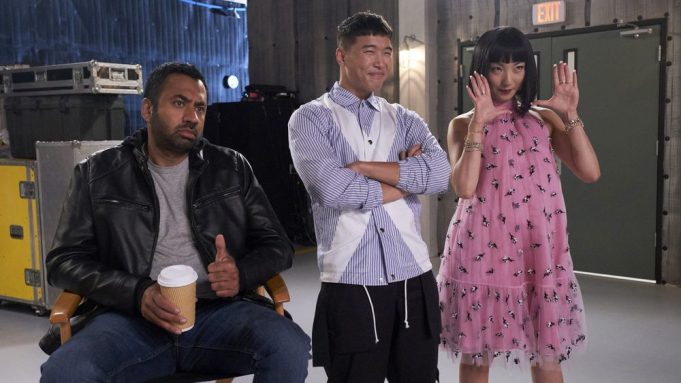 Miracle Workers
When you try to picture God, do you picture Steve Buscemi? Well, you will after watching 'Miracle Workers' where he plays the big guy himself. Set in the offices of Heaven Inc., this comedy series also stars Daniel Radcliffe and Geraldine Viswanathan as angels Craig and Eliza. They are mounting a desperate effort to rescue the fading earth while God becomes increasingly annoyed with what was once his pet project.
All episodes of 'Miracle Workers' are available now.
A.P. Bio
It's Always Sunny in Philadelphia's Glenn Howerton stars in this dark comedy penned by former 'Saturday Night Live' writer Mike O'Brien. Howerton plays Jack Carson Griffin who is livid when he is beaten to his dream job by his arch-rival Miles Leonard (Tom Bennett). Jack is obliged to go back to his hometown of Toledo, Ohio, to get a job as an A.P. (Advanced Placement) biology teacher at the Whitlock High School. But rather than teaching his pupils about evolution and genetics, Jack sets them the task of finding ever more inventive ways of taking revenge on the people he believes have done him wrong. A classic Dennis move if ever there was one.
All episodes of 'A.P. Bio' are available now.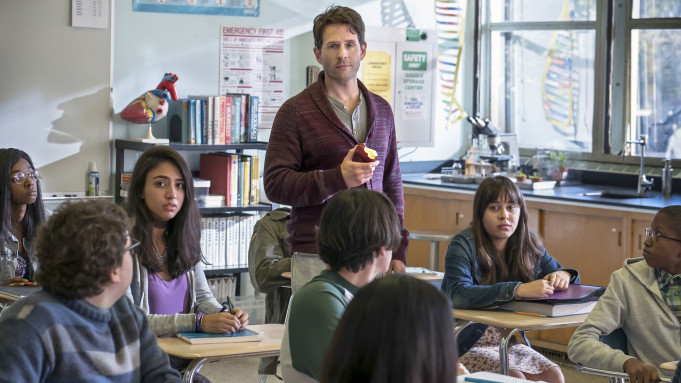 Sky Comedy is the new home of US comedy. To find out more, head here.