NETFLIX ORIGINAL TV SERIES
'13 Reasons Why: Season 4' | 05/06/2020
In the powerful final season of 13 Reasons Why, Liberty High School's Senior Class prepares for graduation. But before they can say goodbye, the crew of friends will have to band together one last time to keep a dangerous secret buried, try to make peace with the past four years, and face final, heartbreaking choices that might alter their lives forever. Showrunner Brian Yorkey and stars Dylan Minette, Grace Saif, Christian Navarro, Alisha Boe, Brandon Flynn, Miles Heizer, Ross Butler, and Devin Druid return for a fourth and final season that's full of twists, turns, and the resounding message that you can't move forward if you're still haunted by the past. 
'Queer Eye: Season 5' | 05/06/2020
The Fab Five head to historic Philadelphia to make over a new cast of everyday heroes, from a hardworking DJ to a struggling dog groomer. They'll forge relationships with men and women from a wide array of backgrounds and beliefs often contrary to their own, touching on everything from LGBTQ rights and social commentary to how to make the best farm-to-table guacamole and more!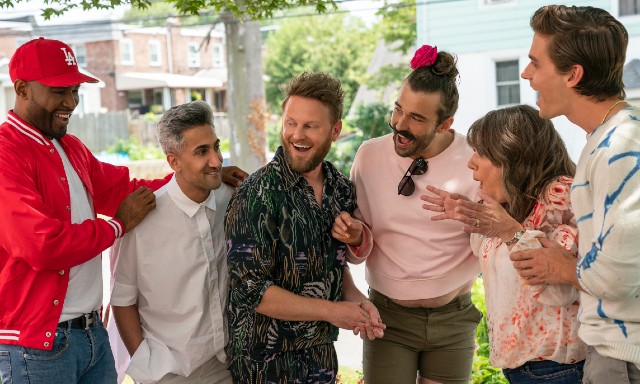 'RuPaul's Drag Race: All Stars' season 5 | New episodes weekly from 06/06/2020
The new 'All Stars' season this back this June, with returning queens ready to snatch the crown - and that dreaded season twist of course.
'F is for Family: Season 4' | 12/06/2020
While Frank deals with an unwelcome visit from his father, Sue discovers the wonders of Lamaze, and Bill makes a name for himself in the hockey rink.
'Dating Around' season 2 | 12/06/2020
Six new singles look for love — or something like it — in a series of back-to-back, real-life first dates in New Orleans. But who will each choose for a second date?
'Rick and Morty' season 4 | 16/06/2020
The full season of 'Rick and Morty' will land on Netflix this June, so expect plenty more extreme craziness from the team over at Adult Swim.
'The Sinner: Jamie' | 19/06/2020
Detective Harry Ambrose investigates a grisly car crash that leads to one of the most complicated and dangerous cases of his career.
'The Politician' season 2 | 19/06/2020
The return of Ryan Murphy's drama series sees double-crosses, a three-way relationship and a single-issue candidate add up to a mud-flinging race for State Senate that Payton will do anything to win. This time around, the cast of Gwyneth Paltrow and Ben Platt has expanded to include Bette Midler and Judith Light. 
NETFLIX ORIGINAL FILM
'The Last Days of American Crime' | 05/06/2020
As a final response to terrorism and crime, the US government plans to broadcast a signal making it impossible for anyone to knowingly commit unlawful acts. Graham Bricke (Édgar Ramírez), a career criminal who was never able to hit the big score, teams up with famous gangster progeny Kevin Cash (Michael Pitt), and black-market hacker Shelby Dupree (Anna Brewster), to commit the heist of the century and the last crime in American history before the signal goes off.
'Da 5 Bloods' | 12/06/2020
From Academy Award Winner Spike Lee comes a New Joint: the story of four African-American Vets — Paul (Delroy Lindo), Otis (Clarke Peters), Eddie (Norm Lewis), and Melvin (Isiah Whitlock, Jr.) — who return to Vietnam. Searching for the remains of their fallen Squad Leader (Chadwick Boseman) and the promise of buried treasure, our heroes, joined by Paul's concerned son (Jonathan Majors), battle forces of Man and Nature — while confronted by the lasting ravages of The Immorality of The Vietnam War.
'Eurovision Song Contest: The Story of Fire Saga' | 26/06/2020
Two small-town singers seize a chance to fulfil their dream of competing in the world's biggest song contest. Expect all of the glitz and glam that the Eurovision is known for - as well as plenty of campness, pop-tastic songs, and a celebration of the craziness the song contest brings each year. Will Ferrell, Rachel McAdams, Pierce Brosnan, and Graham Norton star.
NETFLIX ORIGINAL DOCUMENTARIES
'Spelling the Dream' | 03/06/2020
Following four hopeful competitors' journeys, this documentary explores the trend of Indian Americans ruling the Scripps National Spelling Bee since 1999.
'Lenox Hill' | 10/06/2020
An intimate look at the lives of four doctors — two brain surgeons, an emergency room physician, and a Chief Resident OBGYN — as they navigate the highs and lows of working at the renowned Lenox Hill Hospital in New York City. With extraordinary access and an unflinching eye, the series shows each physician's struggle to balance their personal and professional lives, and delves into each patient's personal journey. From birth to brain surgery, each case offers a rare inside look at the complex, fascinating, and emotional world of medicine. Directed and produced by Adi Barash and Ruthie Shatz.
'Athlete A' | 24/06/2020 
Follow the Indianapolis Star reporters that broke the story about USA Gymnastics doctor Larry Nassar's abuse and hear from gymnasts like Maggie Nichols.
'Home Game' | 26/06/2020
From voodoo wrestling in the Congo to roller derby in Texas, this docuseries explores unusual and thrilling sports traditions around the world.