Looking for reviews? Head over to our dedicated Reviews section (here) where we've already reviewed this month's biggest releases. 

NETFLIX TV SERIES
'Disenchantment: Part 5' | Sept 01
To save Dreamland from Queen Dagmar's wrath, Princess Bean must vanquish her mother and outrun a prophecy that foretells she will kill the one she loves.
'Love is Blind: After the Altar - Season 4' | Sept 01
The season's participants share updates and fresh perspectives a year after living the pod life while preparing for an epic flag football showdown.
'Dear Child' | Sept 07
A mysterious woman's escape from her harrowing captivity points investigators toward the terrifying truth behind an unsolved disappearance years earlier.
'Top Boy: Season 3' | Sept 07
Sully takes charge, pushing Dushane to cash out, but with a new order comes new challenges, threats, and consequences.
'Virgin River: Season 5 Part 1' | Sept 07
Mel adjusts to a different pace of life, Jack works to grow his business, and the town faces new threats as secrets begin to surface in Virgin River.
'Selling The OC: Season 2' | Sept 08
O Group agents work to keep their eyes on the prize as they meet a potential new teammate, battle red-hot rumors and test the real estate waters in Cabo.
'Miseducation' | Sept 15
After a public humiliation, a wannabe influencer enrolls in the only university that will take her, where she aspires to regain her social status.
'Surviving Summer: Season 2' | Sept 15
A new rival drops in as Summer trains with her friends for the national surfing competition, challenging her on the waves — and for the boy she loves.
'Scissor Seven: Season 4' | Sept 21
After an intense battle, a severely wounded Seven must bounce back to defend Chicken Island and his friends from another ruthless Shadow assassin.
'Sex Education: Season 4' | Sept 21
With Maeve in America and Moordale closed, Otis must find his footing at free-spirited Cavendish College — but he's not the only sex therapist on campus.
'Castlevania: Nocturne' | Sept 28
France, 1792: It begins. A new animated series in the Castlevania universe from showrunners Kevin Kolde ("Castlevania") and Clive Bradley ("Trapped") and directors Sam Deats & Adam Deats ("Castlevania").
'Love Is Blind: Season 5' | Sept 22 & Sept 29
Hoping to find their future fiancés by talking through walls, a new group of men and women braves twists, turns and triangles in search of true love.
NETFLIX FILM
'Love at First Sight' | Sept 15
Two strangers connect on a flight to London, only to be separated by a twist of fate. A reunion seems improbable — but love has a way of defying the odds.
'El Conde' | Sept 15
Augusto Pinochet is a vampire ready to die, but the vultures around him won't let him go without one last bite. A dark satire by Pablo Larraín.
'How To Deal With a Heartbreak' | Sept 22
Her two best friends are mapping out a bright future. Ma Fé? She's broke, uninspired and under a tight deadline to produce a book she can't write.
'The Black Book' | Sept 22
After his son is framed for a kidnapping, a bereaved deacon takes justice into his own hands and fights a corrupt police gang to absolve him.
'Overhaul' | Sept 27
When truck racer Roger loses everything, he receives a tempting but dangerous offer: to work as the getaway driver for a gang of thieves.
'Street Flow 2' | Sept 27
Struggling to overcome cycles of betrayal, revenge and violence, the Traoré brothers continue to fight for a brighter future in a seedy Paris suburb.
'Love is in the Air' | Sept 28
A fiercely independent pilot fighting to keep her family business afloat starts to fall for the man sent by corporate to ground her operation forever.
'Do Not Disturb' | Sept 29
A middle-aged man emerges from a pandemic slump with a new job at a quiet hotel, until some eccentric guests turn his first night into a wild adventure.
'Nowhere' | Sept 29
Pregnant, alone and drifting in the sea, a woman trapped in a shipping container tries to survive after fleeing a devastated totalitarian country.
'The Wonderful Story of Henry Sugar' |COMING SOON
A beloved Roald Dahl story about a rich man who learns about a guru who can see without using his eyes and then sets out to master the skill in order to cheat at gambling.
NETFLIX COMEDY
'Shane Gillis: Beautiful Dogs' | Sept 05
A new stand-up comedy special from Shane Gillis.
'Michelle Wolf: It's Great to Be Here' | Sept 12
A new stand-up comedy special from Michelle Wolf.
'Kountry Wayne: A Woman's Prayer' | Sept 19
Comedian Kountry Wayne delivers a rousing stand-up set about life as a dad of 10, how to know if a woman likes you and why he keeps it real with Jesus.
NETFLIX DOCUMENTARIES
'Scout's Honor: The Secret Files of the Boy Scouts of America' | Sept 06
Survivors, whistleblowers and experts recount the Boy Scouts of America's decadeslong cover-up of sexual abuse cases and its heartbreaking impact.
'Rosa Peral's Tapes' | Sept 08
This true-crime documentary film features Rosa Peral's first interview from prison since she was convicted of murdering her partner aided by an ex-lover.
'Spy Ops' | Sept 08
Intelligence operatives from MI6 to the CIA share insider stories of spy craft, Cold War campaigns, and coups carried out by covert agents.
'Wrestlers' | Sept 13
At a storied professional wrestling organization, new owners and a roster of rising stars strive to make an impact beyond the ring in this docuseries.
'Inside the World's Toughest Prisons: Season 7' | Sept 15
Journalist and former inmate Raphael Rowe experiences life inside prisons in Finland, the Czech Republic, Indonesia and the Solomon Islands.
'The Saint of Second Chances' | Sept 19
Mike Veeck grew up in the shadow of his father, Hall of Fame baseball owner Bill Veeck. But it all fell apart when Mike blew up his dad's career. Exiled from the game, the younger Veeck spent the next few decades clawing his way back, determined to redeem himself. The Saint of Second Chances is wildly unexpected, full of heart, and keeps you laughing through a comeback story unlike any other.
'Who Killed Jill Dando?' | Sept 26
Revisit the shocking 1999 murder of beloved TV presenter Jill Dando, which continues to mystify experts and the public, in this in-depth documentary.
'Encounters' | Sept 27
Lights in the sky over Texas and Japan. Spacecrafts over schoolyards in Wales and Zimbabwe. It's not science fiction – these stories of extraordinary mass sightings are true. Presented with fresh urgency by experiencers, top scientists, and military insiders, this thrilling four-part series sets aside skepticism to focus on belief, wonder, and the very human impact of encounters with extraterrestrial life.
'The Darkness within La Luz del Mundo' | Sept 28
For the first time, complainants against La Luz del Mundo megachurch leaders expose the abuses they suffered through exclusive interviews.
'Ice Cold: Murder, Coffee and Jessica Wongso '| COMING SOON
This documentary delves into the unanswered questions surrounding the trial of Jessica Wongso — years after the death of her best friend, Mirna Salihin.
'Vasco Rossi: Living It' | COMING SOON
Italy's most beloved rock star Vasco Rossi grants unprecedented access to intimate details of his personal life and successful career over the decades.
NETFLIX KIDS & FAMILY
'Kung Fu Panda: The Dragon Knight: Season 3' | Sept 07
In a race to destroy the all-powerful Tianshang weapons once and for all, the Dragon Knights face off against enemies both familiar and unexpected.
'My Little Pony: Make Your Mark: Chapter 5' | Sept 18
Now that Opaline has captured Sparky's Dragonfire, the evil Alicorn is stronger than ever — and she won't stop until she has all the power of Equestria!
'Spy Kids: Armageddon' | Sept 22
When a game developer unleashes a powerful computer virus, the children of two secret agents must work together to save their parents — and the world.
'Little Baby Bum: Music Time' | Sept 25
Come join the fun at the magically musical Magic Time preschool, where every day is an adventure fueled by familiar songs — and lots of learning!
'Power Rangers Cosmic Fury' | Sept 29
When Lord Zedd returns more powerful than ever, Team Cosmic Fury takes to the cosmos to battle the emperor of evil — and save the universe as we know it.
NETFLIX ANIME
'GAMERA - Rebirth' | Sept 07
In the summer of 1989, four kids in Tokyo witness the emergence of the turtle kaiju Gamera, who bravely stands up against giant human-eating monsters.
'KENGAN ASHURA: Season 2' | Sept 21
The second round of the Kengan Life-or-Death Tournament continues — without Ohma. As the mighty gladiators clash, a shadowy figure plots a violent coup.
NETFLIX GAMES
'LEGO® Legacy: Heroes Unboxed' | Out Now
Heroes Unboxed: Captain Redbeard, Princess Storm or Hot Dog Man? Assemble a dream team of minifigures to explore, battle enemies and build sets in this adventure game.
'WrestleQuest'|Out Now
Slam your way to the top! Draw inspiration from wrestling icons to perfect your signature entrance, moves and style in this role-playing adventure.
'Samurai Shodown' | Sept 29
Focus your mind. Draw your blade. Embrace death. Anticipate, disarm and attack your opponent to taste sweet victory in this classic fighting reboot.
NETFLIX TV SERIES
'The Lincoln Lawyer: Season 2 Part 2 ' | Aug 03
As Lisa's trial approaches, Mickey faces doubts, setbacks and unexpected revelations. Lorna and Cisco plan for their big day, while Izzy makes big moves.  
'Heartstopper: Season 2' | Aug  03
With exams, a school trip to Paris and prom on the horizon, Nick, Charlie and the gang must navigate the next stages of life, love and friendship.  
'The Big Nailed It Baking Challenge' | Aug 04
After 7 seasons of eating A LOT of debatably edible treats, Nicole and Jacques are ready to up the ante and give a group of motivated but inexperienced bakers the opportunity of a lifetime. Over the course of 10 episodes, Nicole and Jacques will provide 10 bakers with every tool and resource they need to go from OH NO to PRO. They'll be coached by world-renowned pastry chefs and be given the training necessary for a professional baker to succeed. The stakes and bakes are higher than ever because only the best bakers will make it to the end and compete for a huge cash prize that can help make their baking dreams come true!
'Painkiller' | Aug 10
A fictionalised retelling of events, PAINKILLER is a scripted limited series that explores some of the origins and aftermath of the opioid crisis in America, highlighting the stories of the perpetrators, victims, and truth-seekers whose lives are forever altered by the invention of OxyContin. An examination of crime, accountability, and the systems that have repeatedly failed hundreds of thousands of Americans, PAINKILLER is based on the book PAIN KILLER by Barry Meier and the New Yorker Magazine article 'The Family That Built the Empire of Pain' by Patrick Radden Keefe. Executive produced by Eric Newman, Pete Berg, Alex Gibney, and showrunners/creators Micah Fitzerman-Blue & Noah Harpster. Starring Uzo Aduba, Matthew Broderick, Taylor Kitsch, Dina Shihabi, and West Duchovny.  
'At Home With The Furys' | Aug 16
Undefeated heavyweight champion Tyson Fury retires from boxing to embrace the eccentricities of family life in this hilarious and heartfelt docusoap.
'The Upshaws: Part 4' | Aug 17
A working-class Black family in Indiana strives for a better life and a happy home while juggling everyday struggles in this comedy series.
'Fatal Seduction: Volume 2' | Aug  04
The dark and mysterious erotic thriller series from Steven Pillemer returns for a new season of lust, longing and betrayal.
'The Ultimatum: Marry or Move On: Season 2' | Aug  23
Five different couples, on the verge of marriage. One partner is ready to get married, the other isn't quite as sure. An ultimatum is issued - and in just over eight weeks, they must commit to marriage, or move on.  In the meantime, each will choose a new potential partner from one of the other couples, in a life-changing opportunity to get a glimpse of two different possible futures.
'Ragnarok: Season 3' | Aug  24
With the lines between good and evil blurred, Magne's fortitude is about to face its ultimate trial in an epic final battle of gods against giants.
'Who is Erin Carter? ' | Aug  24
A British expat's tranquil life in Barcelona spirals out of control when an armed robbery at a supermarket exposes her secret... and violent past.
'Miss Adrenaline: A Tale of Twins' | Aug  30
A competitive biker takes the identity of her long-lost identical twin sister to bring her killers to justice and get the truth behind their separation.
'One Piece' | Aug   31
Based on Japan's highest-selling manga series in history by Eiichiro Oda, ONE PIECE is a legendary high-seas adventure unlike any other. Monkey D. Luffy is a young adventurer who has longed for a life of freedom since he can remember. Luffy sets off from his small village on a perilous journey to find the legendary fabled treasure, ONE PIECE, to become King of the Pirates! But in order to find the ultimate prize, Luffy will need to assemble the crew he's always wanted before finding a ship to sail, searching every inch of the vast blue seas, outpacing the Marines, and outwitting dangerous rivals at every turn.  
NETFLIX FILM
'Soulcatcher' | Aug  02
A military contractor hired to seize a weapon that turns people into savage killers seeks revenge when his brother falls victim to the device.
'Head to Head' | Aug  03
Hilarity meets danger when a lovesick chauffeur and a bootleg mechanic mistakenly pick up a retired crime lord, igniting a wild, life-changing adventure.
'Zom 100: Bucket List of the Dead' | Aug  03
Bullied by his boss, worked around the clock, he's nothing more than a corporate drone. All it takes is a zombie outbreak for him to finally feel alive!
'Heart of Stone' | Aug  11
Gal Gadot is Agent Rachel Stone, an intelligence operative for a shadowy global peacekeeping agency races to stop a hacker from stealing its most valuable — and dangerous — weapon.
'Love, Sex and 30 Candles' | Aug   18
In the year they all turn 30, four best friends navigate relationships, heartbreak and a shocking development that threatens to tear them apart.
'You Are So Not Invited to My Bat Mitzvah' | Aug  25
Best friends Stacy and Lydia are both planning epic bat mitzvahs. But it all unravels when a popular boy — and middle school drama — threaten to ruin everything. Idina Menzel, Jackie Sandler, Adam Sandler, Sadie Sandler and Sunny Sandler star in this smartly edgy coming-of-age comedy.
'Choose Love' | Aug  31
Cami Conway has it all until she comes face to face with a kaleidoscope of tempting but tough choices. What she chooses depends wholly on you, the viewer. But be careful! Things don't always play out like you think!
NETFLIX COMEDY  
'Jared Freid: 37 and Single' | Aug  15
Introducing Jared Freid's hilarious stand-up comedy special, "37 & Single". In this uproarious performance, Jared, a self-proclaimed expert on the single life, takes us on a wild ride through the ups and downs of navigating the modern dating world. With a humorously annoyed perspective, he hilariously tackles the frustrations of apps, awkward set-ups, and the constant reminders from friends who have moved into the next phase of life. Join Jared as he explores the nuances of being single, growing up, gender reveal parties, and the inevitable break-ups that occur along the way. Get ready for a night of laughter and relatable stories as Jared sheds light on the joys and challenges of being 37 and still searching for that special someone.
'Kountry Wayne: A Woman's Prayer' | Aug  08
Kountry Wayne brings his southern flare in this one-of-a-kind stand-up special on fatherhood, gender dynamics, and faith.
NETFLIX DOCUMENTARIES
'Mark Cavendish: Never Enough' | Aug  02
Intimate and captivating, this documentary charts the meteoric rise, tragic downfall and unbelievable comeback of professional cyclist Mark Cavendish.
'Poisoned: The Dirty Truth About Your Food' | Aug  02
Through revealing interviews with experts and victims' families, this gripping documentary examines the problem of deadly foodborne illness in the US.
'Ladies First: A Story of Women in Hip-Hop' | Aug   09
Rappers, writers and experts detail the influence of women on hip-hop music and culture in this docuseries honouring the trailblazers and game-changers.
'Down for Love' | Aug   11
A heartwarming quest for love, this feel-good reality show follows several people with Down syndrome as they navigate the trials and triumphs of dating.
'Live to 100: Secrets of the Blue Zones' | Aug  30
Travel around the world with author Dan Buettner to discover five unique communities where people live extraordinarily long and vibrant lives.
'The Last Hours of Mario Biondo' | Aug  03
Questions persist about the last night of Mario Biondo, the husband of Spanish TV host Raquel Sánchez Silva. This true-crime series uncovers new details.
NETFLIX KIDS & FAMILY 
'Gabby's Dollhouse: Season 8' | Aug  07
With all new songs and all new friends, the fun times never end for Gabby and her cute cat, Pandy Paws. Want to come along? It's time to get tiny!
'Mech Cadets' | Aug  10
An underdog teen joins a group of young Cadets who've been chosen to bond with Robo Mechs from space and defend Earth against alien invaders.
'My Dad the Bounty Hunter: Season 2' | Aug  17
The hunter becomes the hunted when Terry mysteriously goes missing, leaving his wife, kids — and Blobby — to search for him all over the universe.
'The Monkey King' | Aug  18
A monkey and his magical fighting stick team up on an epic quest, battling demons, dragons, gods and the greatest adversary of all: Monkey's own ego!
'Karate Sheep: Season 2' | Aug  31
Armed with karate skills — and super cool gadgets — Wanda and Trico are back to protect their fluffy sheep friends from the wickedly hungry Wolf.
NETFLIX ANIME 
'Baki Hanma: Season 2 Part 2' | Aug   24
New episodes of the martial-arts anime series.
'The Seven Deadly Sins: Grudge of Edinburgh Part 2' | Aug   08
Reunited with Lancelot for the first time since their tragic accident, Tristan must learn to conquer his inner demons in order to save his mother's life.
NETFLIX TV SERIES
'Manifest: Season 4 Part 2' | June 02
As the Death Date looms, the Flight 828 passengers and their loved ones race to fulfil their Callings and prevent the terrifying future that awaits.
'Love Is Blind: Brazil: Season 3' | June 07
Can true love flourish inside the pods? Camila Queiroz and Klebber Toledo guide a new batch of Brazilian singles through their search to find the one.
'Barracuda Queens' | June 05
When they fall deep into debt, a group of young women in an affluent Stockholm suburb turns to robbing their neighbors' houses. Inspired by true events.
'Never Have I Ever: Season 4' | June 08
Senior year has finally arrived. Between college conundrums, identity crises and crushes that won't fade, are Devi and the gang ready to face the future?
'Human Resources: Season 2' | June 09
From one-night stands to office romances, the creatures working at Human Resources have their hands — and claws — full with a new batch of humans.
'Tex Mex Motors' | June 09
Junkers turn into jewels when they're in the hands of these pros, who bring cars from Mexico to El Paso for radical restorations in this lively series.
'Black Mirror: Season 6' | June 15
Expect the unexpected when 'Black Mirror' Season 6 arrives this June. The Emmy-winning anthology series has taken viewers on the most unsettling journeys over the past five seasons, but the latest instalment will be the most unpredictable yet. With five brand-new episodes, creator Charlie Brooker is hoping to take the series to a whole new level.
'Glamorous' | June 22
Marco Mejia, a young gender-nonconforming twentysomething, seems to be stuck in place until landing a job working for a former supermodel-turned-cosmetics mogul. Can Marco navigate a cutthroat new workplace and messy dating scene?
'Titans: Season 4' | June 25
The road back home is paved with obstacles for the Titans as they face a powerful and deadly cult in Metropolis bent on destroying them — and the world.
'The Witcher: Season 3 Volume 1' | June 29
As monarchs, mages, and beasts of the Continent compete to capture her, Geralt takes Ciri into hiding, determined to protect his newly-reunited family against those who threaten to destroy it. Entrusted with Ciri's magical training, Yennefer leads them to the protected fortress of Aretuza, where they hope to uncover more about the girl's untapped powers; instead, they discover they've landed in a battlefield of political corruption, dark magic, and treachery. They must fight back, put everything on the line – or risk losing each other forever.
'Is It Cake, Too' | June 30
Deception is the name of the game for the world's most talented bakers who will compete to create hyper-realistic cakes that look exactly like everyday objects – with cash on the line. But are they good enough to deceive a panel of celebrity judges… and you? You'll be asking yourself 'is it real?' Or…Is It Cake?"
NETFLIX FILM
'The Wonder Weeks' | June 09
Three modern couples juggle relationships and demanding careers while navigating the unpredictable terrain of parenthood.
'Extraction 2' | June 16
Back from the brink of death, highly skilled commando Tyler Rake takes on another dangerous mission: saving the imprisoned family of a ruthless gangster.
'The Perfect Find' | June 23
A fashion editor's career comeback hits a snag when she learns the charming young stranger she kissed at a party is her new coworker — and her boss' son.
'Roald Dahl's Matilda The Musical' | June 25
An extraordinary girl with a sharp mind and a vivid imagination takes a daring stand to change her story — with miraculous results. Meet Matilda.
'Run Rabbit Run' | June 28
A single mother grows increasingly unsettled by her young daughter's claims to have memories of another life, stirring up their family's painful past.
'Nimona' | June 30
A knight framed for a terrible crime turns to a shape-shifting teenage girl to prove his innocence. But what if she's the monster he's sworn to destroy?
'The Last Letter From Your Lover' | June 30
After finding a trove of love letters from 1965, a reporter sets out to solve the mystery of a secret affair — while embarking on a romance of her own.
NETFLIX COMEDY
'Amy Schumer: Emergency Contact' | June 13
Amy Schumer gets real about lasering her face, postpartum sex, her baby-naming disaster and chewable Viagra in this cheekily candid stand-up special.
'85 South: Ghetto Legends' | June 20
DC Young Fly, Karlous Miller and Chico Bean bring their hit podcast to the stage for a one-of-a-kind comedy event where nothing and no one is off limits.
NETFLIX DOCUMENTARIES
'Arnold' | June 07
This three part documentary series chronicles Arnold Schwarzenegger's journey from the countryside of Austria to the highest echelons of the American dream. In a series of candid interviews Schwarzenegger, his friends, foes, co-stars and observers cover everything from his days pumping iron to his triumphs in Hollywood, his time governing the state of California and both the joys and turbulence of his family life in a tale that matches his larger-than-life persona.
'Tour de France: Unchained' | June 08
Through tears and triumph, this series follows several cycling teams as they compete in the 2022 instalment of the world's most gruelling bike race.'
'The Playing Card Killer' | June 09
A playing card left at a murder scene connects a string of killings in this docuseries tracking a notorious serial killer who terrorized Spain in 2003.
'Our Planet II' | June 14
From the Emmy Award-winning team behind Planet Earth and Our Planet comes Our Planet II. At any given moment on planet Earth, billions of animals are on the move. Captured with spectacular and innovative cinematography, Our Planet II unravels the mysteries of how and why animals migrate to reveal some of the most dramatic and compelling stories in the natural world.
'Break Point: Part 2' | June 21
The most promising players in tennis see dreams realized and hopes dashed as the second half of the 2022 season takes them from Wimbledon to the US Open.
'Take Care of Maya' | June 19
When nine-year-old Maya Kowalski was admitted to Johns Hopkins All Children's Hospital in 2016, nothing could have prepared her or her family for what they were about to go through. As the medical team tried to understand her rare illness, they began to question the basic truths that bound the Kowalskis together. Suddenly, Maya was in state custody – despite two parents who were desperate to bring their daughter home. The story of the Kowalski family – as told in their own words – will change the way you look at children's healthcare forever.
'Catching Killers: Season 3' | June 23
Real-life investigators recount stories of cold-blooded killers, the desperate efforts to stop them and the brave people who brought them to justice.
'King of Clones' | June 23
From groundbreaking human cloning research to a scandalous downfall, this documentary tells the captivating story of Korea's most notorious scientist.
'Eldorado: Everything the Nazis Hate' | June 28
A glittery nightclub in 1920s Berlin becomes a haven for the queer community in this documentary exploring the freedoms lost amid Hitler's rise to power.
'Muscles & Mayhem: An Unauthorized Story of American Gladiators' | June 28
In the '90s, TV's stunt-filled "American Gladiators" thrilled fans. This docuseries explores the show's success — and how it almost ended before it began.
NETFLIX KIDS & FAMILY
'My Little Pony: Make Your Mark: Chapter 4' | June 06
The evil Opaline is on a mission to steal the ponies' Cutie Marks and become the most powerful Alicorn — unless the Mane 5 can stop her in time!
'Not Quite Narwhal' | June 19
Curious little Kelp's been living his whole life as a narwhal… until he finds out he's actually a unicorn. Now he's got two worlds to explore!
NETFLIX ANIME
'Black Clover: Sword of the Wizard King' | June 16
As a lionhearted boy who can't wield magic strives for the title of Wizard King, four banished Wizard Kings of yore return to crush the Clover Kingdom.
'Ōoku: The Inner Chambers' | June 29
In an alternate history where the male population is nearly decimated, eligible men serve as concubines to the woman shogun inside the walls of the Ooku. Based on the acclaimed manga series.
NETFLIX TV SERIES - MAY 2023
'Love Village' | May 2
Singles 35 and over of various backgrounds relocate to a house in the countryside for another chance at love. Will they find "the one" — or leave alone?
'Jewish Matchmaking' | May 3
When Jewish singles are ready to get serious, they call on Aleeza Ben Shalom to find their perfect romantic match from across the US and Israel.
'Queen Charlotte: A Bridgerton Story' | May 4 
Young Queen Charlotte's marriage to King George of England sparks an epic love story and transforms high society in this 'Bridgerton' universe prequel.
'Dance Brothers' | May 10
Two brothers trying to make it as dancers open their own club, but their artistic drive soon clashes with the business, threatening their relationship.
'Mulligan' | May 12
In this satirical comedy, when most of Earth is destroyed by aliens, can a few survivors rebuild what's left of America and form a more perfect union?
'Queer Eye: Season 7' | May 12
Join the party with the Fab Five in the city of New Orleans for a new season of inspirational heroes — and beautiful before-and-afters.
'Rhythm + Flow France: Season 2' | May 17 
A fresh batch of aspiring artists competes for a 100,000 euro prize and the claim to French rap fame in this competition judged by Niska, Shay and SCH.
'XO, Kitty' | May 18
A new love story unfolds when teen matchmaker Kitty reunites with her long-distance boyfriend at the same Seoul high school attended by her late mother.
'Muted' | May 19 
Sergio hasn't spoken since he murdered his parents six years ago. Now, a psychiatrist aims to uncover what happened through a twisted investigation.
'Selling Sunset: Season 6' | May 19 
The stakes and stilettos are as high as they've ever been at the brokerage, as longtime agents make big changes and two new team members bring the heat.
'Young, Famous & African: Season 2' | 19  
The celebrity crew is back — and their claws are out. Join the stars as they return to Johannesburg for another season of fun, fights and drama.
'The Ultimatum: Queer Love' | 24
Tie the knot or call it quits? Five long-term couples are put under pressure to get married or move on in this queer-centric spin-off of 'The Ultimatum: Marry or Move On.'
'FUBAR' | May 25
Heroes don't retire. They reload. Arnold Schwarzenegger is starring in his first TV series ever! When a father and daughter learn that they've each secretly been working as CIA Operatives for years, they realize their entire relationship has been a lie and they truly don't know one another at all. Forced to team up as partners, 'FUBAR' tackles universal family dynamics set against a global backdrop of spies, fantastic action and humour. Also starring Monica Barbaro, Milan Carter, Fortune Feimster, Travis Van Winkle, Jay Baruchel, Andy Buckley, Aparna Brielle, Barbara Eve Harris, Fabiana Udenio and Gabriel Luna.  
'Turn of the Tide' | May 26
When a boat loaded with cocaine sinks off the Azores, Eduardo sees a risky but exciting opportunity to make money and fulfil impossible dreams.
'Barbecue Showdown: Season 2' | May 26 
New host Michelle Buteau ('The Circle') joins the judges for a fresh round of heated competition between eight of the best barbecuers in the country.
NETFLIX FILM
'Royalteen: Princess Margrethe' | May 11
In the wake of her prom scandal, Princess Margrethe longs for normalcy as she struggles to maintain her perfect facade while dealing with family drama.
'The Mother' | May 12
Vengence is a mother. After years of hiding out in the Alaskan wilderness, a deadly assassin returns to rescue the daughter she loved from afar. This Mother's Day - watch 'The Mother' starring Jennifer Lopez, Joseph Fiennes, Lucy Paez, Omari Hardwick, Paul Raci, and Gael Garcia Bernal.
'Fanfic' | May 17
Two high school students form an intense connection as they navigate the challenges of discovering and expressing their truest selves.
'Faithfully Yours' | May 17
Using each other as alibis, two friends sneak off to indulge in secret affairs — but their elaborate web of lies unravels when one of them goes missing.
'Astérix & Obélix: The Middle Kingdom' | May 19
Gallic heroes and forever friends Asterix and Obelix journey to China to help Princess Sa See save the Empress and her land from a nefarious prince.
'Kathal - A Jackfruit Mystery' | May 19
When two prized jackfruits disappear from a politician's garden, a spirited cop's investigation takes an unexpected turn as she digs for the truth.
'Hard Feelings' | May 24
Two best friends try to make it through high school while dealing with embarrassing new urges — and their very inconvenient feelings for each other.
'Mother's Day' | May 24
When the son she's never known gets kidnapped, former special agent Nina dusts off her deadly skills to bring him home — no matter who gets in her way.
'Blood & Gold' | May 26
At the bitter end of WWII, a German deserter and a young woman are drawn into bloody battle with a group of Nazis hunting for hidden gold.
'Tin & Tina' | May 26
After a traumatic miscarriage, a young couple adopts two peculiar twins from a convent whose obsession with religion soon disturbs the family.
'Mixed by Erry' | May 31
Smuggling self-made mixtapes in 1980s Naples, an aspiring DJ and his two brothers become surprisingly powerful record producers wanted by the law.
NETFLIX COMEDY
'Hannah Gadsby: Something Special' | May 9
Emmy and Peabody Award-winning comedian Hannah Gadsby is back for their third Netflix comedy special, 'Something Special', and it's a feel-good show. Seriously. In this smart and dare we say... feel-good set, the comedian talks about a wedding (theirs!), more than one traumatic encounter with a bunny and much more. Filmed at the Sydney Opera House, Something Special premieres globally on Netflix on May 9. 
'Wanda Sykes: I'm An Entertainer' | May 23
Legendary comedian, actress and producer Wanda Sykes returns for her second hour-long Netflix comedy special. From the challenges of raising Gen Z teens to the dilemmas of being a liberal in a hypercharged political climate, Sykes, renowned for her social commentary, delivers her insightful and ferocious wit and candour audiences have come to know and love.
'I Think You Should Leave with Tim Robinson: Season 3' | May 30
The critically acclaimed and hilariously absurdist comedy series, 'I Think You Should Leave with Tim Robinson' returns for a third season. Creators and writers Tim Robinson and Zach Kanin bring their distinct comedy style and observational humour to the forefront, continuing to poke fun at life's most bizarre and mundane situations.
NETFLIX DOCUMENTARIES
'Missing: Dead or Alive?'| May 10
Follow officers from a South Carolina sheriff's department as they urgently search for individuals who've disappeared under troubling circumstances.
'Anna Nicole Smith: You Don't Know Me' | May 16
From the heights of her modelling fame to her tragic death, this documentary reveals Anna Nicole Smith through the eyes of the people closest to her.
'Working: What We Do All Day' | May 17 
What brings you joy in work? What gives you purpose? What makes a good job…good? These are the questions at the center of 'Working: What We Do All Day', a compelling documentary series that explores the ways in which we find meaning in our work and how our experiences and struggles connect us on a human level. Narrated by President Barack Obama, who makes appearances alongside everyday people in their homes and places of work, the series follows individuals at all levels of the workforce — from service jobs all the way up to the C-suite — across the industries of home care, tech, and hospitality. As a college student, Obama was inspired by Studs Terkel's 1974 book Working, which revolutionized the conversation around work by asking ordinary people what they did all day. The series brings this idea into the modern world by offering intimate, behind-the-scenes portraits of people's lives and giving viewers a new understanding of and appreciation for the jobs they do each day. Executive produced by Barack and Michelle Obama and directed by Caroline Suh, 'Working: What We Do All Day' is a Higher Ground and Concordia Studio Production.
'McGREGOR FOREVER' | May 17
Conor McGregor's brutal strikes and trash-talking swagger made him the UFC's biggest draw. This rousing docuseries follows his dynamic career.
'Victim/Suspect'|May 23
When a journalist digs into a case of a woman charged with falsely reporting a rape, a pattern emerges: authorities turning the tables on victims.
'Merpeople' | May 23
MerPeople dives into the fascinating world of underwater performers who have turned their love for the mystical sea creatures into real-world careers. From putting on dazzling small-town shows in Florida to the crowning of the King and Queen of the Seas in the Bahamas, this series will take you on a journey of passion and perseverance. Get ready to set sail on an unforgettable voyage and immerse yourself in a world where fantasy becomes reality.
NETFLIX KIDS & FAMILY
'Spirit Rangers: Season 2' | May 8
Eddy, Summer and Kodi are back in action at Xus National Park, learning about nature on exciting adventures with new visitors — and old friends, too!
'Kitti Katz' | May 18
Three teenage girls transform into fierce feline superheroes to save the world from an evil Egyptian goddess — and still have time for soccer practice.
'The Creature Cases: Chapter 3' | May 22
Sam and Kit are back to collect the clues and solve more animal mysteries from around the world with new cases, new rides and new creature pals!
NETFLIX ANIME
'Ultraman: Season 3' | May 11
As public sentiment turns against Ultraman, Shinjiro learns that his inherited powers may come with a heavy price, in this exciting series conclusion.
'Yakitori: Soldiers of Misfortune' | May 18
With Earth colonized by a superior alien civilization, Akira's only chance at a better future is to enlist as an expendable Yakitori foot soldier.
NETFLIX TV SERIES - APRIL 2023
'War Sailor: Limited Series' | Apr 02
When WWII erupts, two sailors on a Norwegian merchant ship face brutal conditions as they fight to survive a conflict they were never asked to join.
'Beef' | Apr 06
A road rage incident between two strangers — a failing contractor and an unfulfilled entrepreneur — sparks a feud that brings out their darkest impulses.
'Transatlantic' | Apr 07
Two Americans and their allies form a scrappy rescue operation in 1940 Marseilles to help artists, writers and other refugees fleeing Europe during WWII.
'Thicker Than Water' | Apr 07
A journalist's life devolves into chaos when she shields her brother from the law, inadvertently entangling her family in a drug lord's merciless scheme.
'Florida Man' | Apr 13
A disgraced cop in debt is forced to return to his home state of Florida for a shady mission only to get swept up in a wild — and deadly — treasure hunt.
'Obsession' | Apr 13
A respected London surgeon's affair with his son's fiancée turns into an erotic infatuation that threatens to change their lives forever. Stars Richard Armitage and Charlie Murphy
'The Diplomat' | Apr 20
The Diplomat: Amid an international crisis, a career diplomat juggles her new high-profile job as ambassador to the UK and her turbulent marriage to a political star.
'Rough Diamonds' | Apr 21
When a prodigal son sends his family's empire into crushing debt, his estranged brother returns to Antwerp's diamond district to pick up the pieces.
'Indian Matchmaking' Season 3 | Apr 21
From London to New Delhi, matchmaker Sima Taparia helps more marriage-ready singles find romance while providing plenty of reality checks along the way.
'Workin' Moms' Season 7 | Apr 26
In an emotional final season, Kate and her friends seek a balance between professional wins and personal fulfillment. It's hard — but laughter helps.
'Love After Music' | Apr 26
No one can and no one should live without love. This bioseries traces the passionate life and career of iconic Argentinian rock star Fito Páez.
'Firefly Lane' Season 2 Part 2 | Apr 27
For Kate and Tully, no obstacle is too big when it comes to their lifelong friendship. But is there one mistake that could tear them apart forever?
'The Nurse' | Apr 27
A new nurse at a hospital begins to suspect her colleague's desire for attention may be tied to a series of patient deaths. Based on a true story.
'Sweet Tooth' Season 2 | Apr 27
Gus and his fellow hybrids are held captive by the Last Men in order to find a cure for the Sick. To save his friends, Gus must find new strength as he uncovers the origins of The Great Crumble.
'King of Collectibles: The Goldin Touch' | Apr 28
Ken Goldin and his savvy team run the thrilling action in this series that goes inside a leading auction house specializing in rare collectibles.
NETFLIX FILM
 'Weathering' | Apr 01
After losing her baby and nearly her life during labor, a journalist unravels amid disturbing visions and chilling attacks as she grieves alone at home.
'Chupa' | Apr 07
While visiting family in Mexico, a lonely boy befriends a mythical creature hiding on his grandfather's ranch and embarks on the adventure of a lifetime.
'Kings of Mulberry Street: Let Love Reign' | Apr 07
When Granny Chetty is abducted by an evil ex-cop, Ticky and Baboo return for a wild rescue mission, complete with a prized necklace and a musical show.
'Seven Kings Must Die ' | Apr 14
In the wake of King Edward's death, Uhtred of Bebbanburg and his comrades adventure across a fractured kingdom in the hopes of uniting England at last.
'Mighty Morphin Power Rangers: Once & Always' | Apr 19
When Rita Repulsa returns, the Power Rangers are the only ones who can stop her! But after 30 years, can the team still be the heroes the world needs?
'A Tourist's Guide to Love' | Apr 21
Work brings an American travel executive to Vietnam, where a free-spirited tour guide helps open her eyes to a beautifully adventurous way of life.
'The Matchmaker' | Apr 27
When an office worker becomes powerfully infatuated with his office's beautiful intern, he follows her to a desert resort beset by bizarre forces.
NETFLIX COMEDY 
'My Name Is Mo'Nique' | Apr 04
You think you know Mo'Nique? From staring down a racist teacher to her grandmother's sex warning, the comedy legend spills all in this stand-up special.
'Leanne Morgan: I'm Every Woman' | Apr 11
She loves Jell-O salad, her three kids and her brawny grandbaby. Leanne Morgan shares stories about her life as a wife, mother and wearer of big panties.
'CELESTE BARBER Fine, thanks' | Apr 12
Actor and comedian Celeste Barber takes the stage in Sydney to get personal in public about marriage, mental health, celebrity-branded sex toys and more.
'John Mulaney: Baby J' | Apr 25
Emmy Award-winning comedian, writer and actor John Mulaney returns with a brand-new stand-up special.
NETFLIX DOCUMENTARIES
'Lewis Capaldi: How I'm Feeling Now' | Apr 05
This intimate, all-access documentary chronicles Lewis Capaldi's journey from a scrappy teen with a viral performance to a Grammy-nominated pop star.
  'American Manhunt: The Boston Marathon Bombing' | Apr 12
The 2013 Boston Marathon bombing paralyzed a great American city on what was supposed to be its happiest day. Ten years later, this three-part series delves into the massive manhunt that followed the tragedy, as remembered by the law enforcement officials who brought the bombers to justice and the survivors caught in the crossfire. 
'How to Get Rich' | Apr 18
Money holds power over us — but it doesn't have to. Finance expert Ramit Sethi works with people across the US to help them achieve their richest lives.
'Longest Third Date' | Apr 18
When Matt and Khani match on Hinge, sparks fly. So much so that they spontaneously fly to Costa Rica for their third date — and get stuck as the world shuts down in March 2020. An extended stay in paradise becomes the ultimate test of compatibility.
'Chimp Empire' | Apr 19
From the Academy Award®-winning co-director of My Octopus Teacher and the team behind Rise of the Warrior Apes, Chimp Empire explores the fascinating world of the largest chimpanzee society ever discovered as they navigate complex social politics, family dynamics and dangerous territory disputes. Narrated by Academy Award® winner Mahershala Ali.
NETFLIX TV SERIES - MARCH
'Cheat' | Now Streaming
Equal parts brains and blagging, this quiz show expects and encourages contestants to cheat their way to a cash prize. The one rule? Don't get caught!
'Sex/Life' Season 2 | Now Streaming
SEX/LIFE is the story of a love triangle between a woman, her husband, and her past that takes a provocative new look at female identity and desire. We pick up right in the moment of Billie's stunning proposal to Brad which ended the first season, and then ride the emotional fallout which comes in its wake.   
'Next in Fashion' Season 2 | Now Streaming
Supermodel Gigi Hadid joins co-host Tan France and a lineup of expert judges for a second round of fierce competition to find fashion's next trendsetter.
'You' Season 4 – Part 2 | Now Streaming
Starting anew in London, Joe vows to bury the past and be his best self. But on the rocky road to redemption, a new obsession starts to take hold.
'Outlast' | Now Streaming
In the extreme Alaskan wild, 16 survivalists compete for a chance to win a massive cash prize — but these lone wolves must be part of a team to win.
'Shadow and Bone' Season 2 | Mar 16
On the run after the showdown with Kirigan, Alina and Mal find new allies — and face heartrending choices — in their quest for more mythical amplifiers.
'Agent Elvis' | Mar 17
In this adult animated comedy, Elvis trades his jumpsuit for a jetpack when he joins a secret spy program to stop villains from destroying the world.
'Dance 100' | Mar 17
To win $100,000, eight choreographers must create increasingly complex routines for an ever-growing number of elite dancers — who are also the judges. 
'The Night Agent' | Mar 23
While monitoring an emergency line, a vigilant FBI agent answers a call that plunges him into a deadly conspiracy involving a mole at the White House.
'Love Is Blind' Season 4 | Mar 24
More single people who are ready to prioritize love over looks hit the pods to flirt, fall, and — if they're lucky — find someone they want to marry.
'Wellmania' | Mar 29
When a health crisis forces Liv to rethink her "live fast, die young" attitude, she jumps into a wellness journey to get better — even if it kills her.
'Unstable' | Mar 30
Ellis Dragon (Rob Lowe) is a universally admired, eccentric, narcissist-adjacent biotech entrepreneur working to make the world a better place. He's also in emotional free-fall. His son Jackson Dragon (John Owen Lowe) is… none of those things. Can Jackson save Ellis and his company and salvage their estranged relationship while also doing what may actually be impossible: escaping the shadow of his larger-than-life father? They'll figure it out, maybe. 
'Riverdale' Season 7| Mar 30
The supernatural crime drama returns for its seventh — and — final season.
NETFLIX FILMS 
'Luther: The Fallen Sun' | Now Streaming
Haunted by an unsolved murder, brilliant but disgraced London police detective John Luther breaks out of prison to hunt down a sadistic serial killer.
'The Magician's Elephant' | Mar 17
A determined boy accepts a king's challenge to perform three impossible tasks in exchange for a magical elephant — and the chance to chase his destiny.
'Murder Mystery 2' | Mar 31
Now full-time detectives struggling to get their private eye agency off the ground, Nick and Audrey Spitz find themselves at the center of an international abduction when their friend the Maharaja is kidnapped at his own lavish wedding. 
NETFLIX COMEDY 
'Chris Rock: Selective Outrage' | Now Streaming
Chris Rock makes comedy history as he performs stand-up in real time for Netflix's first global live-streaming event.
'Bert Kreischer: Razzle Dazzle' | Mar 14
Shameless — and shirtless — as ever, Bert Kreischer spills in a riotous  set on bodily emissions, being bullied by his kids and the explosive end to his family's escape room outing in his newest Netflix comedy special, Razzle Dazzle.  
'Mae Martin: SAP' | Mar 28
Mae Martin makes their hour-long comedy special debut with Sap, directed by Abbi Jacobson. The award-winning comedian, writer, and actor, best known for their critically acclaimed series FEEL GOOD, reflects on a world off its axis, from a mythical moose encounter to the gender spectrum in "Beauty and the Beast", in this new stand-up special.
NETFLIX DOCUMENTARIES   
'Money Shot: The Pornhub Story' | Mar 15
Featuring interviews with performers, activists and past employees, this documentary offers a deep dive into the successes and scandals of Pornhub.
'MH370: The Plane That Disappeared' | Now Streaming
In 2014, a plane with 239 people aboard vanishes from all radar. This docuseries delves into one of our greatest modern mysteries: Flight MH370.
'Waco: American Apocalypse' | Mar 22
This immersive three-part Netflix documentary series is the definitive account of what happened in Waco, Texas in 1993 when cult leader David Koresh faced off against the federal government in a bloody 51-day siege. Released to coincide with the 30th anniversary of this national tragedy, the series is directed by acclaimed filmmaker Tiller Russell (Night Stalker) and features exclusive access to recently unearthed videotapes filmed inside the FBI Crisis Negotiation Unit, as well as raw news footage never released to the American public, and FBI recordings.
'Emergency: NYC' | Mar 29
Go from helicopter to hospital with trauma team professionals across New York City as they provide life-saving aid and share their personal stories.
NETFLIX SERIES - FEBRUARY
'Freeridge' | Feb 02
Four teen friends work to reverse a curse after a peculiar old box seems to bring misfortune — and more — into their lives.
'The Exchange' | Feb 08
Inspired by real events, two women set out to pioneer the cutthroat stock market of 1980s Kuwait — and disrupt its corrupt boys club along the way.
'You: Season 4 Part 1' | Feb 09
Starting anew in London, Joe vows to bury the past and be his best self. But on the rocky road to redemption, a new obsession starts to take hold.
'Love to Hate You' | Feb 10
For an attorney who despises losing to men and an A-list actor who distrusts women, love means nothing — until they're forced to date each other.
'Love is Blind: After the Alter' Season 3 | Feb 10
Check in with this season's former fiancés, one year since their big decisions to get married or walk away single.
'In Love All Over Again' | Feb 14
Ever since they met, Irene and Julio have been falling in love, splitting up, and then trying again. Will they ever find their happy ending?
'Perfect Match' | Feb 28
Couples who prove their compatibility gain the power to make or break other matches in this strategic and seductive dating competition.
'#NoFilter' | Feb 15
Bored with her studies, Marcely drops out of college to chase a new goal in life: becoming an influencer. But life online is harder than it looks…
'The Law According to Lidia Poët' | Feb 15
Forbidden from practicing law, a woman prepares to fight the court's decision. Inspired by the true story of Lidia Poët, Italy's first female lawyer.
'The Upshaws: Part 3' | Feb 16
Still striving for success and surviving every mess, the Upshaws face a series of obstacles that put their resilience — and relationships — to the test.
'Ganglands: Season 2' | Feb 17
Mehdi, Liana and Tony find their plans to leave Belgium thwarted by the arrival of a new enemy — one that forces them to ally with former foes.
'Community Squad' | Feb 17
A ragtag civilian patrol squad created to improve the image of the police force faces unexpected danger after stumbling on a drug trafficking operation.
'Eva Lasting' | Feb 15
A mysterious teen girl arrives at an all-boys school in 1970s Colombia, breaking stereotypes, rules... and a few hearts.
'A Girl and an Astronaut' | Feb 17
An astronaut's return after a 30-year disappearance rekindles a lost love and sparks interest from a corporation determined to learn why he hasn't aged.
'Triptych' | Feb 22
After finding out she is one of three identical triplets, a relentless detective embarks on a perilous journey to uncover the truth about her past.
'Outer Banks: Season 3' | Feb 23
New adventures take the Pogues to the Caribbean and far beyond as the friends are pulled into a dangerous rival's hunt for a legendary lost city.
'Who Were We Running From?' | Feb 24
Harbouring a painful past, a mother lives like a nameless fugitive with her daughter as they make hotels their home and see everyone else as a threat.
'Too Hot to Handle: Germany' | Feb 28
Ten gorgeous singles meet in a tropical paradise. Little do they know that to win the €200,000 prize, they'll have to completely give up sex.
NETFLIX FILM 
'True Spirit' | Feb 03
When Jessica Watson sets out to be the youngest person to sail solo, non-stop and unassisted around the world, she must overcome her greatest fear as she navigates the world's most challenging stretches of ocean. Based on a true story. 
'Stromboli' | Feb 03
Haunted by memories of her broken marriage and a fight with her daughter, a woman joins an intense self-help retreat when her vacation goes awry.
'10 Days of a Good Man' | Feb 10
A lawyer turned private investigator takes on a missing person case, propelling him on an unexpected and life-altering quest.
'Your Place or Mine' | Feb 10
When best friends and total opposites Debbie (Reese Witherspoon)  and Peter (Ashton Kutcher) swap homes for a week, they get a peek into each other's lives that could open the door to love.
'In Love All Over Again' | Feb 13
A celebrity journalist and a down-to-earth teacher find their relationship in rocky waters when a job gets in the way of their new life together.
'All the Places' | Feb 14
Two siblings who haven't seen each other in 15 years mend their relationship while fulfilling a childhood dream: a motorcycle road trip through Mexico.
'A Sunday Affair' | Feb 14
Lifelong best friends Uche and Toyin fall for the same complicated man, which tests their loyalty to each other as they face a heartbreaking revelation.
'The Strays' | Feb 22
An upper-middle-class woman's perfectly crafted life begins to unravel with the arrival of two shadowy figures in her town.
'We Have a Ghost' | Feb 24
Finding a ghost named Ernest haunting their new home turns Kevin's family into overnight social media sensations. But when Kevin and Ernest go rogue to investigate the mystery of Ernest's past, they become a target of the CIA.  
NETFLIX COMEDY
'Jim Jefferies: High n' Dry' | Feb 14
Jim Jefferies is back for his fifth Netflix comedy special, High n' Dry and no topic is off limits. The comedian muses on stoned koalas, his dad's vasectomy confusion, choosing between his hair and his sex drive and more.
'Whindersson Nunes: Preaching to the Choir' | Feb 19
It's the end of the world and he knows it. Whindersson Nunes reflects on current affairs, social media, religion and more in this stand-up special.
'A Whole Lifetime with Jamie Demetriou' | Feb 23
A womb with a view. Awkward adulthood. The not-so-golden years. Journey through life's stages with Jamie Demetriou in this musical sketch-comedy special.
NETFLIX DOCUMENTARIES 
'Gunther's Millions' | Feb 01
A dog with a trust fund isn't the strangest part of this story. Gunther's eccentric handler also lived a luxe life — with a cult-like entourage.
'Bill Russell: Legend' | Feb 08
Featuring an interview with Bill Russell prior to his passing in 2022, Bill Russell: Legend is the definitive telling of the remarkable life and legacy of an NBA superstar and civil rights icon.
'Full Swing' | Feb 15
This immersive documentary series follows a diverse group of professional golfers including Rory McIlroy on and off the course across a relentless season of competition.
'African Queens: Njinga' | Feb 15
From Executive Producer Jada Pinkett Smith comes a new documentary series exploring the lives of prominent and iconic African Queens. The first season will cover the life of Njinga, the complex, captivating, and fearless 17th century warrior queen of Ndongo and Matamba, in modern day Angola. The nation's first female ruler, Njinga earned a reputation for her blend of political and diplomatic skill with military prowess and became an icon of resistance.  
'Murdaugh Murders: A Southern Scandal' | Feb 22
The Murdaughs were one of South Carolina's most prominent families, but the death of teenager Mallory Beach in a drunken boating accident began the unraveling of their legacy. When Paul Murdaugh – the alleged driver of the boat – and his mother Maggie are found brutally murdered, a century of corruption, power, and cover-ups in the Low Country is brought to light. The three-part series will feature first-hand accounts from those on the boat that fateful night, many of whom have not spoken about the crash or double homicide of Maggie and Paul until now, including: Paul Murdaugh's longtime girlfriend, Morgan Doughty; Mallory Beach's childhood friends, Miley Altman and Connor Cook; Mallory's boyfriend, Anthony Cook; and, several others.
NETFLIX SERIES - JANUARY
'Kaleidoscope' | Now Streaming
A master thief and his crew attempt an epic and elaborate heist worth $7 billion dollars — but betrayal, greed and other threats undermine their plans.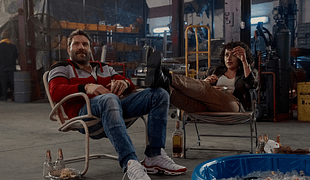 'Lady Voyeur' | Now Streaming
Hacker Miranda loves to spy on her sex worker neighbour, Cléo. But after their paths cross and a murder is committed, Miranda's destiny forever changes.
'The Ultimatum: France' Season 1 Part 2 | Now Streaming
Six couples on the cusp of lifelong love are hit with an ultimatum: Get engaged or break up. Before they decide, they'll swap partners for three weeks.
'The Lying Life of Adults' | Now Streaming
In 1990s Naples, a sheltered teen befriends the estranged aunt her parents detest to better understand herself and the city she comes from.
'Ginny & Georgia' Season 2 | Now Streaming
New relationships and challenges await Georgia and Ginny as they navigate life in Wellsbury — until secrets from the past threaten everything.
'Woman of the Dead' | Now Streaming
When a suspicious car crash tears a woman's life apart, her quest for revenge ensnares her in a conspiracy reaching the highest levels of her small town.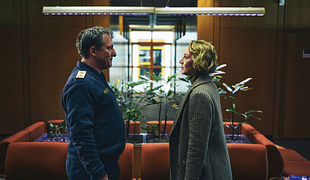 'Copenhagen Cowboy' | Now Streaming
After a lifetime of being sold as a human good luck charm, a woman with mysterious supernatural abilities seeks revenge against those who wronged her.
'Women at War' | Jan 19
France, 1914. As the German troops advance and men leave for the frontlines, four women must grapple with the devastating consequences of war at home.
'Pressure Cooker' | Now Streaming
Living under one roof, eleven chefs use culinary skills and strategic plays in a tense cooking contest where they vote on who among them will win $100,000.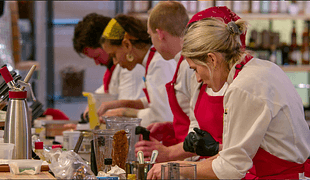 'Vikings: Valhalla' Season 2  | Jan 12
Enemies — old and new — await Freydis, Leif and Harald as they scatter to the far corners of the globe in pursuit of power and new worlds to conquer.
'Trial by Fire' | Jan 13
After the deadly Uphaar cinema fire, two grief-stricken parents navigate the loss of their kids and a dogged fight for justice. Based on true events.
'Sky Rojo' Season 3 | Jan 13
Coral, Gina and Wendy have made a new life — and found love — in Almería. But with Romeo bent on revenge, their peace and quiet won't last long.
'Sexify' Season 2 | Jan 11
With the future of their startup in flux, the three young entrepreneurs must balance tumultuous personal lives, a bitter rival and a demanding investor.
'That '90s Show' | Jan 19
Hello, Wisconsin! It's 1995 and Leia Forman, daughter of Eric and Donna, is visiting her grandparents for the summer, where she bonds with a new generation of Point Place kids under the watchful eye of Kitty and the stern glare of Red. Sex, drugs and rock 'n roll never die, they just change clothes.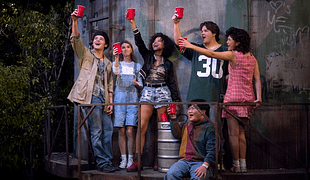 'Fauda' Season 4 | Jan 20
The action-packed series returns for a new season.
'Bake Squad' Season 2 | Jan 20
The baking competition returns for a second season.
'Bling Empire: New York' | Jan 20
A new cast of stylish Asian American socialites flaunts their fortunes — and fashions — while bringing the drama and living it up in New York City.
'Represent' | Jan 20
A youth center leader from the suburbs of Paris becomes a finalist in the presidential election. But is France truly ready for its first Black president?
'Lockwood & Co' | Jan 27
A trio of teen ghost-hunters — two gifted boys and a girl with rare psychic abilities — run a tiny agency investigating deadly spirits haunting London.
'Kings of Jo'Burg' Season 2 | Jan 27
The drama returns for a new season.
'The Snow Girl' | Jan 27
When a little girl goes missing during a parade in Málaga, a young newspaper journalist becomes fiercely determined to help Amaya's parents find her.
NETFLIX FILM
'How I Became a Gangster' | Now Streaming
An ambitious gangster works his way up the ranks of Warsaw's criminal underworld, and ultimately takes his shot at the big time.
'The Pale Blue Eye' | Now Streaming
A retired detective recruits an astute West Point cadet named Edgar Allan Poe to help him solve a grisly murder mystery at the U.S. Military Academy.
'Noise' | Jan 11
A search for her missing daughter leads a mother to a support network, where she bonds with other women whose lives have been destroyed by violence.
'Dog Gone'  | Jan 13
When his beloved dog goes missing, a young man embarks on an incredible search with his parents to find him and give him life-saving medication.
'Bank of Dave'  | Jan 16
After big financial institutions fail the people in his small town, a self-made car dealer decides to fight the odds and set up his own local bank.
'Khallat+'  | Jan 19
An anthology of social deception and trickery in four unlikely places.
'Narvik' | Jan 23
While a young Norwegian soldier fights in the trenches, his wife back home must contend with an occupying German force that has invaded their town.
'You People' | Jan 27
Jonah Hill, Eddie Murphy, Julia Louis-Dreyfus and Lauren London lead a stacked cast in this comedy from Kenya Barris that follows a new couple and their families as they find themselves examining modern love and family dynamics amid clashing cultures, societal expectations and generational differences.
NETFLIX DOCUMENTARIES
'MADOFF: The Monster of Wall Street' | Now Streaming
This docuseries follows the rise and fall of financier Bernie Madoff, who orchestrated one of the biggest Ponzi schemes in Wall Street history.
'The Hatchet Wielding Hitchhiker' | Jan 10
This shocking documentary chronicles a happy-go-lucky nomad's ascent to viral stardom and the steep downward spiral that resulted in his imprisonment.
'Break Point' | Jan 13
From the team behind F1: Drive to Survive, BREAK POINT follows a diverse group of tennis players on and off the court as they compete in gruelling slams with hopes of winning a final and even bigger dreams of becoming world number one. As some of the greatest players tennis has ever seen reach the twilight of their careers, there is room for a new generation of players to claim the spotlight. Break Point gets up close and personal with these top players on the tennis circuit through an entire year travelling across the globe for all four Grand Slams and the ATP and WTA tours. From physical injuries and emotional heartbreak, to triumphant victories, to personal moments off the court, viewers will get a behind the scenes look at the pressure-tested lives of these pro tennis players.
'Pamela, a love story' | Jan 31
In her own words, through personal video and diaries, Pamela Anderson shares the story of her rise to fame, rocky romances and infamous sex tape scandal.