Burden of Proof: Who Killed Jennifer Pandos | Nov 05
When 15-year-old Jennifer Pandos went missing in 1987, her parents told everyone she ran away. Decades later, her brother Stephen begins a relentless odyssey in search of the truth. His investigation into the case threatens to destroy his family as he becomes strongly convinced that his parents are both implicated in the crime. As time passes, more threads unravel and new evidence comes to light, Stephen starts to question everything he has come to believe.
Big George Foreman | Nov 10
Big George Foreman: The Miraculous Story of the Once and Future Heavyweight Champion of the World is based on the remarkable true story of one of the greatest comebacks of all time and the transformational power of second chances. Fuelled by an impoverished childhood, Foreman channelled his anger into becoming an Olympic Gold medallist and World Heavyweight Champion, followed by a near-death experience that took him from the boxing ring to the pulpit. But when he sees his community struggling spiritually and financially, Foreman returns to the ring and makes history by reclaiming his title, becoming the oldest and most improbable World Heavyweight Boxing Champion ever.
The Last Rifleman | Nov 05
A moving and heartfelt drama starring Pierce Brosnan as Artie Crawford, a World War II veteran living in a care home in Northern Ireland who has just lost his wife. On the 75th anniversary of the D-Day landings in Normandy, Artie decides to secretly escape his care home and embarks on an arduous but inspirational journey to France, to pay his final respects to his best friend and find the courage to face the ghosts of his past.
Ancient Empires Alexander the Great| Nov 07
This seven-hour miniseries explores the foundations of the greatest empires of all time and the incredible stories of the three iconic rulers who amassed unbelievable power and transformed the world. While their lives and legacies live on today, their stories have never been told like this. "Ancient Empires" will shed new light on the way that history remembers Alexander the Great, Julius Caesar and Cleopatra through exceptional, dramatic narrative sequences and explosive premium battle scenes as well as insightful expert interviews and the latest contemporary scholarship. To survive and succeed they had to be strategic, ruthless, and charming. Each episode chronicles the ruler's rise to influence and astonishing power with the events and choices that led to their eventual fall.
Section 8 | Nov 04
After avenging the murder of his wife and child, a former soldier is sent to prison with a life sentence. He's given a shot at freedom when a shadow government agency recruits him for an off-the-books assignment, and he soon realises Section 8 isn't what it seems.
Sky - October
House of Kardashian | Oct 08
No other family defines our time or divides opinion like the Kardashians. To some they are admired as a dynasty of powerful women, inspiring girls across the planet. To others they are untalented and morally bankrupt reality stars, who are damaging women by selling their life as a superficial fairytale. With bold and entertaining storytelling, never seen before archive and exclusive interviews with those in their inner circle - including Caitlyn Jenner - House of Kardashian challenges the audience to think about the influence they have undoubtedly had on our lives. Focusing on the three most powerful members of the Kardashian-Jenner family - Kris Jenner, Kim Kardashian and Kylie Jenner - this three-part series confounds expectations and what we think we know about the Kardashians, to explore their rise, reach and the cost that comes with being some of the most famous women on the planet. The tightly controlled narratives behind the family's relationships, scandals, controversial business deals and personal struggles are seen from a new perspective with revealing first-hand accounts from those close to the family and within it. And their story isn't over - as the family's influence and ambition continues to grow, the series also considers where their huge power will take them and the kind of legacy they will leave behind.
COBRA: Rebellion S3 | Oct 12
When an unforeseen environmental disaster causes enormous destruction and loss of life, the consequences are far reaching for the Prime Minister. The subsequent investigation leads Sutherland and his team to realise that all may not be as it appears. Embarking on a quest to discover the truth, they find something disturbing and disruptive underneath. The crisis spirals to encompass not only the urgent threat of environmental destruction, but also the malignant corruption of the arms industry and the rise of shadowy corporate security firms. The cabinet are faced with the inconvenient reality of the UK's historic relationship with a global superpower. All these elements combine to lead our Prime Minister to a crucial decision, about who he is personally, and what – ultimately – he is willing to sacrifice in order to remain in power. Robert Carlyle remains in office at Number 10 alongside Victoria Hamilton, who is back as Chief of Staff Anna Marshall. Jane Horrocks (Bloods, Absolutely Fabulous) also joins the cast, entering the cabinet as the new populist Defence Secretary, Victoria Dalton
The Fabelmans | Oct 13
From legendary director Steven Spielberg comes a loosely autobiographical drama based off of Spielberg's own childhood. The film is rounded out with an all-star cast, starring Michelle Williams as a version of his mother, Paul Dano as a version of his father, Seth Rogen as a version of his uncle and featuring legendary filmmaker David Lynch in a surprise role.
MC Grammar Rap Tales | Oct 09
Each episode of this new animated series tells a contemporary version of a classic fairy tale as 'The Grammar Gang' morph into fairy tale characters with a modern twist like Jack and the Beat-stalk and Goldi-rocks as they sing and rap tales in the vibrant MC Grammar universe.
Mob Land | Oct 07
Deep in the heart of Dixie, in a small town struggling with the ravages of addiction, a local sheriff (John Travolta) tries to maintain the peace when desperate family man Shelby (Shiloh Fernandez) robs a pill mill with his reckless brother[1]in-law, Trey (Kevin Dillon). But the supposedly easy score takes a violent turn, alerting the New Orleans mafia's revenge-seeking enforcer (Stephen Dorff), who threatens Shelby's wife (Ashley Benson) and daughter. With its unpredictable twists and turns, Mob Land is a heart pounding, action thriller.
Unwelcome | Oct 08
A modern horror creature feature, UNWELCOME shows us just how far we will go to protect those we love. Londoners Maya and Jamie are looking for a way out of their urban nightmare to raise their unborn child, so when they inherit a house in rural Ireland, they jump at the chance to flee from the dangers of city living. Yet, this new home holds primeval secrets -- at the bottom of their garden is an ancient gnarled wood, where a supernatural presence lurks. Founded in ancient Celtic folklore the woods hide the malevolent, murderous goblins, known as 'Redcaps' named so for soaking their caps in the blood of their victims. Engaging a local family company to do some building repairs, the young couple quickly realize they got more than they bargained for with 'Daddy' and his adult children who are little more than low-level criminals. Recognizing their newfound safety is under threat, Maya finds herself turning to the woods -- and the bloodthirsty creatures within it -- to ensure the safety of her unborn child.
'The Lovers' | Sep 07
The Lovers follows Janet (Roisin Gallagher; The Dry), a bad-tempered, hilarious, Belfast supermarket worker who couldn't give a shit about anything much at all, including her life, and Seamus (Johnny Flynn; Lovesick, Beast) a handsome, self-centred, political broadcaster with what looks to be a perfect London life and a celebrity girlfriend. So when Seamus unexpectedly drops into Janet's world (literally over the wall and into her backyard) they instantly clash – and yet also find themselves inextricably drawn to each other… Set in Belfast, this is a sexy, funny, fight-y love story about two people who appear to be utterly wrong for each other – yet may just be utterly right.
'Decoding Turner' | Sep 06
A bold and somewhat controversial analysis of the life and works of JMW Turner, Britain's greatest ever artist. JMW Turner's paintings are world famous, but what if they're not what they seem? This new one-off film will change the way we interpret some of Turner's most familiar works as two plucky enthusiasts, joined by art historians and academics, reveal the startling hidden codes they believe are woven into his paintings. Follow their Da Vinci Code-esque quest as they delve into the unseen images which have been staring out from their frames for centuries.
'Scream VI' | Sep 08
The four survivors from the most recent Woodsboro Ghostface killings have moved to New York City for a fresh start. Just as they begin to feel a sense of normalcy, they receive that infamous call. Ghostface is more brutal and relentless than ever and will stop at nothing to hunt them down.
'Sharp Stick' | Sep 03
Sarah Jo is a sensitive and naïve 26-year-old living on the fringes of Hollywood with her disillusioned mother (Jennifer Jason Leigh) and influencer sister (Taylour Paige). Working as a caregiver and just longing to be seen, she begins an exploratory affair with her older, married employer (Jon Bernthal), and is thrust into a startling education on sexuality, loss and power.
'Domina S2' | Sep 13
Domina season two chronicles the struggle for control of the Roman Empire, and of Rome's Imperial Family, from a rare female perspective. In its first season, Livia Drusilla, the golden girl of the prominent Claudii family, returned to Rome after 10 years in exile, determined to regain everything that was stolen from her. Now, atop a fractious empire and a dysfunctional dynasty, she must fight to preserve her marriage to Gaius and find a way to seat one of her sons on the throne. In the opening episode, Livia and Gaius return to Rome after three years away to find misrule and famine has taken over the city. In their absence, the family has become unruly and is threatening Gaius' authority to rule. Livia's plans to solve their problems weaken her own marriage, as Gaius starts the race for his succession. Then in the second of this week's double bill, Livia is determined that the marriage alliance between Drusus and Antonina will go ahead. Octavia is determined that it won't, and they face a battle that only one of them can win. Livia must work to ease the strains in her own marriage to protect her plans for the Republic. The men aim to secure their positions in the succession to Gaius.
'Knock at the Cabin' | Sep 15
While vacationing at a remote cabin, a young girl and her parents are taken hostage by four armed strangers who demand that the family make an unthinkable choice to avert the apocalypse. With limited access to the outside world, the family must decide what they believe before all is lost.
'Barbie' | Sep 11
To live in Barbie Land is to be a perfect being in a perfect place. Unless you have a full-on existential crisis. Or you're a Ken. Available on Sky Store Premiere from Tuesday 11 September.
SKY - August
'Game4Ukraine' | Aug 05
Game4Ukraine, the brainchild of Ukrainian President Volodymyr Zelenskyy and Ukrainian footballing royalty Andriy Shevchenko and Oleksandr Zinchenko will be kicking off exclusively on Sky Max in the UK and Ireland. The 11-a-side legends match will also be free-to-stream for everyone based in Ukraine. Game4Ukraine will see Team Blue coached by legendary Chelsea manager Emma Hayes take on former Arsenal manager Arsene Wenger's Team Yellow with an array of Premier League, World Cup and European Cup winners across both sides including Gerard Piqué, Clarence Seedorf, Patrick Vieira, Fabio Cannavaro, Samuel Eto'o, Gianfranco Zola and Michael Essien. Fans will also be entertained throughout the event with Super Bowl style performances where the stadium will transform into a concert venue with world class entertainers including Alesha Dixon, Melanie C, Pete Doherty, The Pretenders, Tom Grennan, and Tom Walker, as well as Ukranian artist Vakarchuk of Ocean Elzy Band and Boombox.
'Mission to Burnley' | Aug 10
Mission to Burnley covers the dramatic story of the rebirth of one of England's oldest clubs, Burnley FC. This four-part observational documentary series follows the American owners ALK partners led by chairman Alan Pace, who is a member of the Church of the Latter Day Saints. With unprecedented access to the boardroom, dressing-room and inner workings of the club, audiences will be taken on a compelling fly-on-the-wall journey in a one-team working-class town, where football is a religion in itself. Charting a rollercoaster period which saw the club lurch from the devastation of final-day relegation from the 2021/22 Premier League to the redemptive jubilation of promotion in the most emphatic fashion, the documentary explores Burnley's evolution under the stewardship of one of the game's most exciting young managers, Vincent Kompany.
Films
'A Man Called Otto' | Aug 11
Based on the comical and moving New York Times bestseller, A Man Called Otto tells the story of Otto Anderson (Tom Hanks), a grumpy widower whose only joy comes from criticizing and judging his exasperated neighbours. When a lively young family moves in next door, he meets his match in quick-witted and very pregnant Marisol, leading to an unexpected friendship that will turn his world upside-down.
'The Harbinger' | Aug 06
When her oldest friend is plagued by horrific nightmares from the beyond, Monique (Gabby Beans, House of Cards) is forced to travel to NYC. On the first night of the visit, Monique learns the dreams are contagious – and so is the Harbinger, the plague mask-wearing demon who not only feeds on its victims' souls, but warps reality itself to remove any trace of their existence.
SERIES
'Billions S7' | Aug 11
The acclaimed drama Billions returns for its final season. In season seven, alliances are turned on their heads. Old wounds are weaponized. Loyalties are tested. Betrayal takes on epic proportions. Enemies become wary friends. And Bobby Axelrod returns, as the stakes grow from Wall Street to the world. Prince's political ambitions come with a surprising twist, and his intentions are met with scepticism. Wendy, Wags and Taylor turn to an old friend for guidance. Chuck aligns with an unlikely ally in hopes of leveraging his freedom.
'Winning Time: The Rise of the Lakers Dynasty S2' | Aug 07
Season Two continues to explore the professional and personal lives of the 1980s Los Angeles Lakers. This season homes in on the period just after the Finals in 1980 through 1984, culminating in the first professional rematch of the era's greatest stars: Magic Johnson and Larry Bird.
'Last Call: When a Serial Killer Stalked Queer NY' | Aug 06
In the 1990s, as hate crimes were on the rise and the AIDS crisis escalated, a serial killer preyed upon New York City's gay men. The four[1]part documentary series Last Call: When a Serial Killer Stalked Queer New York dives into the deep-rooted biases of the criminal justice system and illuminates how the LGBTQ+ community fought to solve the murders and demand fair treatment of queer crime victims.
'What on Earth? S5' | Aug 08
Circling high above the earth at 17,000 miles an hour, satellites uncover startling mysteries invisible to observers on the ground. In this series, experts investigate astonishing mysteries uncovered by these images. Some of these pictures are breath-taking, whilst some are just bizarre. With high magnification optics, infra-red scanning, and advanced ground[1]penetrating radar, they capture images that lead us on startling journeys into hidden worlds revealing the secrets of the past and astonishing natural phenomena. Each image captured leads us on an eye-opening journey into hidden worlds to reveal secrets of the past and astonishing natural phenomena.
JULY
'Then You Run' | New Episode Weekly
Ruth looks after Tara as she struggles to sleep off the drugs, while Stink happens across the rest of Orin's stash. Concocting a plan, Stink ropes Nessi in to helping her – they can sell the drugs, easy money! They track down Mirko who introduces them to his friend Darian, and the deal is on. But Darian is the son of Reagan, and Reagan is not a gangster to be trifled with. Soon Stink discovers that taking on Europe's premier heroin supplier has its consequences, and that's before he's found his brother dead in a steam room…
'The Righteous Gemstones' Season 3 | New Episode Weekly
The Righteous Gemstones tells the story of a world-famous televangelist family with a long tradition of deviance, greed and charitable work, with the third season promising to elevate the laughs to heavenly heights.
'Tom Cruise: Impossible Missions' ​​​​| JULY 08
With Mission Impossible: Dead Reckoning Part One due to hit cinemas, the one and only Tom Cruise drops in to take us through the biggest, most impossible stunts from the series so far. From the genre-defining Langley Heist to the jaw dropping Plane Hang, these are stories behind the most memorable stunts in every Mission: Impossible movie.
'The Ventures: Stars on Guitars' ​​​​| JULY 09
The Ventures: Stars on Guitars is the first-ever full-length documentary film about the #1 bestselling instrumental group of all time, The Ventures. It tells the story of their rise to fame from the 1960s right up to now, as they celebrate 60 years of playing the best guitar rock n roll of all time.
'Seriously Red' ​​​​| JULY 09
Red (Krew Boylan) lost her job as a real estate agent, but there's something no one can take away from her: her dream of becoming the world's greatest Dolly Parton impersonator! After her act attracts the attentions of an amorous Elvis impersonator (Rose Byrne) and a powerful booking agent (Bobby Cannavale), Red is catapulted into the top tier of copycat acts, becoming the onstage and romantic partner of the top Kenny Rogers impersonator. But when Red's life as an imitator starts to feel false, she discovers true happiness comes when you're being the best version of yourself.
'Breaking Point' ​​​​| JULY 14
Two brothers' rise through the ranks of the British Breakdance Team try-outs for a once in a lifetime chance at the world stage. The warring brothers defy grief and their differences to compete their way through national try-outs and aiming high to get a chance to compete with the very best international breakers in the London World Championships. If they can overcome their differences and make their mark on this world stage, they could just start to dream about heading to the Olympics in 2024.
'Dungeons & Dragons: Honor Amongst Thieves' ​​​​| JULY 17
A charming thief and a band of unlikely adventurers undertake an epic heist to retrieve a lost relic, but things go dangerously awry when they run afoul of the wrong people. Dungeons & Dragons: Honor Among Thieves brings the rich world and playful spirit of the legendary roleplaying game to the big screen in a hilarious and action-packed adventure.
'Babylon' ​​​​| JULY 21
Babylon is an original epic set in 1920s Los Angeles led by Brad Pitt, Margot Robbie and Diego Calva, with an ensemble cast including Jovan Adepo, Li Jun Li and Jean Smart. A tale of outsized ambition and outrageous excess, it traces the rise and fall of multiple characters during an era of unbridled decadence and depravity in early Hollywood.
SKY - JUNE
'Rob and Rom Vs – Series 5'
Rob Beckett and Romesh Ranganathan are back and gearing themselves up to face four more hilarious challenges in their fifth series. We've seen them do drag, take to the West End stage, dance on ice, and even score free kicks with the England World Cup team. They're not holding back with the challenges this year as Rob and Rom will be jetting off to Sin City, learning the tricks and trades from the legendary Penn & Teller for Rob & Romesh Vs Magic. They will also be pulling the strings as they join the London Philharmonic Orchestra at their Royal Festival Hall residency in Rob & Romesh Vs Classical Music. And finally, they may both be recent first-time dog owners, but will they be best in show in Rob & Romesh Vs Crufts?
'Gary Neville's The Overlap on Tour'
Follow footballing legends Gary Neville, Roy Keane and Jamie Carragher on a trip like no other as they travel to different cities in the UK and Ireland, as part of The Overlap Live Arena Tour. Audiences can expect behind the scenes nerves, banter and pep-talks, highlights from the live shows, and some extra special guest appearances! In Sky Original 'Gary Neville's The Overlap on Tour', (produced by Buzz 16) Gary, Roy and Jamie will take a walk down memory lane as they travel to each city, stopping at iconic tourist attractions, grassroots clubs and other locations that were memorable to them in their footballing career.
'Magnum P.I.' – Season 5
It's not over 'til it's over. Magnum P.I. fans will be thrilled to hear that the action-packed Hawaiian- based detective series will be returning, with the former Navy Seal turned Private Investigator Thomas Magnum taking on another series of cases. This season, we kick things off as Magnum and Higgins weigh the risks of pursuing a relationship. Rick juggles being a new father and running La Mariana, and Katsumoto tries to figure out his next move
'The Blacklist' – Season 10
In its landmark tenth and final season, 'The Blacklist' returns as Raymond Reddington (James Spader) confronts unparalleled danger. With Reddington's covert role as an FBI informant facing exposure, former Blacklisters will unite against him in their lethal desire for revenge - testing Red and the FBI Task Force as never before.
'The Idol'
After a nervous breakdown derailed Jocelyn's (Lily-Rose Depp) last tour, she's determined to claim her rightful status as the greatest and sexiest pop star in America. Her passions are reignited by Tedros (Abel "The Weeknd" Tesfaye), a nightclub impresario with a sordid past. Will her romantic awakening take her to glorious new heights or the deepest and darkest depths of her soul?
'And Just Like That...' – Season 2
The second season of 'And Just Like That...' from executive producer Michael Patrick King, which stars executive producers Sarah Jessica Parker, Cynthia Nixon and Kristin Davis. The new chapter of the groundbreaking series "Sex and the City," follows Carrie (Sarah Jessica Parker), Miranda (Cynthia Nixon) and Charlotte (Kristin Davis) as they navigate the journey from the complicated reality of life and friendship in their 30s to the even more complicated reality of life and friendship in their 50s.
'Somebody, Somewhere' – Season 2
Starring and executive produced by comedian and singer Bridget Everett, follows Sam (played by Everett), a true Kansan on the surface, but, beneath it all, struggling to fit the hometown mold. Grappling with loss and acceptance, singing is Sam's saving grace and leads her on a journey to discover herself and a community of outsiders who don't fit in but don't give up, showing that finding your people, and finding your voice, is possible. Anywhere. Somewhere.
'The Righteous Gemstones' – Season 3
Created, written and executive produced by Danny McBride (HBO's "Vice Principals" and "Eastbound & Down"), and marking his third HBO comedy series from Rough House Pictures, 'The Righteous Gemstones' tells the story of a world-famous televangelist family with a long tradition of deviance, greed and charitable work, with the third season promising to elevate the laughs to heavenly heights.
'The Good Doctor' – Season 6 (Part Two)
The hit medical drama starring Freddie Highmore returns for the back end of season six, as Shaun and Lea soon learn that their surprise pregnancy may also come with additional complications.
Isle of Wight Festival 2023
Skip the ferry and ditch the tent. Sky Arts brings all the musical highlights from the iconic Isle of Wight festival to your home, with this year's event headlined by britpop legends Pulp, superstar DJs The Chemical Brothers, and the incomparable George Ezra, while the one and only Robbie Williams will be bringing the festival to a close. All this plus additional sets from Courteeners, Sam Ryder, Blondie, The Human League, Manic Street Preachers and more! It's a line-up for the ages and you don't even have to get the wellies out.
'Portrait Artist of the Year: Access All Arts Special'
Airing as part of Sky Arts' Access All Arts week, this special episode of 'Portrait Artist of The Year' will feature celebrity artists and sitters just like the grown ups' show – but with a twist that will appeal to kids… Meanwhile, artist David Shillinglaw will be bringing along a mural for a panel of children to paint on throughout the day, while others will be getting involved by creating self- portraits using wool and craft paper, pencils and pens.
'The Good Fight Club'
From Bafta Award-winning Century Films, 'The Good Fight Club' follows a spirited group of young Mixed Martial Arts (MMA) athletes fighting to make it from their South London gym to the glittering home of MMA: Las Vegas. Led by affable but tough head coach Steve, each has a different reason for coming to the cage - Thomas dreams of being a role model for the deaf community, Shanelle hopes to create a better life for her 5 siblings, and for Aidan, fighting has helped him recover from anorexia. This dynamic and determined group have found a family in the gym, but once they step into the cage, they leave their team behind and face the ultimate battle alone.
'Forced Out'
Although homosexuality was decriminalised in the UK decades earlier, it remained illegal to be gay in the UK Armed Forces until 2000. Forced Out tells the story of the men and women who were dishonourably discharged from the Army, Navy and RAF because of their sexuality. Thousands faced intrusive interrogations by military police and many were imprisoned, had medals removed, and their service pensions revoked. Released to coincide with the findings of an independent government review, this film charts the historic battle for the ban to be overturned.
'David Fuller: Monster in the Morgue'
This unforgettable two-part documentary shines a light on one of the most depraved acts of sexual violence carried out in the UK. Monster in the Morgue tells the story of two 1987 murder investigations which had remained unsolved for 33 years and the evidence which finally led to the killer – David Fuller being brought to justice. But it's the dark secrets he'd kept hidden – which were uncovered following his arrest - which dominated the headlines and gripped the nation as the true nature of his crimes came to light. With unprecedented access to the family and friends of murder victims, Wendy Knell and Caroline Pierce, we hear how the decades of mystery surrounding the murders took their toll while the detectives and forensic officers from past to present day give emotional first-hand accounts of the investigation – and the evil it uncovered – which still consumes their every waking hour.
SKY - MAY
'White House Plumbers' | May 30
From Emmy® winner David Mandel (Veep) and starring Woody Harrelson and Justin Theroux, the five-episode limited series tells the story of how Nixon's own political saboteurs and Watergate masterminds, E. Howard Hunt (Woody Harrelson) and G. Gordon Liddy (Justin Theroux), accidentally toppled the presidency they were zealously trying to protect.
'The Man Who Played with Fire'
The Man Who Played With Fire is an endlessly twisting thriller-esque four-part series set in the Scandi Noir world of Cold War Sweden. The 1986 shooting of Swedish prime minister, Olof Palme, on the snowy streets of Stockholm, starts a 36-year search for the killer. It's a constantly shifting search that has consumed many, including the late best-selling novelist, Stieg Larsson, author of The Girl with the Dragon Tattoo, whose personal files form the heart of this investigation. This is the shocking true story of Europe's most high-profile assassination – and the people determined to finally get to the truth.
'History's Greatest Heists with Pierce Brosnan'
History's Greatest Heists with Pierce Brosnan will be a one-hour series that will explore some of the most unbelievable and elaborate heists to have ever been pulled off. The series will use cinematic recreations and state-of-the-art VFX to tell the stories of these iconic heists. Every episode is said to take a focus on one heist will explore every aspect of it. They will discuss the "mark" of the heist, the plan, how the heist actually worked out, and what the fallout of it all was.
'A Black Lady Sketch Show – Season 4'
The narrative sketch comedy series features a core cast of Black women living relatable and hilarious experiences in a magical reality that subverts traditional expectations. The first three seasons of the series have garnered 13 Emmy(R) nominations and three wins. Season three won two Emmy(R) Awards for Outstanding Directing for a Variety Series and Outstanding Picture Editing for Variety Programming. Returning this season as the core cast members are Robin Thede, Gabrielle Dennis, and Skye Townsend along with three new featured players: DaMya Gurley, Tamara Jade, and Angel Laketa Moore joining.
'Ticket to Paradise'
Academy Award® winners George Clooney and Julia Roberts reunite on the big screen as exes who find themselves on a shared mission to stop their lovestruck daughter from making the same mistake they once made. Ticket to Paradise is a romantic comedy about the sweet surprise of second chances.
SKY - APRIL
'Dreamland' | Apr 06
Based on Sky's 2018 BAFTA-winning short of the same name, which was written by Sharon Horgan and produced by Merman, Dreamland is a comedy-drama about secrets, lies, loves and aspirations within a family of four sisters.
Set in the sun-drenched British seaside town of Margate, it is a dark comedic exploration of multi-generational female relationships, and their (somewhat dysfunctional) family dynamics. Eldest sister Trish (Freema Agyeman) is pregnant for the third time with her partner Spence (Kiell Smith- Bynoe). And this time, she's decided: it's going to be a girl. Her two sisters Clare (Gabby Best) and Leila (Aimee-Ffion Edwards) rally around her with their mum (Frances Barber) and their Margate- legend nan (Sheila Reid), "manifesting" a little girl at Trish's 'mani-festival'. But when their other sister, Mel (Lily Allen), makes an unexpected reappearance back into their lives, her return threatens to destabilise the entire family. A knock on their door and their 'Dreamland' is no more…
'Perry Mason' - season 2| Apr 26
Months after the Dodson case has come to an end, the scion of a powerful oil family is brutally murdered. When the DA goes to the city's Hoovervilles to pinpoint the most obvious of suspects, Perry (played by Matthew Rhys), Della (Juliet Rylance), and Paul (Chris Chalk) find themselves at the centre of a case that will uncover far-reaching conspiracies and force them to reckon with what it truly means to be guilty.
'The Essex Murders' | Apr
On December 6th 1995, police are called to a country lane in Essex, to find three men shot dead in a Range Rover. The victims are identified as the notorious Essex Boys, major players in the ecstasy trade fuelling Britain's booming rave scene. The murders come just three weeks after the death of 18-year-old Leah Betts, who died taking a pill bought from one of their clubs. It creates a media storm. When two men are finally convicted of the murders, the case appears to be closed. But the questions surrounding the case never go away and the two men jailed for life, Jack Whomes and Mick Steele, continue to maintain their innocence.
The Essex Range Rover Murders goes behind the headlines of a case that has become part of Essex folklore and the subject of countless films and books. The three-part series will shed new light on the story, taking viewers deep into the heart of the 90s rave scene, the Essex underworld and one of Britain's most infamous gangs.
'Hijacked' | Apr
"Before Pan AM 73 – people went home alive from hijackings. But after that – the game changed." Mike Thexton – Flight 73 hostage.
This epic new feature documentary tells the story of one of the most shocking hijackings of all time. In 1986, Pan Am Flight 73 was stormed by Palestinian terrorists as it sat on the tarmac of Karachi Airport. The 360 passengers of 14 different nationalities endured a terrifying 16-hour ordeal that resulted in 21 passengers being killed and many more injured. Mixing drama and documentary, this new film by multiple BAFTA-winning director Ben Anthony (Grenfell, 7/7: One Day in London, Don't Take My Baby) and executive produced by Tanya Winston, tells the story not just of the day itself, but how it led to one of the FBI's biggest manhunts against the background of the simmering political tensions between the West and the Middle East, and an evolution in the tactics of terrorism.
'Painting Birds with Jim and Nancy Moir' | Apr
A new comedic ornithological series, Painting Birds with Jim and Nancy Moir will follow prolific artist Jim and his wife Nancy as they explore some of Britain's best beauty spots, joined along the way by a few famous friends. Their challenge? Create an original piece of bird art celebrating the unique species native to that region over the course of a weekend. Accompanied in each episode by local twitchers, artists and conservation experts, Jim, and Nancy will be guided through forest and fen as they venture through wild countryside and local bird sanctuaries to gather inspiration. They'll spend meditative weekends sketching and painting their feathery subjects, tackling everything from grouse to goshawks and bitterns to bearded tits.
'The Portable Door' | Apr 07
Paul Carpenter (Patrick Gibson) and Sophie Pettingel (Sophie Wilde) are the lowly, put-upon interns who begin working at the mysterious London firm J.W. Wells & Co. and become steadily aware that their employers are anything but conventional. Charismatic villains Humphrey Wells (Christoph Waltz), the CEO of the company, and middle manager Dennis Tanner (Sam Neill) are disrupting the world of magic by bringing modern corporate strategy to ancient magical practices, and Paul and Sophie discover the true agenda of the vast corporation where they work.
SKY - MARCH
'Dublin Narcos' | Mar 04
Over the 1980s and 1990s Dublin transformed from a recession-blighted backwater to one of the wealthiest cities in Europe. As its fortunes changed so did those of its criminals, who profited from selling heroin, ecstasy and cocaine. Dublin Narcos tells the story of the rise in addiction, violence and organised crime over these years and which persist to this day, with first hand testimony from the kingpins and cops to the ravers and users. We also hear from the fearless journalists whose attempts at exposing the drugs barons led to the death of one of their bravest, Veronica Guerin.
'Arctic from Above' | Mar 05
In this stunning series, wildlife biologist Liz Bonnin ventures to one of Earth's last great wildernesses to reveal fresh insights about its amazing creatures - as never seen before. The Arctic. 5.4 million square miles of stunning landscape, ice and ocean. One of the most beautiful, unspoilt - and harshest - environments on Earth. Yet this desolate region is rich with incredible wildlife. From polar bears journeying hundreds of miles to hunt and breed to the extreme migrations of narwhals, from arctic wolves to reindeer, leopard seals to killer whales - all uniquely adapted to life at the top of the world. Now, new technology is revealing the mysteries of these stunning species…
'Andrea Bocelli: The Journey (Special)' | Mar 06
Merging world-class music with intimate conversations in the awe-inspiring Italian countryside, The Journey is an exploration of the moments that define us, the songs that inspire us, and the relationships that connect us to what matters.
'The Oscars Highlights 2023' | Mar 13
Enjoy the best moments and stories from the 95th Academy Awards, where the who's who of cinema gathered for a celebration of the year's greatest achievements on the silver screen.
'Skinner & Mina's Literary Road Trip: Pope & Swift' | Mar 14
Skinner and Mina's Literary Road Trip: Pope & Swift sees Frank Skinner and Denise Mina follow in the footsteps of Alexander Pope and Jonathan Swift, two of the most brilliant humourists in the history of literature. They'll journey to the places where Pope and Swift's friendship blossomed and delve into the new wave of British satire they created which still influences comedians and writers today.
'Jack B. Yeats: The Man Who Painted Ireland' | Mar 14
Wexford author Colm Tóibín undertakes a revelatory and philosophical exploration of the legacy of Jack B Yeats, brother of the poet William, with input from contributors from Ireland's sphere of culture and academia.
'A Town Called Malice' | Mar 16
Gene Lord – youngest son of a South London criminal family – and his fearless fiancée, Cindy, are forced to flee 1980s London. On the Costa del Sol, Gene's Uncle Tony has a get-rich plan, but dangerous enemies are circling: can Cindy and Gene survive?
'Marlowe' | Mar 17
As business and loneliness is taking its toll on private detective Philip Marlowe, a beautiful blonde arrives and asks him to find her ex-lover, which proves to be just a small part in a bigger mystery. Starring Liam Neeson.
SKY - FEBRUARY
'Funny Woman' | Feb 09
It's 1964 and girls are expected to be flirty, fabulous and fertile - they are not expected to be funny - but Barbara Parker is different. Based on Nick Hornby's bestselling 2016 novel 'Funny Girl', this comic drama follows Barbara (Gemma Arterton), a young woman working in a Blackpool rock factory, who sets off for London without a plan but with a dream. She embarks on a mission to reinvent herself and find her voice in the male[1]dominated world of the 1960s sitcom. However, the road to stardom is paved with banana skins and she has many a pratfall before she achieves her goal.
'The Rookie: Feds' | Feb 08
From the executive producers of flagship series "The Rookie" comes spinoff series "The Rookie: Feds" starring Niecy Nash-Betts as Simone Clark, the oldest rookie in the FBI Academy. Officer John Nolan (Nathan Fillion) and the LA division of the FBI enlist the help of Simone Clark when one of her former students is a suspect in a terror attack.
'Top Gun: Maverick' | Feb 08
After 30 years of service, top aviator Pete 'Maverick' Mitchell must confront the ghosts of his past. Sequel drama with Tom Cruise.
'Madness: The Get-Up!' | Feb 10
Written by comedy writer Charlie Higson and Madness, The Get Up is a brand-new film featuring live music, new and classic Madness songs and comedy capers from the nutty-boys themselves. Featuring very special guests performing with Madness, this film is a comic-farce and great fun to the end with Higson as the lovable-rascal Victor Marley (1913-1983) . Guests include Paul Weller and Roland Gift. Songs include My Girl, House of Fun, Our House, Embarrassment, Baggy Trousers, Bed and Breakfast Man, The Harder They Come, The Prince, Night Boat to Cairo, Shut Up and One Step Beyond.
'M3GAN' | Feb 13
A robotics engineer at a toy company builds a life-like doll that begins to take on a life of its own.
'Andrea Bocelli: The Journey' | Feb 13
inspirational musical documentary series follows a world-renowned Italian tenor on a spiritual pilgrimage as Andrea Bocelli travels over 200 miles across Italy and embraces its people, history, and culture. The series features musical guests such as Tori Kelly, Michael W. Smith, Katherine Jenkins, and a special appearance from Pope Francis.
'Bullet Train' | Feb 17
Five assassins, all on a fast-moving train, find out their missions have something in common. Action thriller with Brad Pitt and Joey King.
SKY - DECEMBER
'The Last Of Us' | Jan 16
Based on the critically acclaimed video game of the same name, The Last of Us takes place 20 years after modern civilization has been destroyed. Joel, a hardened survivor, is hired to smuggle Ellie, a 14-yearold girl, out of an oppressive quarantine zone. What starts as a small job soon becomes a brutal and heartbreaking journey as they both must traverse the U.S. and depend on each other for survival. Cast includes Pedro Pascal as Joel, rising star Bella Ramsey as Ellie, Gabriel Luna as Tommy and Anna Torv as Tess.
'Hold The Front Page' | Jan 4
Josh Widdicombe and Nish Kumar are about to leap into the unique and often sensational world of local news with Hold the Front Page, a six-part series following the comical duo's journey into the heart of grass roots Britain. The series will follow the highs and lows of Nish and Josh as they travel across the UK working for a different local newspaper each week, on a mission to find real local stories strong enough to make the front page. Their investigative journey around Britain will see them delve into local mysteries, take part in unusual events, cover the burning issues of the day and even involve themselves in the news or enlist a celebrity or two to help them out along the way. But with almost no journalistic experience the pair will have to rely on their quick wits and natural curiosity as they attempt to get to the heart of makes each town or village tick - digging up some extraordinary scoops. This will be an eyeopening look at some of Britain's amazing local communities through the lens of their local newspaper. What could possibly go wrong?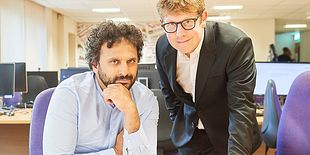 'Romantic Getaway' | Jan 1
Allison and Deacon are desperate for a baby, but they've run out of money to fund any more IVF treatment. So they decide to 'borrow' the £50k they need from their filthy rich boss Alfie, who they discover is illegally creaming off money from the company.
And it works! Except that, on a whim, Deacon secretly adds an extra nought to the transfer, and actually steals half a million quid. And Allison is secretly starting to doubt whether she wants a baby after all. Their web of lies kicks off a downward spiral into the criminal underworld of suburban Britain, and pushes them, and their plans for their future together, to the limit.
Romantic Getaway is a six-part, modern Bonnie and Clyde story mixing classic romantic comedy moments with high octane, thrilling set-pieces and stars two of Britain's most loved comedy talents, Romesh Ranganathan and Katherine Ryan.
'Jurassic World: Dominion' | Now Streaming
Experience the epic conclusion to the Jurassic era as two generations unite for the first time. Chris Pratt and Bryce Dallas Howard are joined by Oscar®-winner Laura Dern, Jeff Goldblum and Sam Neill in Jurassic World Dominion, a bold, timely and breathtaking new adventure that spans the globe. From Jurassic World architect and director Colin Trevorrow, Dominion takes place four years after Isla Nublar has been destroyed. Dinosaurs now live--and hunt--alongside humans all over the world. This fragile balance will reshape the future and determine, once and for all, whether human beings are to remain the apex predators on a planet they now share with history's most fearsome creatures.
SKY - DECEMBER
'Branson' | Dec 4
With added insight from family members, business associates, and journalists, and illustrated by decades of archival and home video footage, 'Branson' reveals the ups and downs of a man driven by risk-taking in both his business and personal life, reflecting on the costs and rewards of his lifelong, relentless optimism and boundary-pushing.
'Rosie Molloy Gives Up Everything' | Dec 7
Rosie Molloy (Sheridan Smith) is addicted to everything. Smoking, alcohol, Terry's Chocolate Oranges, Xanax, Adderall, caffeine… the list goes on. After an embarrassing incident at her brother Joey's wedding, she wakes up in the hospital and decides to change her life by "giving up everything". Also starring Ardal O'Hanlon and Pauline McLynn.
'This is Christmas' | Dec 9
Adam sees the same people in his train carriage every day but never speaks to any of them. Tired of the anonymity of London, he invites all of them to a Christmas party which forces them all to re-evaluate their lives. Starring Alfred Enoch and Kaya Scodelario.
'Predators' | Dec 11
In this compelling new blue-chip nature series narrated by actor and producer Tom Hardy, five apex predators face the ultimate test to survive. Their rapidly changing world impacts both their own lives and that of the wild kingdoms over which they rule. Those at the top are now being challenged. Territories are being redrawn and new relationships formed.
'The Amazing Maurice' | Dec 17
A lively animated adventure based on one of Sir Terry Pratchett's wildly popular Discworld novels starring the voices of Hugh Laurie, Emilia Clarke, David Thewlis, Himesh Patel, Gemma Arterton and Hugh Bonneville.
'The Unofficial Science of Home Alone' | Dec 19
Comedians James Acaster, Guz Khan and Alex Brooker have all been obsessed with the classic 1990 comedy 'Home Alone' ever since they were kids. But there's one big burning question that all Home Alone fans need answering; would Harry & Marv have survived those traps in real life? Well, it's time to find out! Guz and James will be stepping into the shoes of the Wet Bandits and will be assisted by an engineer as they build their own versions of some of the most memorable boobytraps from the film while superfan Alex Brooker is living out his wildest dreams as he heads to the States to meet some of the cast and stuntmen.
'I Hate Suzie Too' | Dec 20
The series sees the return of child star turned-actress Suzie Pickles, (Billie Piper) who has a new agent, new PR and a new job – dancing for likes on 'Dance Crazee', a reality TV competition that has the audience hooked. In this three-part anti-Christmas, Christmas special, Suzie fights to regain the love of the British public whilst her personal life spirals out of control. Will she win their hearts and votes? And restore her reputation? And at what cost?
'Der Kaiser' | Dec 23
Das Boot's Klaus Steinbacher portrays Franz Beckenbauer, the legendary German footballer who won the World Cup as a player in 1974, and then as the West German team's coach in 1990. Taking place against the backdrop of the breathtaking tournaments, the film tells of a man who railed against the rigid structures and outdated rules in football and fought to conduct his private life as he wished, outside of the moral constraints and expectations of the time.
'Christmas Carole' | Dec 24
A yuletide story of our times, with apologies to Charles Dickens. BAFTA Award-winning Suranne Jones stars as Carole Mackay, an unashamedly outspoken and wealthy entrepreneur. Her online business selling all things festive has earned her a fortune, as well as the nickname "Christmas Carole". But her success hasn't made her a better human being. In fact, it's made her worse. The truth is that Carole is a monumentally mean person. Positively Scrooge-like. And, just like Ebeneezer, she doesn't love Christmas at all. But this Christmas Eve, Carole's past, present and future are about to collide. Will some rather familiar Christmas spirits help her discover the true spirit of Christmas?
SKY - NOVEMBER
'The White Lotus' season two | Available Now
Season two is set at an exclusive Sicilian resort and, similar to the first season, follows the exploits of guests and employees over the span of a week. Jennifer Coolidge, Aubrey Plaza, Will Sharpe, Meghann Fahy, Theo James and more star in the Emmy-winning series.
'Kingdom of Dreams' | Available Now
'Kingdom of Dreams' will be a visually dazzling chronicle of the fashion world spanning three decades - from the early-1990s to the 2010s.
'Morbius' | November 4
A biochemist with rare a blood disease inadvertently infects himself with a form of vampirism. Marvel action with Jared Leto.
'The Royal Mob' | November 7
'Royal Mob' tells the saga of the extended royal family that once ruled the whole of Europe, and how their loves, marriages and feuds dragged the continent into the world's first total war and violent revolution. 
'Ambulance' | November 11
Two crooks steal an ambulance after their failed heist. Michael Bay thriller starring Jake Gyllenhaal and Yahya Abdul-Mateen II.
'Poker Face' | November 12
A group of childhood friends get together every year for a poker night hosted by tech billionaire Jake Foley (Russell Crowe) in his palatial residence. Only this time, they all have a hidden agenda for their host and his money. But little do they know Jake also has an ace or two up his sleeve. Murder and mayhem don't even come close to describing the night that is in store for them. Jake will need to bluff, double bluff, and double cross to have even the slightest chance of getting himself and his family through this hellish night. Directed by and starring Russell Crowe, alongside Liam Hemsworth.
'Rob & Romesh vs The Three Lions' | November 17
In this special edition the boys meet the stars of the England men's football team ahead of their bid to win the World Cup. As well as hanging out with the England stars, they will also meet the mastermind behind England's renaissance, Gareth Southgate.
'Aisha' | November 17
Aisha (Letitia Wright), a young Nigerian woman seeking asylum in Ireland, is floundering in a maze of social services and bureaucracy. Alone and unwilling to sacrifice her dignity to satisfy the demands of the authorities, she finds an ally in Conor (Josh O'Connor), an employee at her residence home, a local young man with a troubled past of his own. Together they struggle to maintain their tender friendship in the face of Aisha's increasingly dire predicament and her rapidly diminishing options.
'The Northman' | November 25
A young Viking prince sets out to avenge his father's murder. Action adventure starring Alexander Skarsgård and Nicole Kidman.
SKY - OCTOBER
'A Friend of the Family' | Oct 7 (via Peacock)
A Friend of the Family is a nine-episode limited series based on the harrowing true story of the Broberg family, whose daughter Jan was kidnapped multiple times over a period of years by a charismatic, obsessed family "friend". Oscar Award-winner Anna Paquin, Jake Lacy, Colin Hanks and Mckenna Grace star.
'Gangs of London' season two | Oct 20
One year after the death of Sean Wallace and the violent reckonings of series one, the map and soul of London has been redrawn. The surviving Wallaces are scattered, the Dumanis broken and estranged, and ex-undercover cop Elliot is now being forced to work for the investors. To restore order, the investors have aligned behind heroin baron Asif Afridi and together they have installed a new ruling force in London in the form of brutal gang leader - Koba.
'Resident Alien' season two, part two | This October
Harry's got a whole lot of trouble brewing and his kind are to blame as 'Resident Alien' is back for the second part of season two. The skittering baby that hatched in the first half of the season has escaped into the wilds, no longer confined to Harry's remote cabin. Finding that little (man-eating) whippersnapper is going to consume a lot of Harry's time.
'Kingdom of Dreams' | This October
Kingdom of Dreams is a visually dazzling chronicle of the fashion world spanning three decades - from the early-1990s to the 2010s. It is a Golden Age, a time when the forces of ground-breaking creativity and disruptive business converge and collide. Fashion explodes out of the traditional, elite kingdoms of haute couture and style - Paris, Milan, London and New York - to become a truly global phenomenon. Unfolding over four episodes, the series will chart a high-stakes story packed with the seductive beauty and dramatic intrigue behind the most iconic fashion moments and shows of the era.
'Studio 666' | This October
Rock & Roll Hall of Famers Foo Fighters move into an Encino mansion steeped in grisly rock history to record their much anticipated tenth album. Once in the house, Dave Grohl finds himself grappling with supernatural forces that threaten both the completion of the album and the lives of the band.
'Sonic the Hedgehog 2' | This October
As Dr Robotnik and new ally Knuckles search for an emerald with the power to destroy worlds, it's up to Sonic and Tails to stop them. Smash sequel with the voices of Ben Schwartz, Idris Elba and Jim Carrey.
'The Lost City' | This October
Reclusive author Loretta Sage (Sandra Bullock) writes about exotic places in her popular adventure novels that feature a handsome cover model named Alan (Channing Tatum). While on tour promoting her new book with Alan, Loretta gets kidnapped by an eccentric billionaire who hopes she can lead him to an ancient city's lost treasure from her latest story. Determined to prove he can be a hero in real life and not just on the pages of her books, Alan sets off to rescue her.
SKY - SEPTEMBER
'Munich Games' | This September
It's 2022, and a friendly football match between an Israeli and a German team is planned as a mark of peace and respect for the victims of the 1972 terrorist attack. Police and secret services on all sides are on high alert to ensure the security of the event.
'Fantasy Football' | This September
After 18 years off our screens, Sky are bringing back Fantasy Football League, the iconic comedy football show blending football fanaticism with celebrity chat. Originally fronted by the show's creators, David Baddiel and Frank Skinner, the duo will be passing the ball to brand new hosts, Matt Lucas and Ellas James.
'Bloods' Season Two | September 1
In the latest instalment of episodes, we see Wendy and Maleek's friendship blown apart when she accuses him of drinking on the job, Jo and Lawrence finally confront their complicated 'situation', (with hilarious results), and Gary and Kareshma go on quite the emotional rollercoaster.
'Belfast' | September 2
An Academy Award, BAFTA and Golden Globe-winning story of love, laughter and loss in one boy's childhood during the tumult of the late 1960s in the Northern Ireland capital, straight from director Kenneth Branagh's own experience.
'Mind Over Murder' | September 4
Directed by Nanfu Wang, this six-part docuseries chronicles the complex story of six individuals who were convicted for the 1985 murder of beloved
grandmother Helen Wilson in the town of Beatrice, Nebraska. Though five of the individuals confessed to the crime, the 'Beatrice Six' were later fully exonerated by DNA evidence in a turn of events that forever divided the town.
'Brassic' Season Four | September 7
Back for more and fresher than ever, Sky's biggest original comedy returns with a vengeance for series four. With all the Brassic gang back in Hawley, things don't get any easier for the group as they hatch eccentric plans, complete questionable heists and nick some bizarre items. From discovering severed body parts to training racing dogs, then finding unexpected guests and causing mayhem at a murder mystery night, trouble is never far away when Brassic comes to town. 
'The Russell Howard Hour' Season Six | September 8
Russell Howard returns to put the world to rights with a new series of 'The Russell Howard Hour', tackling all the big stories with his trademark irreverence.
'The 355' | September 9
A wild card CIA agent joins forces with three international agents on a lethal mission. Jessica Chastain, Bingbing Fan, Diane Kruger, Lupita Nyong'o and Penélope Cruz star.
'Never Mind the Buzzcocks' Season Two | September 13
'Never Mind the Buzzcocks' is returning to Sky for a second series after the first series being one of Sky's best performance launches ever. Host Greg Davies oversees the musical festivities, while the teams will be headed up by Buzzcocks veteran Noel Fielding alongside Daisy May Cooper and regular guest Jamali Maddix. Joining them will be a roster of top stars from the world of music and comedy, as they test their wits against classic rounds returning for the new series along with some new surprises.
'Vampire Academy' | September 16
St. Vladmir's Academy isn't just any boarding school — it's a hidden place
where vampire royals are educated and half-human teens train to
protect them from the savage 'Strigoi' vampires who would like to see
them destroyed.
'After Yang' | September 22
'After Yang' tells the story of a family who lose their A.I helper, and the profound feelings that the experience induces. When his young daughter's beloved companion — an android named Yang (Justin H. Min) — malfunctions, Jake (Colin Farrell) searches for a way to repair him. In the process, Jake discovers the life that has been passing in front of him, reconnecting with his wife (Jodie Turner-Smith) and daughter (Malea Emma Tjandrawidjaja) across a distance he didn't know was there.
'Uncharted' | September 23
Street-smart Tom Holland is recruited by treasure hunter Mark Wahlberg to recover a fortune lost 500 years ago. Action-adventure based on the hit video game series.
'This England' | September 28
'This England', based on Boris Johnson's tumultuous first months as Prime Minister, traces the impact on the country of the first wave of the Coronavirus pandemic. The drama takes us inside the halls of power, as Johnson (Kenneth Branagh) grapples with Covid-19, Brexit, and a controversial personal and political life.