CULPRITS | Nov 08
Joe Petrus is living the American dream: a fiancé to Jules, dad to Frankie and Bud, and starting his own business in a sleepy suburban town. But unbeknownst to his family, Joe has a secret. Three years ago, he was recruited by notorious British criminal Dianne Harewood to join her crew and take part in a high-stakes crime that promised to make Joe rich and provide him with a brand-new life. And now Joe's dangerous past is about to catch up with him. When a killer starts targeting the crew behind the crime, Joe realises that the only way to keep his family safe is to return to London, make contact with his old gang, and track down Dianne.
A MURDER AT THE END OF THE WORLD | Nov 14
A Murder at the End of the World is a mystery series with a new kind of detective at the helm – a Gen Z amateur sleuth and tech-savvy hacker named "Darby Hart" (Emma Corrin). In the new limited series, Darby and eight other guests are invited by a reclusive billionaire (Clive Owen) to participate in a retreat at a remote and dazzling location. When one of the other guests is found dead, Darby must put to use all of her combined skills to prove it was in fact murder, all against a tide of competing interests and before the killer takes another life.
BRAWN: THE IMPOSSIBLE FORMULA 1 STORY | Nov 15
Keanu Reeves tells one of the greatest sagas in Formula 1 history. Through the insights of Ross Brawn and revered racing icons like Jenson Button and Rubens Barrichello, all is revealed in this gripping four-part series. From the formation of Brawn GP, see their remarkable journey through strategic manoeuvres and financial trials during an exceptionally competitive era in the annals of the sport.
QUIZ LADY | Nov 03
A brilliant but tightly wound, game show-obsessed young woman must reunite with her estranged, trainwreck of a sister when they're forced to come up with the money to cover their mother's gambling debts. The two embark on a wild, cross-country trek in a desperate hope to win enough cash the only way they can think of — by turning our reluctant hero into a bona-fide game-show champion.
Disney+ October
LOKI SEASON 2 | Oct 06
Marvel Studios' Loki Season 2 picks up in the aftermath of the shocking season finale when Loki finds himself in a battle for the soul of the Time Variance Authority. Along with Mobius, Hunter B-15 and a team of new and returning characters, Loki navigates an ever-expanding and increasingly dangerous multiverse in search of Sylvie, Judge Renslayer, Miss Minutes and the truth of what it means to possess free will and glorious purpose.
COLEEN ROONEY: THE REAL WAGATHA STORY | Oct 18
It was the social media scandal that captivated the nation and spawned a high court trial. British celebrity Coleen Rooney's private Instagram stories about her and her family are being leaked to a newspaper without her knowledge but Coleen will go to extraordinary lengths to find the culprit.
GOOSEBUMPS | Oct 13
Inspired by R.L. Stine's worldwide bestselling book series, Goosebumps follows a group of five high schoolers as they embark on a shadowy and twisted journey to investigate the tragic passing three decades earlier of a teen named Harold Biddle – while also unearthing dark secrets from their parents' past.
HAUNTED MANSION | Oct 04
Inspired by the classic theme park attraction, Haunted Mansion tells the story of Gabbie (Rosario Dawson), a single mom, who discovers that the home she and her son share is haunted by irksome ghosts. Hoping to restore domestic tranquility, Gabbie recruits a motley crew of so-called spiritual experts to help rid the house of the supernatural squatters. A nonstop blend of action, adventure and comedy featuring an all-star cast that includes LaKeith Stanfield, Tiffany Haddish, Owen Wilson, Danny DeVito, Daniel Levy, Jamie Lee Curtis and Jared Leto, "Haunted Mansion" was written by Katie Dippold and directed by Justin Simien. The film's producers are Dan Lin and Jonathan Eirich, with Nick Reynolds and Tom Peitzman serving as executive producers.
 DEAR MAMA | Oct 01
From award-winning director Allen Hughes comes FX's Dear Mama, a deeply personal five-part series that defies the conventions of traditional documentary storytelling to share an illuminating saga of mother and son, Afeni and Tupac Shakur. Their story chronicles the possibilities and contradictions of the U.S. from a time of revolutionary fervor to Hip Hop culture's most ostentatious decade.               
THE WONDER YEARS SEASON 2 | Oct 18
The story of the Williams family during the late 1960s, all through the point of view of imaginative 12-year-old Dean. With the wisdom of his adult years, Dean's hopeful and humorous recollections of his past spotlight the ups and downs of growing up in a Black middle-class family in Montgomery, Alabama, and the friendship, laughter and lessons along the way.
'THE KARDASHIANS' S4 | Sep 28
The cameras are back with all access to the personal and private lives of Kris, Kourtney, Kim, Khloé, Kendall and Kylie. From second chances and new beginnings to unexpected blessings, they continue to bare it all together, a reminder that the most beautiful part of life is family.
'WELCOME TO WREXHAM' S2 | Sep 13
Rob McElhenney and Ryan Reynolds navigate running the 3rd oldest professional football club in the world. Welcome to Wrexham tracks the dreams and worries of Wrexham, a working-class town in North Wales, as two Hollywood stars guide the future of the historic Club. Dedicated supporters dream of returning to glory while bracing for the challenges that fame has brought to the community.             
'THE LITTLE MERMAID' | Sep 06
Experience visionary filmmaker Rob Marshall's live-action retelling of Disney's beloved animated musical classic, The Little Mermaid. This blockbuster movie shares the story of Ariel, a beautiful and spirited young mermaid with a thirst for adventure, in a whole new way. The youngest and most defiant of King Triton's daughters, Ariel longs to find out more about the world beyond the sea and, while secretly visiting the surface, falls for the dashing Prince Eric. In a bid to follow her heart, she makes a deal with the evil sea witch, Ursula, which gives her a chance to experience life on land. However, it ultimately places her life – and her father's crown – in jeopardy.              
'NO ONE WILL SAVE YOU' | Sep 22
No One Will Save You introduces Brynn Adams (Kaitlyn Dever), a creative and talented young woman who's been alienated from her community. Lonely but ever hopeful, Brynn finds solace within the walls of the home where she grew up—until she's awakened one night by strange noises from decidedly unearthly intruders. What follows is an action-packed face-off between Brynn and a host of extraterrestrial beings who threaten her future, while forcing her to deal with her past. Written and directed by Brian Duffield, the film features music by composer Joseph Trapanese. Tim White, Trevor White, Allan Mandelbaum and Duffield produce, and Dever and Joshua Throne executive produce.
'ANIMALS UP CLOSE WITH BERTIE GREGORY' | Sep 13
Bertie Gregory travels the world to show extraordinary animals' daily lives like never before. Armed with state-of-the-art tech, he and his team brave extreme conditions to reveal the challenges these animals endure. "Animals Up Close with Bertie Gregory" shows all the moments he and his team face while adapting to unpredictable wildlife in remote environments where filming rarely goes as planned.
'THE OTHER BLACK GIRL' | Sep 13
Nella, an editorial assistant, is tired of being the only black girl at her company, so she's excited when Hazel is hired. But as Hazel's star begins to rise, Nella makes a shockingly sinister discovery and quickly spirals out of control.
Disney + - August
'THE RANDALL SCANDAL: LOVE, LOATHING & VANDERPUMP' | Aug 4
You've heard all about #Scandoval, but the most explosive scandal raging behind the scenes of "Vanderpump Rules" is The Randall Scandal. This documentary from ABC News Studios and LA Times Studios charts the unbelievable tale of B-movie mogul Randall Emmett who rose to fame on the heels of his engagement to Bravo megastar Lala Kent. When their relationship publicly collapses and a bitter custody dispute ensues, Randall is caught up in a swarm of bombshell allegations and lawsuits that rock Hollywood.
'GUARDIANS OF THE GALAXY VOL. 3' | Aug 2
In Marvel Studios' Guardians of the Galaxy Vol. 3, our beloved band of misfits return - but they're looking a bit different these days. Peter Quill (Chris Pratt), still reeling from a terrible loss, must rally his team and embark on a dicey, action-packed mission to defend the universe and save Rocket. Meanwhile, a new and unpredictable force threatens to bring the Guardians down for good.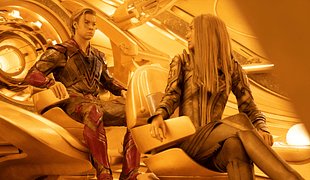 'ONLY MURDERS IN THE BUILDING S3' | Aug 8
Season 3 finds Charles, Oliver & Mabel (played by Steve Martin, Martin Short & Selena Gomez) investigating a murder behind the scenes of a Broadway show. Ben Glenroy (Paul Rudd) is a Hollywood action star whose Broadway debut is cut short by his untimely death. Aided by co-star Loretta Durkin (Meryl Streep), our trio embarks on their toughest case yet, all while director Oliver desperately attempts to put his show back together. Curtains up!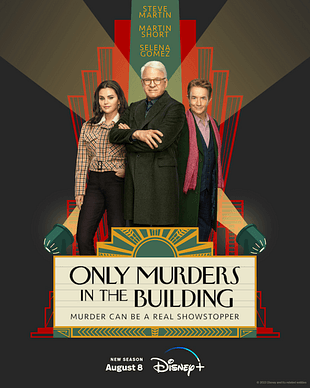 'STAR WARS: AHSOKA' | Aug 23
Set after the fall of the Empire, Star Wars: Ahsoka follows the former Jedi Knight Ahsoka Tano as she investigates an emerging threat to a vulnerable galaxy.  
'RUNNING WILD WITH BEAR GRYLLS: THE CHALLENGE' | Aug 23
Running Wild with Bear Grylls: The Challenge, famed survivalist Bear Grylls is taking it up a level. This time, he's teaching his celebrity guests essential survival skills that they'll have to master and then prove they can use in a high-stress situation. Challenges and locations span the snowy peaks of the Canadian Rockies, the deserts of the Great Basin, and the volcanic rainforests of Costa Rica. Follow along as celebrities push their bodies and minds to the limit, attempting to successfully complete life-changing adventures that will challenge their perceived limitations.
'A MURDER AT THE END OF THE WORLD' | Aug 29
FX's A Murder at the End of the World is a mystery series with a new kind of detective at the helm – a Gen Z amateur sleuth and tech-savvy hacker named "Darby Hart" (Emma Corrin). Darby and eight other guests are invited by a reclusive billionaire (Clive Owen) to participate in a retreat at a remote and dazzling location. When one of the other guests is found dead, Darby must use all of her skills to prove it was murder against a tide of competing interests and before the killer takes another life.
DISNEY+ - JULY
'THE BEAR' S2​​​​​​ | JULY 19
FX's critically acclaimed original series The Bear is about food, family, the insanity of the grind, the beauty of Sense of Urgency and the steep slippery downsides. As young chef Carmy and crew work to transform their grimy sandwich shop into a next-level spot, they undertake transformational journeys of their own, each forced to confront the past and reckon with who they want to be in the future.         
'KIZAZI MOTO: GENERATION FIRE' | JULY 05
This action-packed animated sci-fi anthology presents 10 futuristic visions from Africa inspired by the continent's diverse histories and cultures. Executive produced by OSCAR®-winning director Peter Ramsey, these short films, made by a new generation of animation directors, draw on uniquely African perspectives to imagine brave new worlds of advanced technology, aliens, spirits, and monsters. This is Africa as you've never seen it before.
'THE SECRETS OF HILLSONG' | JULY 12
FX's The Secrets of Hillsong is a four-part documentary series, based on the explosive original reporting on the megachurch's scandals by Vanity Fair journalists Alex French and Dan Adler. The series features the first interviews with two former pastors, Carl and Laura Lentz, since their public ousting from the church — which for years counted musicians, actors, athletes and other celebrities among its flock. The documentary also features poignant conversations with many of the congregants navigating the still-unfolding global reckoning, with the church facing further revelations. Featuring fresh reporting and analysis from journalists, historians and policymakers, the series goes beyond the sensational headlines and behind the velvet rope to examine the church's long pattern of covering up misconduct to protect itself.
'DRAG ME TO DINNER​​​​​​' | JULY 26
If you want a great party, hire a party planner. If you want an outrageous, unforgettable party ... call in a Drag Queen. Drag Me to Dinner is the new close-ended comedic competition that, unlike other Drag competitions, doesn't take itself too seriously. In each hour-long episode, two new pairs of Queens go wig-to-wig in themed culinary and design challenges, attempting to throw the most fabulous dinner party yet.
'DISNEY + - JUNE
AVATAR: THE WAY OF WATER' | JUNE 07
'Avatar: The Way of Water' reaches new heights as James Cameron returns to the world of Pandora. Set a decade plus after the events of the first film, this breathtaking new movie tells the story of the Sully family and introduces audiences to the majestic ocean Tulkun.
'SAINT X' | JUNE 07
The series, which is told via multiple timelines, upends the girl-gone-missing genre. It explores how a young woman's mysterious death, during an idyllic Caribbean vacation, creates a traumatic ripple effect that eventually pulls her surviving sister into a dangerous pursuit of the truth.
'FLAMIN' HOT' | JUNE 09
'Flamin' Hot' is the inspiring true story of Richard Montañez (Jesse Garcia), the Frito Lay janitor who channelled his Mexican American heritage and upbringing to turn the iconic Flamin' Hot Cheetos into a snack that disrupted the food industry and became a global pop culture phenomenon.
'THE FULL MONTY' | JUNE 14
Taking place 25 years after the original British smash hit, the eight-episode series will follow the same band of brothers as they navigate the post-industrial city of Sheffield, and society's crumbling healthcare, education, and employment sectors. The comedy-drama will uncover what happened to the gang after they put their kit back on, exploring their brighter, sillier and more desperate moments. It will also highlight how the fiercely funny world of these working-class heroes – still residing in Sheffield – has changed in the intervening decades.
'SECRET INVASION' | JUNE 21
In Marvel Studios' new series 'Secret Invasion', set in the present-day MCU, Nick Fury learns of a clandestine invasion of Earth by a faction of shapeshifting Skrulls. Fury joins his allies, including Everett Ross, Maria Hill, and the Skrull Talos, who has made a life for himself on Earth. Together, they race against time to thwart an imminent Skrull invasion and save humanity.
DISNEY + - MAY
'A SMALL LIGHT' | May 02
Based on a true story, National Geographic's A Small Light follows Miep Gies, a young, carefree secretary who hid Otto Frank and his family from the Nazis in WWII.  For nearly two years, Miep and her husband Jan protected the Franks and others while she held down a day job, kept her marriage intact, and shouldered more responsibility than anyone could imagine. While millions are familiar with Anne Frank's diary and her family's life in the Secret Annex,  this new series exposes the lesser-known side of the tale, and how one ordinary secretary showed extraordinary courage during one of the darkest moments in history.
'THE KARDASHIANS' SEASON 3 | May 25
The cameras return as Kris, Kourtney, Kim, Khloé, Kendall and Kylie invite viewers back into their lives as they navigate motherhood, coparenting, and building their own empires. Their bond will be tested and tensions arise, but as a family they will stand together through the storm.
'THE MUPPETS MAYHEM' | May 10
After 45 years of rockin' and rollin', The Electric Mayhem embarks on an epic musical journey to finally record their first studio album. With the help of a driven young music exec, the endlessly coolMuppet rock band – featuring Dr. Teeth, Sgt. Floyd Pepper, Janice, Lips, Zoot, and Animal – must get their act together as they come face to face with the crazy, contemporary music scene in their quest to finally go platinum.
'AMERICAN BORN CHINESE' | May 24
Based on the graphic novel by Gene Luen Yang, American Born Chinese is a genre-hopping action comedy that tells the story of Jin Wang, an average teenager juggling the high school social scene with his home life. But when he meets a new foreign student on the first day of the school year, even more worlds collide as Jin is unwittingly entangled in a battle of Chinese mythological gods.
'ED SHEERAN: THE SUM OF IT ALL' | May 03
For the first time, global superstar Ed Sheeran opens the doors to provide a definitive and searingly honest view into his private life. Explorings the universal themes that inspire his music, this series follows Ed after he learns of life-changing news, revealing how he dealt with  the most challenging period of his life. Featuring exclusive, never-before-seen personal archive footage, present-day authentic interviews with his wife and loved ones, and intimate performances in cinematic locations, each episode  reveals a little more what Sheeran thinks of the world, of himself, and his music.
'WHITE MEN CAN'T JUMP' | May 19
From 20th Century Studios, the all-new comedy White Men Can't Jump updates  the iconic 1992 movie that first celebrated the streetball-hustling culture of Los Angeles. Multi-platinum rap superstar Jack Harlow makes his feature film debut as Jeremy, a former star whose injuries stalled his career, while Sinqua Walls stars as Kamal, a once-promising player who derailed his own future in the sport. Juggling tenuous relationships, financial pressures and serious internal struggles, the two hoopers—who are seemingly complete opposites —join forces to take one final shot at living out their dreams.
DISNEY + - APRIL
'THE GOOD MOTHERS' | Apr 05
Based on true events, The Good Mothers tells the story of Denise, daughter of Lea Garofalo, Maria Concetta Cacciola and Giuseppina Pesce -  three women who dared to defy the 'Ndrangheta mafia they were born into. We also meet prosecutor Anna Colace who, having just arrived in Calabria, has an intuition: to be able to defeat the 'Ndrangheta clans, you need to focus on the women. It is a strategy that brings with it great risk -  after all, The 'Ndrangheta is famous and feared for its iron fist and insidious power. This new series follows the three women  as they collaborate with the authorities, attempting to free themselves from the criminal power once and for all.
'TINY BEAUTIFUL THINGS' | Apr 07
Based on Cheryl Strayed's best-selling book, Tiny Beautiful Things is about a woman whose marriage is on its last legs; whose daughter barely talks to her; and whose writing career is non-existent. So when a friend suggests taking over an advice column, Clare thinks she's the last person for the job...when she may actually be the most qualified.
'SINGLE DRUNK FEMALE' Season 2| Apr 12
With a year and a half of sobriety under her belt, Samantha Fink finally feels like she has a life worth celebrating. However, Sam quickly learns that sometimes life has other plans for her. Follow along as she figures out how to effect change where she can, sit in her discomfort when she can't, and maybe even enjoy the ride.
'HOW I MET YOUR FATHER' Season 2 | Apr 19
In the near future, Sophie continues to tell her son the story of how she met his father, in the process transporting us back to the present for Season 2. Follow along as Sophie and her close-knit group of friends keep trying to figure out who they are, what they want out of life, and how to fall in love in the age of dating apps and limitless options.
'WILL TRENT'| Apr 26
Special Agent Will Trent of the Georgia Bureau of Investigation (GBI) was abandoned at birth and endured a harsh coming-of-age in Atlanta's overwhelmed foster care system. But now, determined to use his unique point of view to make sure no one is abandoned like he was, Will Trent has the highest clearance rate in the GBI.
'PETER PAN AND WENDY' | Apr 28
Directed by David Lowery, Peter Pan & Wendy follows Wendy Darling, a young girl afraid to leave her childhood home behind, who meets Peter Pan, a boy who refuses to grow up. Alongside her brothers and a tiny fairy called Tinker Bell, Wendy travels with Peter to the magical world of Neverland. There, she encounters an evil pirate named Captain Hook, and embarks on a thrilling and dangerous adventure that will change her life forever.
DISNEY+ - MARCH
'Star Wars: The Mandalorian' Season 3 | Mar 01
The journeys of the Mandalorian through the Star Wars galaxy continue. Once a lone bounty hunter, Din Djarin has reunited with Grogu. Meanwhile, the New Republic struggles to lead the galaxy away from its dark history. The Mandalorian will cross paths with old allies and make new enemies as he and Grogu continue their journey together.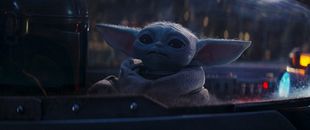 'Abbott Elementary' Season 2 | Mar 01
This workplace comedy follows a group of dedicated, passionate teachers — and a slightly tone-deaf principal —as they navigate the Philadelphia public school system. Despite the odds stacked against them, they are determined to help their students succeed in life, and though these incredible public servants may be outnumbered and underfunded, they love what they do — even if they don't love the school district's less-than-stellar attitude towards educating children.
'Empire of Light' | Mar 01
From director and writer Sam Mendes ("1917" and "Skyfall"), Empire of Light is a moving drama about the power of human connection during turbulent times. Set in and around a faded old cinema in an English coastal town in the early 1980s, it follows Hilary (Olivia Colman), a cinema manager struggling with her mental health, and Stephen (Micheal Ward), a new employee who longs to escape this provincial town in which he faces daily adversity. Both Hilary and Stephen find a sense of belonging through their unlikely and tender relationship and come to experience the healing power of music, cinema, and community.
'Finding Michael' | Mar 03
In 1999, Michael Matthews became the youngest Briton to climb Mount Everest. But three hours after he summited, he disappeared and was never found. Aged just 10 when Michael went missing, his brother, entrepreneur and broadcaster Spencer Matthews, always struggled to accept his death. Over 20 years later, Spencer receives a photo of a body on the mountain that could be Michael. He heads to Nepal and recruits Nims Purja, the world '14 peaks' record holder, to lead a team and search Everest's 'Death Zone' to try to find Michael. Once at an extreme altitude of over 8000m, the team relies on a 10-man search crew, armed with drones and the skillset to go off the summit lines. But as the weather closes in and with time against them, they face a series of unexpected challenges.
'Boston Strangler' | Mar 17
Award-winning writer-director Matt Ruskin's Boston Strangler is a true-crime thriller about the trailblazing reporters who broke the story of the notorious 1960s Boston Strangler murders. The film follows Loretta McLaughlin, a reporter for the Record American newspaper, who became the first journalist to connect the Boston Strangler murders. As the mysterious killer claims more and more victims, Loretta attempts to continue her investigation alongside colleague and confidante Jean Cole, yet the duo finds themselves stymied by the rampant sexism of the era. Nevertheless, McLaughlin and Cole bravely pursue the story at great personal risk, putting their own lives on the line in their quest to uncover the truth.
DISNEY+ - FEBRUARY
'Fleishman Is In Trouble' | Feb 22
Fleishman Is In Trouble is the story of recently divorced 41-year-old Toby Fleishman (Jesse Eisenberg), who dives into the brave new world of app-based dating with the kind of success he never had dating in his youth, before he got married at the tail end of medical school. But just at the start of his first summer of sexual freedom, his ex-wife, Rachel (Claire Danes), disappears, leaving him with 11-year-old Hannah (Meara Mahoney Gross) and 9-year-old Solly (Maxim Swinton) - and no hint of where she is or whether she plans to return.
'Black Panther: Wakanda Forever' | Feb 01
In Marvel Studios' Black Panther: Wakanda Forever, Queen Ramonda (Angela Bassett), Shuri (Letitia Wright), M'Baku (Winston Duke), Okoye (Danai Gurira) and the Dora Milaje (including Florence Kasumba) fight to protect their nation from intervening world powers in the wake of King T'Challa's death. As the Wakandans strive to embrace their next chapter, the heroes must band together with the help of War Dog Nakia (Lupita Nyong'o) and Everett Ross (Martin Freeman), working to forge a new path for the kingdom of Wakanda.
'The Proud Family: Louder and Prouder' | Feb 01
A continuation of the acclaimed series, The Proud Family: Louder and Prouder follows the adventures - and misadventures - of Penny Proud and her family as they navigate modern life with hilarity and heart. The 2020s bring a new career for mum Trudy, wilder dreams for dad Oscar, and new challenges for Penny, including a socially woke neighbour who thinks she has a lot to teach the 14 year old.
DISNEY+ - JANUARY
'Extraordinary' | Jan 25
Welcome to a world where everyone over the age of 18 develops a superpower. Everyone except for 25-year-old Jen, who feels like she's being left behind. Luckily, Jen's flatmates – Carrie, Kash, and a mysterious stray – keep her from falling into a well of self-pity. Adrift in a big, confusing world, and armed with nothing but a bit of hope and a lot of desperation, Jen begins her journey to find her maybe-superpower. But in doing so, she might discover the joy of simply being ordinary instead.
'Welcome To Chippendales' | Jan 11
A sprawling true-crime saga, Welcome to Chippendales tells the outrageous story of Somen "Steve" Banerjee, an Indian immigrant who became the unlikely founder of the world's greatest male-stripping empire—and let nothing stand in his way in the process.
'If These Walls Could Sing' | Jan 6
For more than 90 years, Abbey Road Studios has been at the heart of the music industry. In this personal movie of memory and discovery, Mary McCartney guides us through nine decades, witnessing the creative magic that made it the most famous and longest-running studio in the world. From classical to pop and film scores to hip-hop, If These Walls Could Sing explores the breadth, diversity and ingenuity of Abbey Road Studios.
DISNEY+ - DECEMBER
'Our Only Chance' | Dec 2
'Our Only Chance' tracks the ups and downs in the relationship between Candela and Diego, as we follow them on a journey through love, friendship, and the struggle to make their way in the world. The series stars Miguel Bernardeau as Diego, and Aitana as Candela.
'Amsterdam' | Dec 7
'Amsterdam' follows three close friends who find themselves at the centre of one of the most shocking secret plots in American history, starring Christian Bale, Margot Robbie, John David Washington, Alessandro Nivola, Andrea Riseborough, Anya Taylor-Joy, Chris Rock, Matthias Schoenaerts, Michael Shannon, Mike Myers, Taylor Swift, Zoe Saldaña, with Rami Malek and Robert De Niro.
'National Treasure: Edge of History' | Dec 14
Jess Valenzuela's life is turned upside-down when an enigmatic stranger gives her a clue to a centuries-old treasure - that might be connected to her long-dead father. Jess has a knack for solving puzzles, and her skills are put to the test as she and her friends follow a series of clues hidden in American artefacts and landmarks. But can Jess outsmart a black-market antiquities dealer in this race to find history's greatest lost treasure and uncover the truth about her family's past?
'The Banshees of Iniserin' | Dec 21
From writer-director Martin McDonagh comes a unique movie starring Colin Farrell and Brendan Gleeson. Although Pádraic (Farrell) and Colm (Gleeson) have been lifelong friends, they find themselves at an impasse when one abruptly ends their relationship, bringing alarming consequences for both men.
DISNEY+ - NOVEMBER
'See How They Run' | Available Now
Welcome to the greatest murder ever staged! It is the West End of London in the 1950s, and plans for a movie version of a smash-hit play have come to an abrupt halt after a pivotal member of the crew is murdered. When world-weary Inspector Stoppard (Sam Rockwell) and his eager rookie sidekick, Constable Stalker (Saoirse Ronan), take on the case, the two find themselves thrown into a puzzling whodunit within the glamorously sordid theatre underground. The more they investigate the mysterious homicide, the more they realize that they do so at their own peril.
'Save Our Squad with David Beckham' | November 9
David Beckham is coming home. Over the course of a season, David joins the Westward Boys, an East London club playing in the league where it all began for him as a boy – the Echo Premier League. Westward haven't won a game all season, and the threat of being relegated from the league looms large. David has a mammoth task at hand - will he be able to save their squad?
'The Santa Clauses' | November 16
Scott Calvin is back! After being Santa Claus for nearly thirty years, he's as jolly as ever. But as Christmas declines in popularity, so does his Santa magic. Scott struggles to keep up with the demands of the job, as well as being there for his family. Upon discovering there is a way to retire from his post, Scott considers stepping down as Santa Claus and finding a worthy successor so that he can become a better father and husband.
'Limitless with Chris Hemsworth' | November 16
Chris Hemsworth is on an epic mission to discover how to live better for longer. With the help of world-class experts, family and friends, he's embarking on a series of immense challenges to push himself to new limits and stop the diseases of old age before they take hold. Chris will discover how we all can unlock our potential to stay fitter, healthier and happier throughout our lives.
'Disenchanted' | November 18
It's been 15 years since Giselle and Robert got married, but Giselle has since grown disillusioned with life in the city. They decide to move their growing family to the sleepy suburban community of Monroeville in search of a more fairytale life – but it isn't the quick fix she hoped for. Suburbia has a whole new set of rules, plus a local queen bee, Malvina Monroe, who makes Giselle feel more out of place than ever. Frustrated that her happily ever after hasn't been so easy to find, she turns to the magic of Andalasia for help, accidentally transforming the entire town into a real-life fairytale and placing her family's future happiness in jeopardy.
'The Patient' | November 30
'The Patient' is a psychological thriller about a therapist, Alan Strauss (Steve Carell), who's held prisoner by a patient, Sam Fortner (Domhnall Gleeson), who reveals himself to be a serial killer. Sam has an unusual therapeutic demand for Alan: curb his homicidal urges. In order to survive, Alan must unwind Sam's disturbed mind and stop him from killing again - but Sam refuses to address critical topics.
'Willow' | November 30
An all-new sequel series to George Lucas's 1988 fantasy adventure 'Willow'. The Nelwyn sorcerer returns, years after rescuing the infant empress Elora Danan, to lead group of misfit heroes on a harrowing rescue mission through a world beyond imagination."Willow" features Warwick Davis returning in his titular role, with Jonathan Kasdan, Ron Howard, Wendy Mericle, Kathleen Kennedy, and Michelle Rejwan serving as executive producers.
DISNEY+ - OCTOBER
'The Walking Dead' Final Season | October 3
As each group continues to get caught in uncontrollable situations, dangers lurk around every corner — both dead and alive. The looming pressure is cresting towards a day of reckoning for all, but will the sum of their individual journeys cumulate into one, or divide them forever? The fight for a future continues to be threatened by the ominous and growing population of walkers. Not all will survive, but for some, the walking dead lives on…
'The Bear' | October 5
'The Bear' follows Carmen "Carmy" Berzatto (Jeremy Allen White), a young chef from the fine dining world, who comes home to Chicago to run his family sandwich shop – The Original Beef of Chicagoland – after a heartbreaking death in his family. A world away from what he's used to, Carmy must balance the soul-crushing realities of small business ownership, his strong-willed and recalcitrant kitchen staff and his strained familial relationships, all while grappling with the impact of his brother's suicide. 
'Grey's Anatomy' Season 18 | October 5
In episode one, The Grey Sloan doctors treat a patient who encountered illegal fireworks; Bailey has her sights set on hiring new doctors, but she's having trouble finding viable options; Owen and Teddy attempt to take the next step in their engagement.
'Werewolf By Night' | October 7
Marvel Studios' first Halloween special comes in the form of a... werewolf? Gael García Bernal stars as Jack Russell, who must try and escape with his life when he gets cornered by a group of creepy assassins. Irish star Laura Donnelly also stars.
'Candy' | October 12
Candy Montgomery (Jessica Biel) is a 1980 housewife and mother who did everything right—good husband, two kids, nice house, even the careful planning and execution of transgressions—but when the pressure of conformity builds within her, her actions scream for just a bit of freedom. Until someone tells her to shush. 
'Rosaline' | October 14
'Rosaline' offers a fresh and comedic twist on Shakespeare's classic love story Romeo & Juliet, told from the perspective of Juliet's cousin Rosaline, who also happens to be Romeo's recent love interest. Heartbroken when Romeo meets Juliet and begins to pursue her, Rosaline schemes to foil the famous romance and win back her guy.
'War of the Worlds' Season Three | October 19
Set in present-day France and the UK, where the war between survivors and aliens reaches a new turning point. One survivor sets out and forms a tentative partnership with another unlikely hero along the way. Sci-fi starring Daisy Edgar-Jones and Gabriel Byrne.
DISNEY+ - SEPTEMBER
Disney+ Day | September 8
Disney+ Day will deliver even more excitement to subscribers with lots of new content premiering globally on Thursday, September 8. New titles include the live-action 'Pinocchio', Marvel Studios' 'Thor: Love and Thunder' and 'Assembled: The Making of Thor: Love and Thunder', 'Obi-Wan Kenobi: A Jedi's Return', 'Wedding Season', 'Mike', 'Tierra Incognita', the 'Frozen' and 'Frozen 2' Sing-Alongs, and 'Welcome to the Club', a new short from 'The Simpsons'.
'Andor' | September 21
'Andor' will explore a new perspective from the Star Wars galaxy, focusing on Cassian Andor's journey to discover the difference he can make. The series brings forward the tale of the burgeoning rebellion against the Empire, and how people and planets became involved. It's an era filled with danger, deception and intrigue, seeing Cassian embark on the path that is destined to turn him into a rebel hero.
'The Kardashians' Season Two | September 22
Cameras return to capture the ever-changing lives of Kris, Kourtney, Kim, Khloé, Kendall and Kylie. The family welcomes viewers back to stand with them through their latest triumphs and struggles. From fiery romances and life-changing milestones to unimaginable successes, their family bond remains unbreakable as they navigate their public and private lives - for all the world to see.
'The Old Man' | September 28
Based on the bestselling novel of the same name by Thomas Perry, 'The Old Man' centres on Dan Chase (Jeff Bridges) who absconded from the CIA decades ago and has been living off the grid since. When an assassin arrives and tries to take Chase out, the old operative learns that, to ensure his future, he must reconcile his past. The FBI's Assistant Director for Counterintelligence is called to hunt Chase down because of his complicated past with the rogue fugitive.
'Hocus Pocus 2' | September 30
It's been 29 years since Max lit the Black Flame Candle and resurrected the 17th-century sisters, but they're back and looking for revenge. Now it is up to three high school students to stop the ravenous witches from wreaking a new kind of havoc on Salem before dawn on All Hallow's Eve.