Here's what is new to Sky this September.
Sky customers will notice that there's been a change to their channels; What was once Sky One is now called Sky Showcase, while there's a brand new additional channel called Sky Max, which is where you'll find all of the latest blockbuster and entertainment TV shows. All Sky Original comedies will also move to the Sky Comedy channel, making it the new home of UK and US comedy.
'Never Mind the Buzzcocks' | Sky Max This September
The iconic pop culture panel show returns, exclusively to Sky. New host Greg Davies oversees the musical festivities, while the teams will be headed up by Buzzock's veteran Noel Fielding, 'NMTB' newcomer Daisy May Cooper and regular guest Jamali Maddix. Joining them will be a roster of top stars from the world of music and comedy, as they test their wits against classic rounds returning for the new series along with some new surprises.
'Code 404' S2 | Sky Comedy September 1
The crime-fighting duo of the future is back. DI Carver and his AI-driven partner DI Major are out of beta and releasing on time for version 2.0. While the pair work on repairing their friendship following the conclusion of series one, a twenty-year-old case with a significant connection to Major is reopened. Unfortunately, something is up with his circuitry... Major is glitching out and it's going to take more than just a reboot or firmware update to save him.
'Wolfe' | Sky Max September 10
From the creator of 'Shameless' and 'No Offence' comes a new crime drama starring Babou Ceesay as forensic pathologist professor Wolfe Kinteh - North England's finest crime scene expert. Wolfe runs the local university forensics department working hand-in-hand with the police to investigate crime scenes and pass on his laser-sharp insight to the next generation of crime fighters. Half genius, half liability – he's worth the hassle as he gets results.
'Minari' | Sky Cinema September 12
A tender and sweeping Oscar-nominated story about what roots us, starring Oscar winner Youn Yu-Jung and Steven Yeun. 'Minari' follows a Korean- American family that moves to a tiny Arkansas farm in search of their own American Dream. The family home changes completely with the arrival of their sly, foul-mouthed, but incredibly loving grandmother. Amidst the instability and challenges of this new life in the rugged Ozarks, 'Minari' shows the undeniable resilience of family and what really makes a home.
'Young Rock' | Sky Comedy September 17
Dwayne "The Rock" Johnson stars in a larger-than-life family comedy based on outrageous stories of his youth. This coming-of-age journey highlights the unforgettable moments and incredible relationships that took Dwayne from ordinary kid to extraordinary superstar.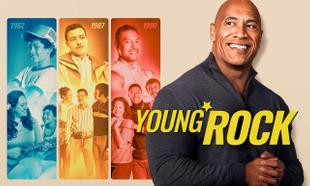 'Isle of Wight Festival' | Sky Arts September 17
The historic 'Isle of Wight Festival' returns as festival-goers flock to Newport for a weekend of live music with main stage performances from Liam Gallagher, Tom Jones, Snow Patrol, David Guetta and Duran Duran, while Primal Scream, Razorlight and Kaiser Chiefs will be hitting the Big Top for sets of their own.
'Gunpowder Milkshake' | Sky Cinema September 17
Sam (Karen Gillan) was only 12 years old when she was abandoned by her elite assassin mother Scarlet (Lena Headey). In her place, Sam was raised by The Firm - the ruthless crime syndicate her mother worked for. Now, 15 years later, Sam has followed in her mother's footsteps and grown into a fierce hit-woman. She's as efficient as she is loyal. But when a high-risk job goes wrong, Sam must choose between serving The Firm and protecting the life of an innocent 8-year-old girl.
'Mr Mayor' | Sky Comedy September 24
Retired businessman Neil Bremer (Ted Danson) runs for mayor of Los Angeles to prove he's "still got it". But once he wins, he has to figure out if he still wants it. Neil undertakes a self-imposed quest to decide what he stands for, gain the respect of his biggest critic (Holly Hunter) and connect with his teenage daughter.
'Hawking: Can You Hear Me?' | Sky Documentaries This September
In 2018, the world-famous cosmologist Stephen Hawking died, leaving revolutionary contributions to our understanding of the nature of the universe behind. Now his family, friends and colleagues speak candidly, for the first time, about the unseen world behind Hawking's rise to the status of gilded genius and international icon.
SKY - AUGUST
'A League of Their Own' S16 | Sky One
Get ready for hijinks of Olympic-sized proportions. The gang is back to celebrate this huge year for sport, with Jamie Redknapp, Freddy Flintoff and new host Romesh Ranganathan joined by a bevvy of special guests from the world of sport, comedy and television, including Jamie Vardy, DeniseLewis and Micah Richards. Expect more challenges, more hair-brained stunts and more podium-topping comedy than ever before.
'Britannia' S3 | Sky Atlantic
In a world of mythic Celtic tribes, psychedelic druids and terrifying Romans, a young girl builds a rebel alliance with a group of misfits in the third series of Jez Butterworth's anarchic drama. There's a radical transformation in Cait's journey as the Chosen One, with a decision that will tie her to the future of her war-torn people and their ravaged land.
'The Wimbledon Kidnapping' | Sky Documentaries
Britain's first kidnap and ransom case galvanised the nation in 1969. For the first time, one of the men convicted in this astonishing crime story tells their account. In leafy, suburban Wimbledon Muriel McKay was kidnapped by mistake, the real target being the wife of media tycoon, Rupert Murdoch. In an era that signalled the phenomenon of tabloid press, McKay's mysterious disappearance confounded the police, FleetStreet and hundreds of clairvoyants in their search for the respectable 55-year-old housewife.
'The White Lotus' | Sky Atlantic
With an ensemble cast including Murray Barlett, Connie Britton, Jennifer Coolidge, Alexandra Daddario and Steve Zahn, 'The White Lotus' is social satire set at an exclusive Hawaiian resort. The six-part series follows the vacations of various hotel guests over the span of a week as they relax and rejuvenate in paradise. But with each passing day, a darker complexity emerges in these picture-perfect travellers, the hotel's cheerful employees, and the idyllic locale itself.
'PEN15' Special | Sky Comedy
Continuing to depict middle school as it really happened. Maya Erskine and Anna Konkle return as versions of themselves as thirteen-year-old outcasts in the year 2000 for a special one-off episode before season two picks back up at a later date.
'Wonder Woman 1984' | Sky Cinema
Gal Gadot returns as DC's legendary hero in this vibrant super sequel. Diana Prince lives quietly among mortals in the vibrant, sleek 1980s - an era of excess driven by the pursuit of having it all. Though she's come into her full powers, she maintains a low profile by curating ancient artefacts, and only performing heroic acts incognito. But soon, Diana will have to muster all of her strength, wisdom and courage as she finds herself squaring off against Maxwell Lord and the Cheetah, a villainess who possesses superhuman strength and agility.
'Extinct' | Sky Cinema
Get ready for a "hole" new adventure. Meet chalk and cheese siblings Op (Rachel Bloom) and Ed (Adam Devine). These little critters are Flummels - cute, furry doughnut-shaped animals who live on an island in the Galapagos in 1835. Ed, a grumpy pessimist, desperately wants to fit in with the community while Op, overly exuberant, constantly creates havoc that makes them outsiders. When they accidentally time travel to modern-day Shanghai, they discover traffic, trans fats, and worst of all, that flummels are now extinct. It's up to this bumbling pair to save themselves and their species... and, just maybe, change the course of history.
'The Dry' | Sky Cinema
Eric Bana stars in this adaptation of Jane Harper's2016 international bestseller. Federal Agent Aaron Falk returns to his drought-stricken home town after an absence of over twenty years to attend the funeral of his childhood friend, Luke, who allegedly killed his wife and child before taking his own life. When Falk reluctantly agrees to stay and investigate the crime, he opens up an old wound - the death of 17- year-old EllieDeacon. Falk begins to suspect these two crimes, separated by decades, are connected. As he struggles to prove not only Luke's innocence but also his own, Falk finds himself pitted against the prejudice towards him and pent-up rage of a terrified community.
'The Kid Detective' | Sky Cinema
A once-celebrated kid detective, now 31, continues to solve the same trivial mysteries between hangovers and bouts of self-pity. But a naive client brings him his first adult case - to find out who brutally murdered her boyfriend. Adam Brody plays the lead role in a film that, in stark contrast to its Disneyesque title, might lay claim to being one of the darkest comedies of the year.
SKY - JULY
'Ghislaine Maxwell: Epstein's Shadow' | Sky Documentaries
This Sky Original documentary delves into the life of socialite Ghislaine Maxwell, from her upbringing under her father Robert Maxwell to her associations with convicted sex offender and trafficker Jeffrey Epstein, leading to her eventual arrest and upcoming trial as a result of these associations.
'In Treatment' Season 4 | Sky Atlantic This July
Ten years after the third season finale, Emmy-winning drama series In Treatment returns for its fourth season with Emmy winner Uzo Aduba as the observant, empathetic Dr Brooke Taylor, the new therapist at the centre of the season. Set in present-day Los Angeles, the new series sees a diverse trio of patients in session with Brooke to help navigate a variety of modern concerns
'Bill & Ted Face the Music' | Sky Cinema July 2
Get ready for a most excellent, but middle-aged adventure as the time-travelling best friends return for quest thirty years in the making. In present day San Dimas, the two would be rockers – now both dads in their fifties - still haven't written the song that will bring the world together, and the people of the future are starting to get a little worried.
'Midway' |Sky Cinema July 9
Ed Skrein, Patrick Wilson, Luke Evans, Woody Harrelson, Nick Jonas and Dennis Quaid star in this spectacular World War II drama. On December 7 1941, Japanese forces launch a devastating attack on Pearl Harbor, the US naval base in Hawaii. Six months later, the Battle of Midway commences on June 4 1942, as the Japanese navy plan a strike against American ships in the Pacific.
'Finding You' | Sky Cinema July 10
An inspirational romantic drama full of heart and humour about finding the strength to be true to oneself. After an ill-fated audition at a prestigious New York music conservatory, violinist Finley Sinclair (Rose Reid) travels to an Irish coastal village to begin her semester studying abroad.
'Barb and Star Go to Vista Del Mar' | Sky Cinema July 16
Two lifelong friends embark on the adventure of a lifetime when they leave their small Midwestern town for the first time ever. This outrageous comedy stars Kristen Wiig, Annie Mumolo, and Jamie Dornan.
'Every Breath You Take' | July 23
After the suicide of a patient, a psychiatrist invites the grieving brother into his home. But this decision proves catastrophic for his career and family life, and his world is thrown into turmoil and ruin. Psychological thriller starring Casey Affleck, Michelle Monaghan and Sam Claflin.