The iconic queens of drag pay homage to the iconic queens of music at the 64th annual Grammy's awards last night.
Sashaying straight from 'RuPaul's Drag Race Live' in Las Vegas to the red carpet, legendary queens of Drag Race played the ultimate Glamazon themed edition of 'Snatch Game'.
Trinity K Bonet, Derrick Barry, Jaida Essence Hall, Naomi Smalls, Coco and Kahanna Montrese, Alexis Mateo, and Kameron Michaels brought it to the runway. Eh, we mean, red carpet. The question is: who are the tops and the bottoms of the week?
Kameron Michaels as Lady Gaga
In a tribute to a tribute, Kameron Michaels wore Lady Gaga's Marc Jacobs Bowie tribute look. Luckily, Kameron didn't have to lip-sync for her life in this number though. In the ginormous heels made by "satan himself" she stumbled walking into the event and they broke. Don't worry, Daya Betty knows how you feel.
Trinity K Bonet as Ariana Grande
With the signature swishy ponytail and soft, fluffy fashion, we think this is pretty spot on (minus a forgivable amount of poof). Ariana seems to think so too, commenting under Trinity's Instagram post, "oh MY GOODNESS. honored. you are perfect" and sharing it on her own story, captioning the post, "omg omg omg".
Jaida Essence Hall as Beyoncé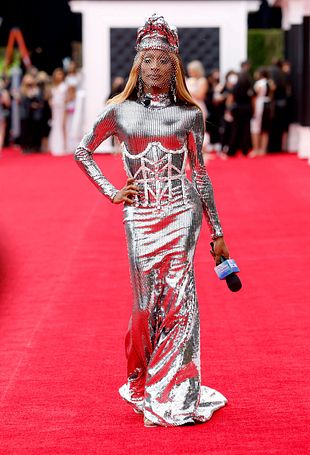 As the winner of season 12 (and the only winner within the cast...) Jaida is possibly the only queen who could've been given Queen Bey's crown for the night. The look is Burberry, worn by Bey in 2021 on the night she secured the unofficial title of most Grammys won by a female singer. 28 to be precise.
Derrick Barry as Britney
As much as we're shocked at this choice from Derrick, we think she does Britney justice...ish. Britney gave glamour, old Hollywood, and it's just so 2000s. Derrick's version is just a little more 'high street,' and that's okay, this is drag.
Alexis Mateo as Selena
Okay, the hair and eye makeup are a stretch. But the dress is pretty bang on. Alexis Mateo, you are safe, please move to the back of the stage.
Naomi Smalls as Cher
So Naomi Smalls is giving Cher. But is she? People on reddit are reading her for filth since she's practically unrecognisable. Miles away Michelle Visage could be heard screaming "it's just a bra and a panty".
Coco Montrese as Janet Jackson
It's fine! It's cute! We approve! Janet Jackson is clearly a massive idol of Coco's — remember her 'Snatch Game'? Actually, maybe it's best not to.
Kahanna Montrese as Toni Braxton
Did she take some liberties? Yes. Does she look good? Yes. Does she arguably look better than Toni Braxton did? We'll let you decide that one for yourself.
So, who's your top toot of the night?