Ash Williams himself is in Dublin this week, but he's swapped out his boomstick for a map.
'Evil Dead' star Bruce Campbell is currently in Dublin, and the horror movie legend has taken to reviewing and commenting on the various statues of Dublin.
In his most recent post, the star posted the statue of Molly Malone, commenting "I wonder why this woman's boobies are so shiny? Hmmm…"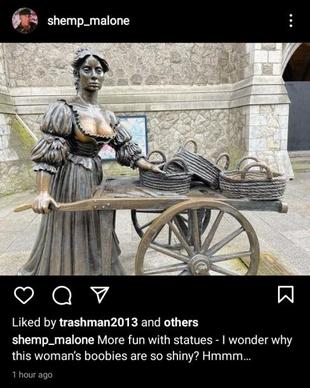 The actor is known for his smart-arse sense of humour and also snapped a photo of Thomas Moore's statue.
The writer and poet's statue is located at the corner of College Street and Westmoreland Street, and Campbell remarked "Sure, you can be famous and well-regarded - have a statue and everything - but birds are still gonna crap on your head."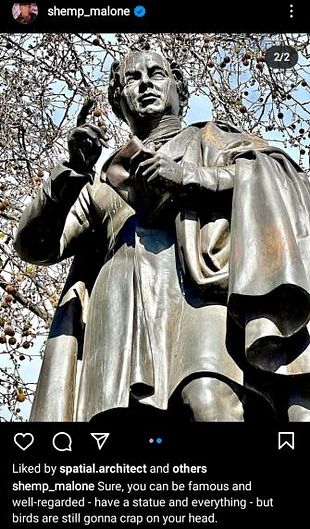 Campbell was at a comic con in Wales last weekend, and the star popped over the Irish Sea to visit Dublin.
Either that, or he's been called upon to sort out a Deadite problem in rural Roscommon.
The director of the new 'Evil Dead' film Lee Cronin is a Dublin native and the actor could be paying a house visit.
While there's no word on Campbell reprising his role as Ash Williams one last time on the big screen, he has an executive producer credit on 'Evil Dead Rise' and had an uncredited appearance in the 2013 remake.
Viewers last saw Campbell in the role of Ash Williams in the TV series 'Ash versus Evil Dead' which ran for 3 seasons from 2015 to 2018.
Campbell starred in 3 'Evil Dead' films, with the landmark Sam Raimi trilogy widely regarded as some of the best horror films ever.
Famous for their gore and practical effects, Campbell became a star off the back of the films, and the actor still works to this day.
The star teased a possible appearance in the upcoming Doctor Strange film, posting a photo of him in a make-up chair on Twitter with the caption "I always feel a little strange when I work on a Sam Raimi movie."
Considering the tweet was posted on April Fools' Day and Campbell is known for his sly sense of humour, the star was probably teasing his fans.
However, a cameo appearance isn't out of the question.
Campbell made an appearance in all 3 of Sam Raimi's 'Spider-Man' films as various characters, and fans are hoping with Raimi stepping into the MCU he will bring his old friend along for the ride.
If our readers happen to spot Campbell on their travels, be sure to tell him we loved him in 'Bubba Ho-Tep'!