The gun-slinging android from season one is reportedly set to make a return.
One of the hardest-working men in Hollywood is about to reprise his role in the Disney+ series. According to sources, Taika Waititi will be back for 'The Mandalorian' season three.
Waititi's voice-over work on the first season as IG-11 was so well-received that he was nominated for a Primetime Emmy Award in the category of Outstanding Character Voice-Over Performance (which was won that year by Maya Rudolph and her role as Connie in 'Big Mouth').
The android, which was initially created as a Grogu killing machine before being re-wired to be its protector, has gone down as a fan-favourite for its three-episode story arc by 'Star Wars' fans.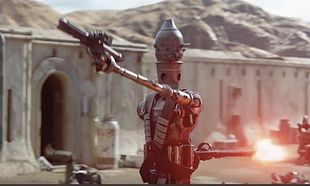 However, it seems that we're going to be getting a revival of the character in the upcoming season, if word is to be believed. Should Taika Waititi return to 'The Mandalorian' for a second appearance, it would line up with the actor-turned-director's comments from 2020. In an interview with The Wrap, Waititi admitted that he wished to return to the character in the future, even suggesting that fans should start a petition for it to happen.
Taika Waititi has remained a close connection to 'The Mandalorian' ever since directing the eighth episode of season one, where his android character sacrifices itself; he's been attached to direct an as-yet-untitled film in the 'Star Wars' franchise, which is still in development.
'The Mandalorian' season three is already in the middle of filming, with a release date of late 2022 on Disney+ expected. We won't have to wait so long to get our next 'Star Wars' fix, however, as the spin-off series 'The Book of Boba Fett' will launch on the streaming service on December 29.
We can next catch Taika Waititi in his upcoming Marvel sequel 'Thor: Love and Thunder', which he directed, co-wrote and also returns to play the voice of Korg, the peaceful Kronan warrior.