We've got our first major look into the upcoming second season of 'Only Murders in the Building' with a brand new trailer.
"Does anyone else feel like there's still a couple of loose ends?" says Selena Gomez's Mabel at the beginning of the clip.
Mystery and suspense is abound as Mabel, Charles (Steve Martin) and Oliver (Martin Short) try to find the person framing them for the murder of the Arconia board president, Bunny Folger.
The trio - who Oliver now calls OliMabel (The Charles is silent) - attempt to make a second podcast season in order to get to the bottom of the mystery. Oliver says at one point that, "whoever is doing this, is toying with us."
The synopsis for season two is:
"Following the shocking death of Arconia Board President Bunny Folger, Charles, Oliver & Mabel race to unmask her killer. However, three (unfortunate) complications ensue. The trio is publicly implicated in Bunny's homicide, they are now the subjects of a competing podcast, and they have to deal with a bunch of New York neighbors who all think they committed murder."
The new trailer shows us new characters played by Cara Delavigne, Amy Schumer and Shirley MacLaine. Delavigne plays an art gallery owner and Mabel's love interest for the new series. MacLaine plays Bunny's grieving mother.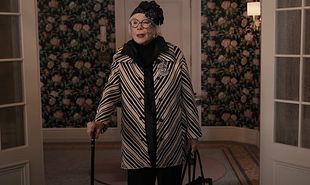 Schumer plays a heightened, self obsessed version of herself. Her character expresses interest in adapting the 'Only Murders' podcast for the screen. She also wants to star in a feminist antihero version told from the perspective of Jan, the season one murderer.
We also catch a glimpse of Jan (Amy Ryan) from inside prison. So the character may have an important role to play in the upcoming season.
Catch the full trailer below:
'Only Murders in the Building' season two lands on Disney+ on June 28.