Just in case you thought the summer of blockbuster TV releases was beginning to wind down - think again.
Now that we've got a brand new streaming service on our shores thanks to Paramount+, all of the streaming services are dishing out some truly AAA TV series in the coming months. August, in particular, seems to be the hottest month for releases, so here are seven that should be on your radar.
'The Sandman' | Netflix, August 5
If a sprawling, dark fantasy series is high on your agenda, then Netflix has gone all-in on this Neil Gaiman adaptation. The series is a blend of old fairy tales mixed into a contemporary setting, full of the cosmic, the underworld and the rest of us caught in the middle. Plus, there's a solid cast including Gwendoline Christie and Charles Dance, Stephen Fry, Niamh Walsh and the voice of Mark Hamill.
'A League of Their Own' | Prime Video, August 12
There's always going to be at least one reboot in our midst, and the latest franchise to get the re-visit treatment is the 1992 sports comedy which originally starred Geena Davis, Tom Hanks and Madonna. Now, while it's unlikely any of them will make an appearance in this TV series, on a positive note, 'A League Of Their Own' will take a deeper look at race and sexuality, which we're game for.
'She-Hulk: Attorney At Law' | Disney+, August 17
'She-Hulk' will be the third MCU series to hit Disney+ this year, and to be honest, we're probably the most excited for this one. While we do have our reservations (the teaser trailer below received a lot of mixed reactions, mainly down to the dodgy CGI), but should these problems be fixed in time, this could be the comedy series of the year. Come on, everyone loves The Hulk, right?
'Bad Sisters' | Apple TV+, August 19
If 'She-Hulk' doesn't take the comedy series mantle this year, then 'Bad Sisters' certainly has the potential to. Created from the solid comedic chops of Sharon Horgan, the Irish star has recruited a stellar cast of Sarah Greene, Eve Hewson, Anne-Marie Duff and Eva Birthistle to play her sisters in this dark comedy/thriller. Plus, we really want to know what's going on with the whole Sarah Greene eyepatch situation.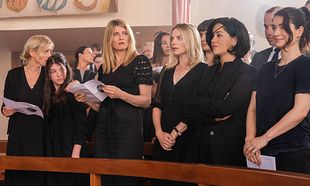 'House of the Dragon' | Sky Atlantic & NOW, August 22
The wait is nearly over for... the first of many, many 'Game of Thrones' spin-offs. Hoping to distance itself from that shocking season eight ending, 'House of the Dragon' will chronicle the beginning of the fall of the Targaryen dynasty 200 years before the events of the TV series. With a cast including Matt Smith, Olivia Cooke and Rhys Ifans, HBO has a lot of hope that this will take off just as 'GOT' did. Well, it'll have to compete with 'LOTR: The Rings of Power' from September onwards...
'Welcome to Wrexham' | Disney+, August 25
Admittedly, this writer is not a footie fan. The closest he's gotten to something football-related recently is knowing that Michael Owens' daughter, Gemma, is in the current season of 'Love Island'. But 'Welcome to Wrexham' could change all of that. A docuseries about Ryan Reynolds and Rob McElhenney's takeover of a Welsh football team sounds like a tonic, and for one time in this writer's life, he's excited to see some football action. Go, sports!
'Andor' | Disney+, August 31
Disney+ is cranking out the heavy-hitter TV series this month, and their final big release of August is another 'Star Wars' prequel. 'Andor' will see Diego Luna reprise his role as the titular character, who first appeared in the stand-alone 'Rogue One' blockbuster around the time that the Rebel Alliance begins to form. Genevieve O'Reilly reprises her role as double agent Mon Mothma, with Fiona Shaw, Stellan Skarsgård and Denise Gough rounding out the ensemble.
So, which TV series in August are you most looking forward to? Our money is on 'Bad Sisters' and 'Welcome to Wrexham' being the surprise hits of the year.