"My character is outrageous and fun and different than anything I've done."
Christina Ricci is returning to the franchise that made her a household name in Netflix's 'Wednesday Addams' TV series - and for the first time, we've gotten a tidbit of information about her mysterious new character.
Although everything about the character is still under wraps (Ricci didn't even appear in the series' most recent teaser trailer), the star opened up to Collider about what we can expect from her in this fresh take on everyone's favourite ooky and spooky family.
The 42-year-old starred as the quietly deranged member of The Addams Family in both the 1991 hit and the 1993 follow-up 'Addams Family Values'. She would go on to later capture our hearts in films such as 'Casper' and 'Sleepy Hollow', and most recently she's a main cast member in the thriller series 'Yelowjackets', which will return for a second season very soon.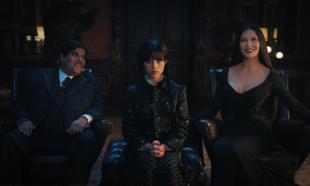 So, what was it like for the actor to hop on The Addams Family bandwagon all over again, nearly 30 years on? She says there's a personal connection to the franchise that made her return: "Well, it's, I mean, you know, it's such a fun world. And, you know, it's sort of - I've always viewed myself as a kind of a natural contrarian. And so being in a world where everybody's just like thrilled to be doing the wrong thing. It's just great for me, I love it. So that is what that world represents a lot for me emotionally."
She says that boarding this project with Tim Burton at the helm was a no-brainer, and she was "touched" to be asked back: "It's Tim Burton, I was so honoured to be asked by him because he is just, you know, a genius. And then also to be a part to be asked to be a part of the new version of this thing that is a huge part of my identity and my history in my life. I mean, I know they didn't do it out of the goodness of their hearts, but I was really touched by it, and I felt like it was very nice.
"And it's such a fun world," she continues, "and my character is outrageous and fun and different than anything I've done, and it was really great. And I just had a really lovely experience on that with Jenna [Ortega, who stars as Wednesday], who is amazing, and I think now people have a taste of her Wednesday, and it's gonna be fantastic. She is really incredible. And Gwendoline Christie, I love working with her. She's my favourite."
Although Christina Ricci didn't appear in the latest 'Wednesday Addams' teaser trailer, we did catch a glimpse of Gwendoline Christie's character Larissa Weems, who will be the highly-strung principal of Wednesday's new school for "gifted" youngsters, Nevermore Academy.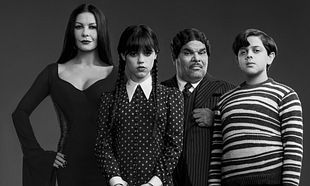 Joining Ricci, Ortega and Christie in the eight-part series are Catherine Zeta-Jones as Morticia, Luis Guzmán as Gomez and newcomer Isaac Ordonez as Pugsly. The series is "coming soon" to Netflix (probably this October).