We caught up with the comedy actor about his beefier new role in the Netflix series - and if he'd ever consider doing a spin-off.
Brett Gelman might not be the first name you'd think of when remembering your fond memories of 'Stranger Things' - but that's all about to change.
Previously seen as the weird conspiracy theorist who was relied on for some comedy relief in seasons two and three, the character of Murray has been promoted to one of the main cast members of season four. Working extremely closely with Joyce (Winona Ryder) this time around, will this double-team be able to track down Hopper, who they previously believed to be dead?
We were able to catch up with Brett Gelman during a virtual 'Stranger Things' junket ahead of the new season's release. Here's how we got on.
Hey Brett, really like your sunglasses by the way, very cool! (Imagine 'Stranger Things' in sunglasses form, and this is what he was wearing). I wondered what is your favourite part about this series? For me, it's when those credits roll in and you hear that amazing theme song and all of the '80s vibes.
I really love the way The Duffers (Brothers, the creators) balance everything in such a masterful way. They are able to balance several different genres at once and scare you, make you laugh, make you stressed and have you at the edge of your seat, and thrill you from one scene to the next. Treat you as an audience member like a pinball of tone and genre.
Murray is really part of "the gang" this season, isn't he?
Yes, I felt that too, and I'm very grateful for that. The Duffers [Brothers, the series creators] have made me more of an essential part of the show. Every year my role has grown and it's such a tremendous honour for me. It's just so exciting to be more and more a part of a show that I was a fan of. Even though I wasn't in season one, I watched the whole season in like a day. It's just amazing for me to get to play a character on this.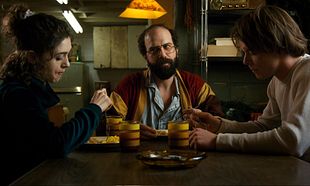 How does it feel to be working so closely with Winona Ryder?
It's insane! I get to work with someone who is one of my heroes, one of the greatest movie stars of all time, and somebody I grew up learning from - somebody I was in love with growing up on the silver screen! [Laughs] She's such a remarkable artist and such an amazing person. She's become a friend, which is also crazy. We also had a lot of fun and she's very much a team player and a true leader on the set. I love the idea of being in a comedy duo in some ways in something to begin with, but the fact that it's Winona Ryder just makes it that much more heavenly.
We know that 'Stranger Things' will end next year with season five. How does that make you feel?
I think it's great. I think a lot of shows make the mistake of drawing things out and keep doing it to just keep cutting the cheque. I think it's a testament to how true The Duffer Brothers are to themselves as artists and what perfectionists they are that they know this is the perfect amount of time needed to do this show and bring it out on a high note.
Would you ever consider a Murray spin-off or prequel series perhaps?
Absolutely! That would be amazing. Amazing. And I think, huh, after you see this season, you know, one of that nature could become more clear... Was that properly said? [Laughs] I don't know! But I think I would love to do that, that would be funny, that would be a blast. I love Murray. And I think that there would be a way to create a story around him in that way.
Catch Brett Gelman in 'Stranger Things' season four this May for Volume One and July for Volume Two. Our review of the first four episodes will be live on entertainment.ie very soon. 'Stranger Things' season four begins on Netflix on Friday, May 27.